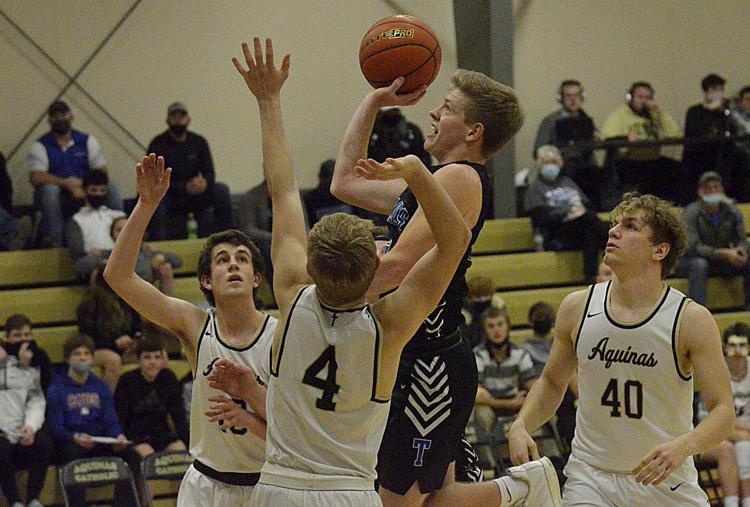 DAVID CITY - Aquinas Catholic probably sensed it was in trouble when Twin River senior Westron Graham hit his second 3 at the end of the first quarter to give the Titans a 16-2 lead in Tuesday's game at David City.  
Graham continued to find his stroke throughout the game, hit his third triple in the third and finished at the rim. He also closed out the 52-41 victory for Twin River (7-6) by going 6 of 7 from the free throw line in the fourth. Graham finished the game with 17 points.  
"It's hard to win high school basketball games," head coach Tod Heier said. "You have to enjoy every chance you have to enjoy a victory. We'll enjoy it tonight and get to work for Cross County tomorrow morning. 
"It's nice to be able to go on the road against a quality team and a quality program and get a win." 
Graham wasn't the only senior that found his groove early. Owen Koziol scored five of his 13 points in the first quarter.
"We did a great job of keeping the ball out of the paint that first half, especially the first quarter," he said. "And on offense, we were making shots. The games always easier when you're making shots. Our kids did a good job of executing what we wanted to do against man, and when Aquinas went zone we got some good looks as well." 
Twin River is riding a three-game win streak after a three-game losing streak. The Titans defeated David City on Friday and Madison on Saturday. 
"We needed it. We had lost three in a row. We really needed some positive things to happen for us," Heier said. "I thought the kids responded well in practice the last two weeks, and it showed in the games." 
Twin River will need that momentum when the Titans play C-2 No. 8 Cross County (10-2). 
Senior Tony Jarecki scored eight points, senior Ross Hebda added seven, senior Chase Buhl finished with six and senior Ethan Engstrom tallied one.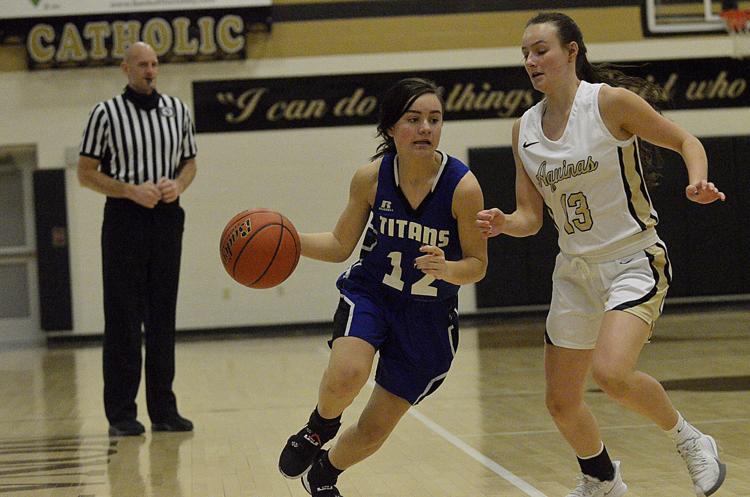 Twin River (2-11) looked to be in trouble after Aquinas went on a 16-10 run in the second quarter to take a 24-15 lead. 
But the Titans battled back through the next two quarters, and a late free throw by freshman Delany Reeg forced overtime. 
Twin River battled to stay in the game but Aquinas senior Madisen Jelinek scored six points in a row to give the Monarchs a 50-47 win. 
"We battled hard," Twin River head coach Bryan Pilakowski said. "They're a well-coached team. These girls know what they're doing. We just couldn't keep them off the boards; that's our downfall. We missed a lot of free throws tonight. 
"We're getting closer. We've improved a lot since the beginning of the year for sure." 
Senior Katie Paczosa led Twin River with 15 points, Reeg scored 10, junior Kamryn Lemburg finished with 10, senior Emilee Spitz added five and junior Whitney Schmidt and sophomores Tori Cornwell and Haylee Finn all contributed two.
HLHF boys 71, Wisner-Pilger 65: HLHF trailed by as much as 18 in the first half when Wisner-Pilger started hot and scored 22 in each of the first two quarters. The Bulldogs cut it down to 13 at halftime, had it seven at the start of the fourth then began to score in the paint.
HLHF tied it with three minutes remaining then made enough free throws to pull away for the comeback win. Scoring totals were not available at deadline. The Bulldogs improved to 8-3.
HLHF girls 60, Wisner-Pilger 46:  HLHF built a 20-point lead over the second and third quarters when the defense allowed just 14 total points in the eight minutes before and after halftime.
Junior center Addison Schneider tied her career-high with 29 points on 12 of 14 shooting and had 18 rebounds - 12 on the offensive end. The 29 points is the third time she's hit that mark this season. HLHF improved to 10-2.
Osceola boys 68, NE Christian 57: Isaiah Zelasney and Kale Gustafson combined for 42 points and the Bulldogs shot a robust 57% while overcoming 21 turnovers.
Zelasney had 22 of that total, eight assists, six steals and shot 8 of 17. Gustafson was 11 of 14 with seven boards and two assists. Osceola led 32-26 at halftime then scored 20 in the third and took a 16-point lead into the final eight minutes. The Bulldogs are now 9-2.
"In the second and third quarter, we did a better job of playing defense without fouling," coach Jason Zelasney said. "In the first quarter we were putting them on the line so much because of our positioning. Once we were able to correct some of our defensive techniques, we were able to guard without fouling, which led to some stops."
NE Christian 44, Osceola 26: Trinity Boden knocked down two early 3-pointers, Rori Wieseman had another but NE Christian built a 21-9 first-quarter lead and controlled the game the rest of the way. Osceola fell to 4-7.