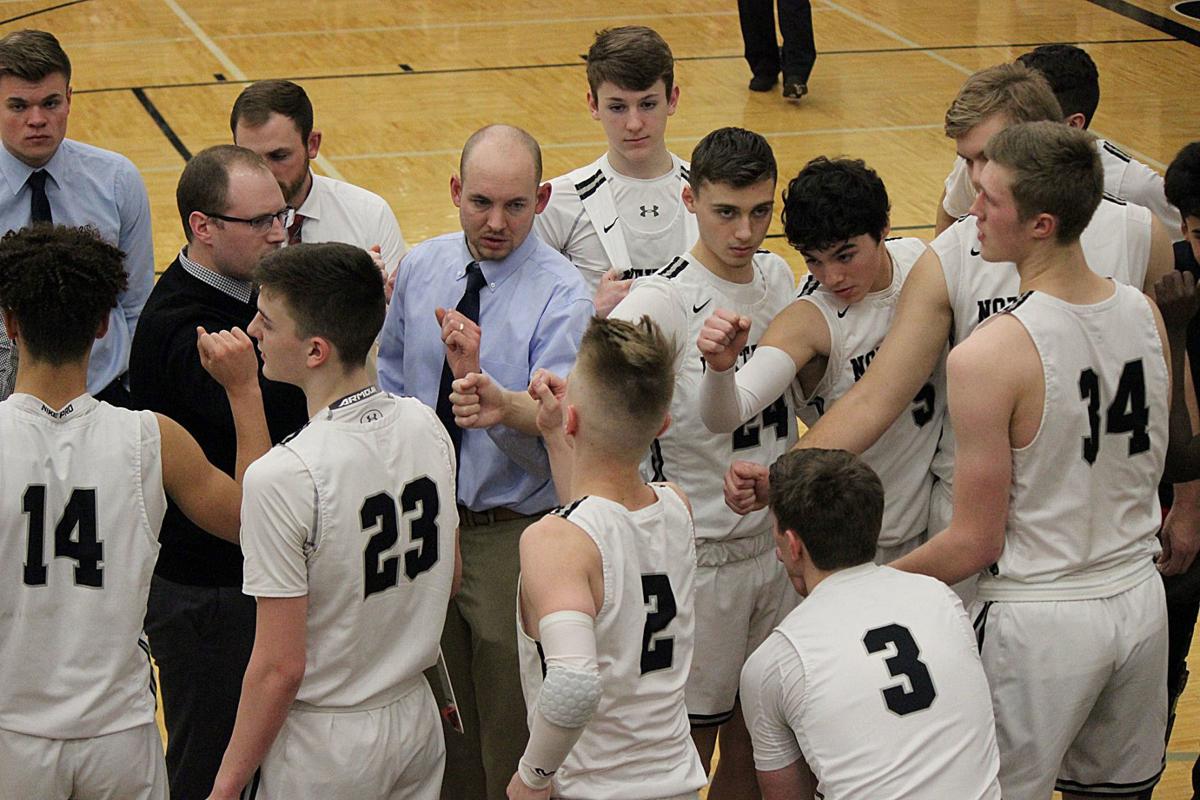 Columbus High Athletic Director Tim Kwapnioski is big on vision, as are most ADs. But, from his perspective, it's not just the vision, but having a plan in place for how to implement that vision that makes all the difference.
It's perhaps those type of details new boys basketball head coach Jordan Hitchcock shared with Kwapnioski about his vision that might have been the deciding factor in his selection.
Hitchcock's plan is something he refers to as Pinnacle, perhaps because that's the end goal of every varsity basketball coach - finish the season at Pinnacle Bank Arena.
His program calls for before-school involvement in basketball down to the middle school and elementary levels to foster excitement for the game that turns, hopefully, into dedication and commitment.
It's the type of vision and planning that instantly attracted Kwapnioski and the Columbus High selection committee to Hitchcock's message.
"I feel coach (Jimmy) Motz has done a great job of putting Anchor Hoops together. The Pinnacle program provides additional opportunities for our younger players to be around their friends doing something fun while at the same time improving their basketball skills," Kwapnioski said. "I would say our entire interview team was excited about this opportunity for kids and something that would add to an already successful Anchor Hoops program."
Anchor Hoops is the legacy Motz leaves behind for youth basketball in Columbus after five years leading the program. Grabbing the baton from him is Hitchcock who comes to CHS after two years leading the junior varsity program at Lincoln Northeast.
His program involves a half hour of basketball each morning at Columbus High, Columbus Middle School and city elementary schools. Participants begin each day with shooting, ball handling and warmup for five minutes, transition to instruction by coaches and leaders for 12 minutes then have some form of competition for the final 12 minutes.
Hitchcock will rely on his assistant coaches, parental support, P.E. teachers and youth coaches to bring the program to life.
How it will work hasn't yet been completely defined. All of the talks are in the early stages just a week since Hitchcock was officially announced as the new coach.
But given the relative challenges of basketball in Columbus, lower participation, changing demographics and fewer players with size, Pinnacle is Hitchcock's answer to those shortfalls.
"Those daily, repeated efforts, over time, stack up," he said. "That will be our high school staff doing that, partnering with youth coaches, partnering with parents, partnering with P.E. teachers. Through that, I believe we can overcome so of those disadvantages."
The idea for Pinnacle is one Hitchcock is borrowing from long time Dundy County coach Marty Hughes who is now the principal at Auburn. Hughes had a similar concept that Hitchcock is "rebranding."
"Research shows athletes develop with daily repeated efforts," Hitchcock said. "Being active before school and using both sides of the brain increases academic test scores. Pinnacle will provide success for future Discoverers on the court and in the classroom."
Kwapnioski said he and the interview team were impressed with the action plan Hitchcock presented during the hiring process. It's something he believes will assist Columbus basketball in moving forward after Motz led varsity to double digit wins in three of his five seasons.
Columbus didn't have 10 or more wins three times in the 15 years prior to Motz.
With the help of Hitchcock's staff, and Columbus basketball boosters in the community, Kwapnioski has no doubt the program will be successful.
"Jordan mentioned his version of the Pinnacle idea came from a few coaches he knows that put something similar into place," Kwapnioski said. "What Jordan has done is put his own twist on something he knows will generate interest from youth in our community and in return will have a long term impact on our high school program."
Additionally, Hitchcock said he will help in developing youth teams that won't back down from anyone.
Realizing that Columbus High is likely to remain in Class A for the foreseeable future, plus a move into the Heartland Athletic Conference next school year, Hitchcock said learning how to compete on the highest level starts long before players are on a varsity roster.
 "We've got to go play in Lincoln and Omaha," he said. "You can't expect to beat those teams if you don't play them until you get to high school."
Hitchcock will also make varsity practices available for youth coaches to attend, share film of drills and activities and implement a system that reaches down to the grade schools in terms of style of play.
It all begins with Pinnacle, which Hitchcock plans to set up with a rather ambitious promise.
"If we can get 15 kids coming to that 80 percent of the time," he said, "I'll guarantee you that their class is going to go and play at PBA."
Be the first to know
Get local news delivered to your inbox!