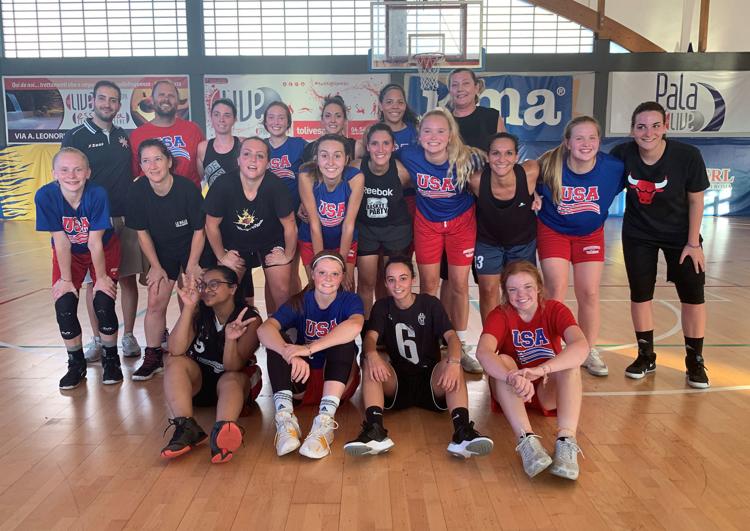 Basketball in Italy. Granted, a language barrier and a different style of play is to be expected, but who would have considered middle-aged opponents, a less bouncy ball and the need for bug spray?
Ask Scotus Central Catholic girls coach Jarrod Ridder or any of the eight girls on a recent trip, and those three elements might stand out the most about international hoops.
As reported recently in The Columbus Telegram, Ridder led a delegation of eight, including three of his own players, on a 10-day trip to Southern Europe as part of a program known as "America's Team."
America's Team sets up trips for teams in various sports to travel abroad, organizing flights, meals, hotels and contests. A tour guide and interpreter is assigned, and the teams typically have the chance to play several games and interact with their foreign counterparts.
Other girls on the trip included Lincoln Lutheran's Hannah Kile, Seward's Bailee Baack, Hartington Cedar Catholic's Aiden Wortmann, Mullen's Kylie Licking and Lincoln Southeast's Cassie Nash.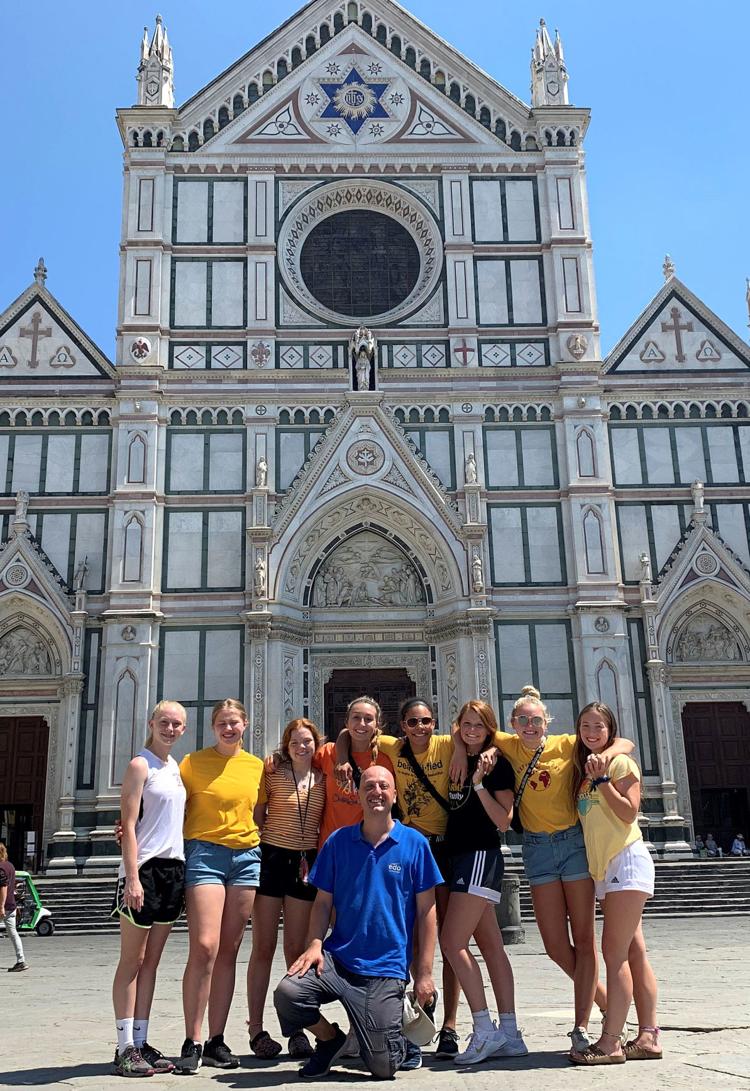 The Scotus girls (Kaelyn Dierman, Emma Lindhorst, Hailey Steffensmeier) their coach, and the five others played four games, going 2-2, then split up teams after each game and played again with mixed up squads.
Games were held in Rome, Florence and Milan, intermingled with sightseeing excursions to various churches, museums, beaches and other locations.
The group left July 22 and returned on the 31st.
"It was just really neat to be playing basketball over there in their facilities, learning how to play international basketball, and, obviously, over there, there's so many things to see that it was breathtaking," Ridder said. "You were just in awe, quite honestly, the whole time, at what you're looking at."
The girls may also have been in awe of the other players on the court. In Italy, like all of Europe, there is no high school sports organizations. Instead, kids grow up playing for club teams. And it doesn't just end after high school. Anyone who pays to join the club can play, regardless of age.
Thus the girls were facing opponents, on average, in their 20s. One team had a woman in her 50s; another had a 32-year-old mother of two.
Additionally, Italian basketballs just didn't seem to have the same spring off the court. Whereas around Nebraska and in the USA, Ridder said, balls tend to bounce shoulder high, the balls the girls used on the trip barely made it waist high.
That meant an adjustment period to ball handling. Often, the guards had to look at the ball while dribbling.
And if older, stronger players and weird balls weren't enough, there was the environment. Though the courts were all perfect playing surfaces, none of the gymnasiums had air conditioning. Instead, in the hot Italian summer, the doors were left open; and in came the bugs. Eventually, bug spray became a necessity before each game.
"The first day, I remember walking in there and I thought, 'Oh my gosh, this is just crazy,' because it was just this room, all the doors were open, there were mosquitoes everywhere, it was so hot in there, it was rough," Emma Lindhorst said. "But once we started playing I kind of forgot about it."
And there were other little adjustments that included more physicality, a deeper 3-point line, narrower courts and different back court rules.
"They push, and all that. You just have to learn how to play through it," Ridder said. 
"Our girls were consistently playing against girls that were in their lower to mid-20s. That makes it a little tougher. But for our girls, like Hailey Steffensmeier, it was good for her because it was extremely physical. Really all of our kids, when it's physical like that, it's good for you to learn how to handle the ball. It's a little tougher to handle the ball when people are fouling you."
The group was assigned a boys team from Montana to travel with. In some cases, the guys played at the same time in a different gym, other times they took the court right after.
Both then played a second game with Italian teammates.
"The first thing is, some of our girls went into the Italian huddle, and their coach starts going on and obviously, they don't understand. It was probably the same way in my huddle," Ridder said. "The fun part is learning how to communicate through basketball. Even though maybe we don't speak the same language, you can still get some communication across."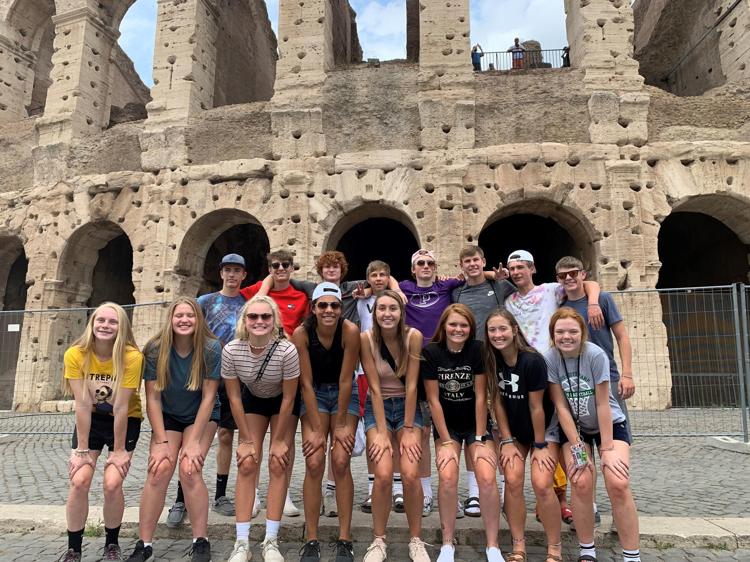 Oftentimes, everyone shared a meal afterwards, a common custom of hospitality in Italy. The other part of that hospitality is offering more food than diners could ever hope to finish in one sitting.
"The food is amazing. We had just absolutely tremendous meals," Ridder said.
"It's just a lot of food, and you go along with it, but boy was it good; from the pasta to the pizza and everything in between."
The very first meal once the group arrived in Italy was a team meal that included one course of pasta, the main course, a salad and then dessert.
At the time, the group may have been famished. A flight was cancelled forcing an alternate route to Geneva, Switzerland; and a trip south through the Swiss Alps. That part sounds extremely nice due to the landscape, and it was, the only trouble was the luggage was lost for six days - more than half the trip.
That meant many of the girls spent a lot of free time shopping for clothes rather than spending it all on visiting the sites. And in the tourist-centered cities they were in, that meant being vigilant and frugal in finding the best deal.
"Luckily, I had a carry-on with an extra pair of clothes and my jerseys. Some of the girls didn't pack their jerseys in their carry-ons, so we were playing in all different colors," Lindhorst said. "And some girls didn't have shoes, so we had to go buy shoes.
"But it was fun. It was crazy, but at the same time it was fun."
Also along on the trip was Ridder's wife, Ashley. On the day the trip was in Rome, and included a stop at the Colosseum, it was the Ridders 12th wedding anniversary - something he can rely on, at least for a while, should he forget any other important dates.
"I'm a pretty nice husband," he joked. "Remember when I took you to Italy for our anniversary."
At the Colosseum, the Ridders bought plastic gladiator helmets, swords and vests for their three boys. At Vatican City, they purchased rosaries as future gifts for first communion.
Unfortunately, while Pope Francis may have been around, he did not make an appearance on that particular day. Even so, there was so much more to behold.
"Your jaw just drops a little bit because the size of anything, and then you start looking around and you could spend just so much time looking at all the details of all these masterful, big pieces of artwork," Ridder said. "That's anywhere you go. You could do that in Florence walking around looking at the different statues and things. It's just awfully incredible."
All of it, the mosquitoes, the middle-aged opponents, the lost luggage, will never quite be able to overcome the friendships made and the experience enjoyed by all.
Lindhorst grew particularly close with Licking and Baack, and still talks to them and the Montana boys in a group chat. When she had the chance to interact with the Italians, she said most spoke pretty good English.
She stays in contact with one of the Italian girls through Snapchat and Instagram.
"Not a lot of girls have the opportunity to go to Italy and see all the stuff I saw with the people I went with," Lindhorst said. "I think that's what I'll remember the most, the people I did it with, even with the flight getting cancelled."