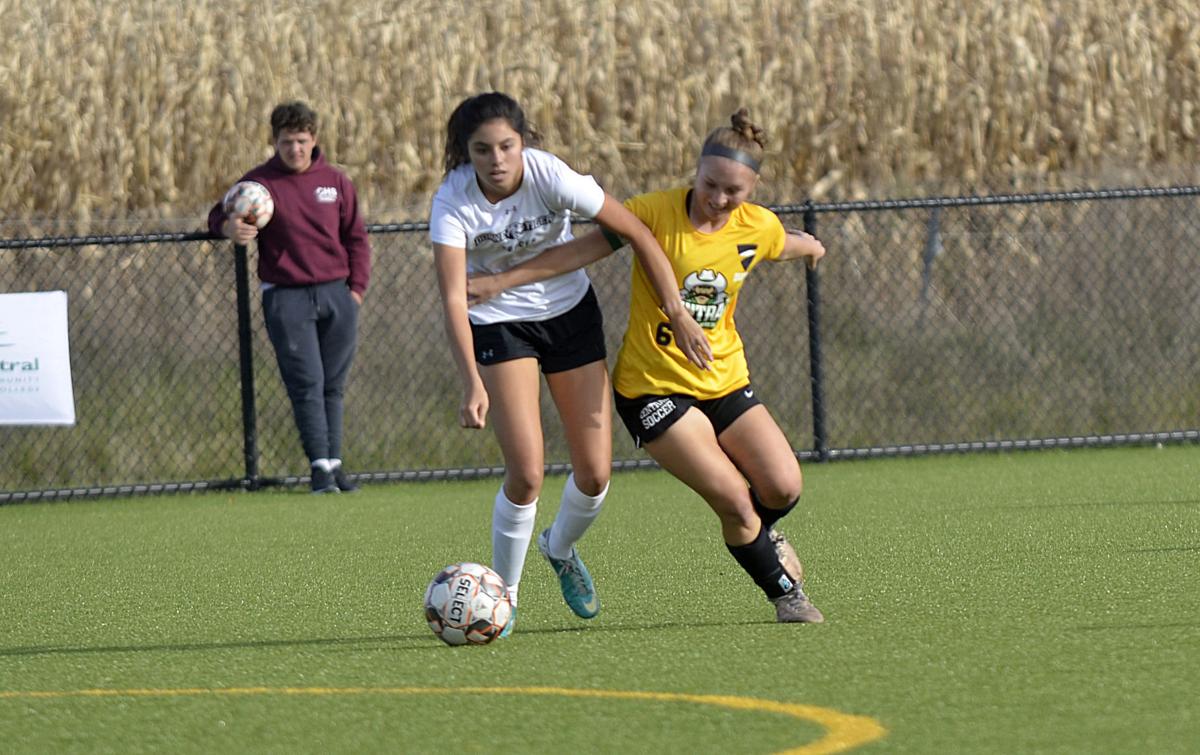 Without competition and only a limited amount of training available to Central Community College-Columbus women's soccer players this fall, there was an opportunity to focus on more than just athletics. 
For all athletes, but especially freshmen soccer players, the adjustment to college is a process. As a fall sports athlete, that process is met head on from the time the players first arrive on campus.
With practices underway before classes begin, dorm rooms to move into and organize, a new campus to learn, a new community to engage and several other factors, life is a balancing act in the first few weeks of a fall college sports athlete.
The Raiders were allowed a much longer adjustment period this fall when the NJCAA moved the season to this spring. It's a longer wait to get back on the pitch but one that might be more beneficial to the overall well being of student athletes.
"It was good to have the girls here," Central head coach Jamie Bennett said. "It was good to have them learning what it's like to be a college student and learning what it's like to be a college athlete and everything. There was a lot of good things." 
NJCAA teams were allowed some practice sessions this fall, a handful of exhibitions between schools then a limited amount of hours per week afterward. That time was especially meaningful for soccer players.
Though current members of the team were a part of last year's inaugural season, new players missed out on their senior season last spring and will have been off the field for almost two years when play resumes in a few months.
As such, training had a different purpose to it this fall. Bennett's main goal was for teammates to gain familiarity and ease back into competition. He kept it light and wanted to take the opportunity for the group to grow closer together.
"I think the biggest thing was to get the girls here and just allow them to play soccer and get some touches on the ball," he said. "Most of the girls lost their senior season due to COVID, most of them didn't have much of a summer season. It was more or less just getting them back on the field."
Rather than rely on drills and fundamental work, the Raiders spent more time on intrasquad scrimmages than normal.
"With not having a true game in sight it was tough to stay focused," Bennett said. "It was tough to stay motivated. We had some adjustments with how we practiced this fall."
And there were challenges. Though Central played two exhibitions against Concordia, a few other opportunities fell through the cracks. Central had scrimmages set up that were later canceled due to the virus. For a team with players that haven't played a meaningful match since 2019, that can be frustrating. 
"Every time we think we're going to get a game in it got canceled," Bennett said. "It was tough, but I think the girls are strong and have come through it pretty well."
That was evident in scrimmages where Bennett saw a yearning for competition. Though he directed less of the action, it wasn't hard for the Raiders to let the competitive juices flow.
"They're wanting to get back at it and get some meaningful games going," Bennett said. 
When practices begin next year for a schedule that starts in April, Central will be adding 10 freshmen to a list of seven sophomores. A brand new program a year ago, the Raiders were made up exclusively of freshmen except for sophomore transfer and former Columbus High player Lexi Kucera. Eleven other members of that team have moved on.
"I think the strength of our team is going to be the defense," Bennett said. "We have to find someone that can put the ball in the back of the net. ...It was good we got to do that without the games meaning anything. Some of the girls really stepped up and impressed me." 
Since the end of October, the Raiders have been limited to eight hours a week. Bennett is using the allotted time of focus on strength and conditioning.
"It's going to be a lot of getting ready. We'll probably have a few hours a week of playing soccer," he said. "I think the main focus is finishing the semester strong academically and then also making sure we get physically prepared for the spring as well as emotionally." 
Peter Huguenin and Nate Tenopir is a sports reporter and the sports editor for The Columbus Telegram. Reach them via email at sports@columbustelegram.com.