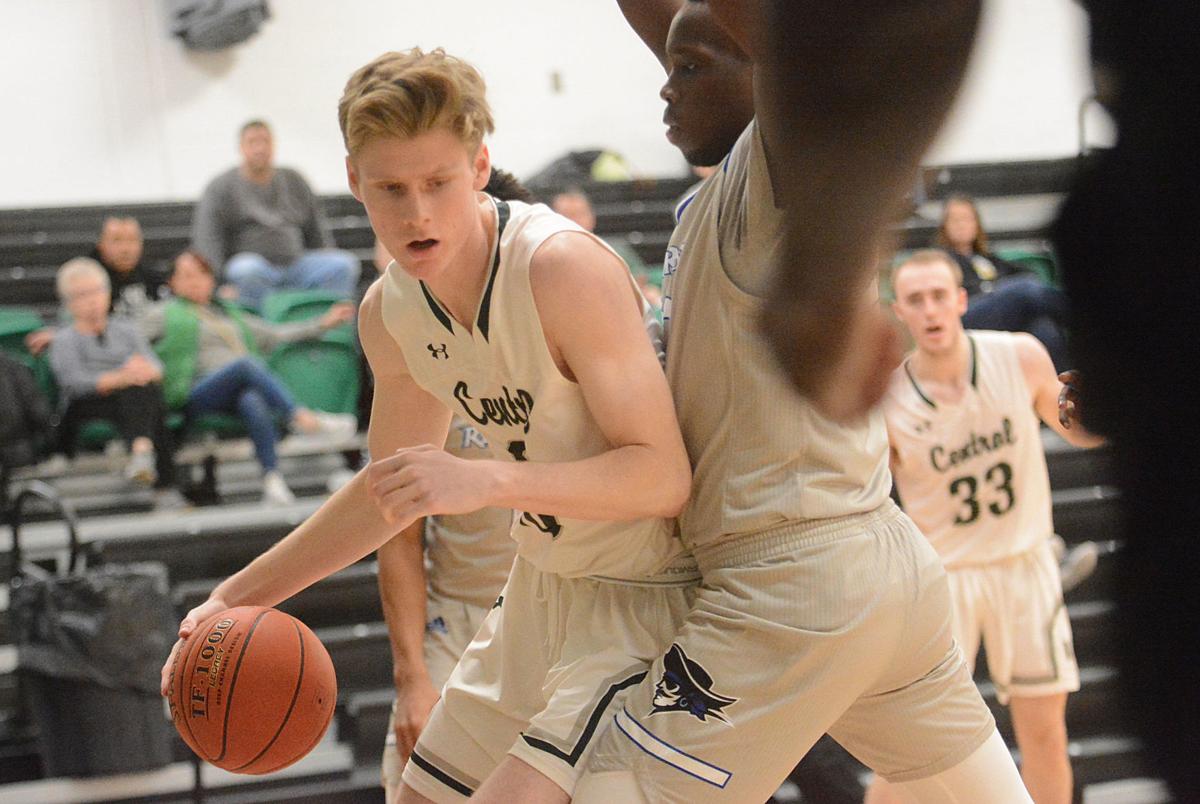 Central Community College-Columbus men's basketball capitalized on turnovers with easy baskets and won its fourth game in a row with an 85-60 victory against rival Northeast Community College on Wednesday night.
The Hawks only committed six more turnovers than the Raiders, but overall, Central scored 19 points on Northeast giveaways. The Hawks managed just four points on Raider mistakes.
Central improved to 17-10 with the victory and won its fourth game in a row - the longest streak of the season.
"I thought it was one of our most complete games all year long," head coach John Ritzdorf said. "I was really pleased defensively, especially in the first half with how we guarded not only their whole team, but especially No. 1, Emmette Page. He's their best player.
"He averages almost 24 points a game, and we held him to 10 points last night. Tre Crawford was on him most of the night and did a really good job, individually, on him. But our whole team was locked in defensively, which hasn't always been the case this year. But we've gotten a lot better on that end of the floor." 
The Raiders held the Hawks (12-14) to shooting 22 of 73 (30 percent) from the field and 5 of 24 (21 percent) from behind the arc. 
Central jumped ahead to stay with an 11-2 run that started with under eight minutes remaining in the first half. Nathan Frost had five of his game-high 23 points during that stretch. Roman Behrens had 22, and started the stretch with a layup.
Frost also recorded his 11th double-double of the season with 13 rebounds.
You have free articles remaining.
"Nathan Frost had a really good game," Ritzdorf said. "We've been waiting on that for a little while. He's been sick and battling some stuff. For him to get back and be as effective as he was last night that was huge for our team." 
Behrens shot 8 of 14 from the floor and went 5 of 5 from the free throw line.
"Roman was just really good all over the place," Ritzdorf said. "He got us off to a good start as well. 
"We did a good job of sharing the basketball. Offensively it wasn't always pretty, but we were pretty efficient, especially inside the 3-point line." 
Cooper Pratt added nine points off the bench. Northeast's 12-point halftime deficit was as close as the Hawks came the rest of the way. Central led by as much as 29 after halftime.
"We've been able to string a couple big wins together," Ritzdorf said. "That's our fourth win in a row and our third win against a D-1 junior college in a row. To me it's just adding to our confidence.
"You really want to be confident and playing your best basketball at this time of the year. It was one more game under our belt where we played well against a good opponent. That can only do really good things for us moving forward." 
Central is in action next at 4 p.m. on Saturday at Southeast Community College (16-9). The Raiders close the season at home against North Platte Community College on Feb. 21. 
Be the first to know
Get local news delivered to your inbox!