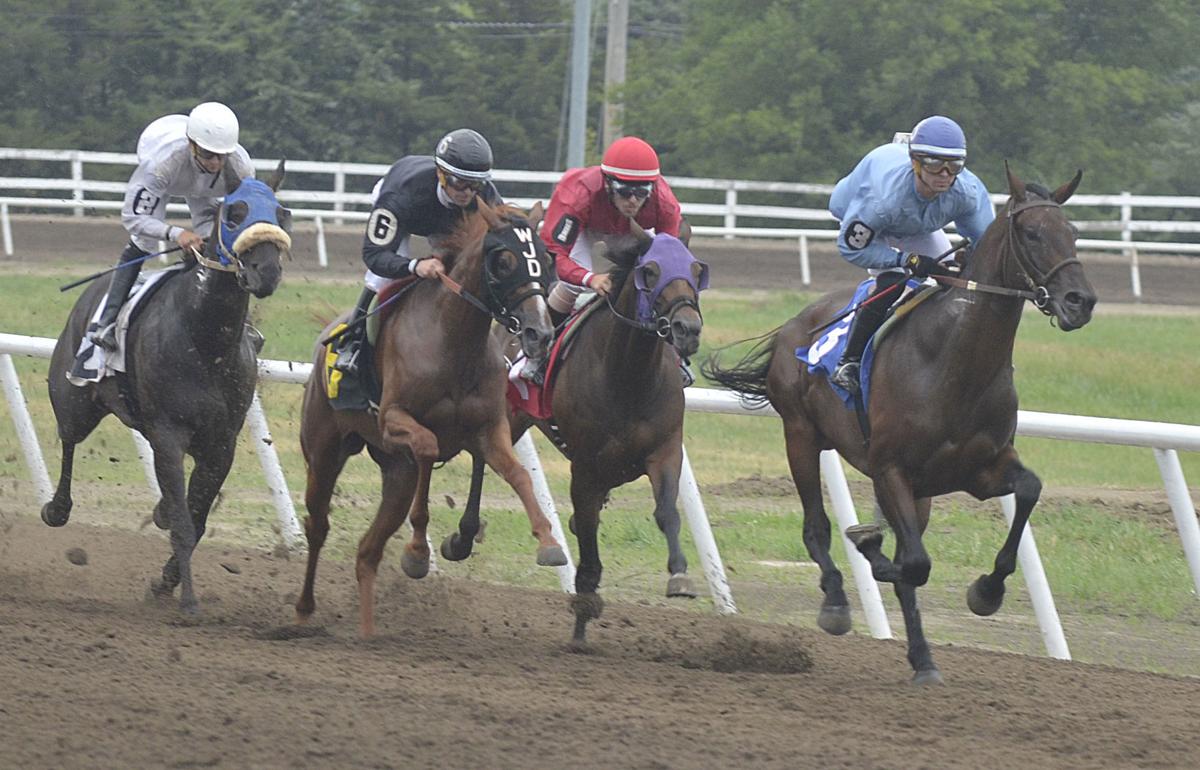 Dakota Wood has more than 2,500 starts in his jockey career. Friday he took his first-ever mount in Columbus, the 2,250th of his career, and brought Boolean One from the first post to the finish line by 1 and 1/4 lengths kicking off the Ag Park Racing season.
And it wasn't just Columbus beginner's luck. Wood went on to win four more times on Friday night, brought his rides to a top-five finish in 15 of 17 races for the weekend and won nearly $20,000 in purse money for his owners.
Wood's five wins edged out Jake Olesiak and Travis Cunningham for the early lead in the Ag Park season. Both Olesiak and Cunningham won four times. Scott Bethke and Chris Fackler rounded out jockey winners with two each.
But it was Wood pacing the field.
His mounts won three straight on Friday night in the sixth, seventh and eight races following the victory in the inaugural race of the year and another just about an hour later in race three.
Following Boolean One, Wood took Theboyfromjersey from the second post to the lead at the halfway pole by a head then finished off the win by two lengths.
He started Free and Proud in post four in the sixth race and again led the pack halfway through to a win by 4 and 3/4. It was Trask in the seventh again from gate two to a lead halfway through, a two-length deficit down the stretch but then a win by two at the line.
The eighth was a win by Remarkable Charm from six where Wood guided the filly from five wide at the final turn to a win by 1 and 1/2.
Wood's opening win came in the $5,700 maiden special before three wins in claiming races.
He failed to earn another victory on Saturday but came up with a second place and five thirds. Wood's mounts earned a total of $19,755 in prize money for the weekend.
Three of his wins came for trainer Kelli Martinez.
Martinez's three wins lead the way after two days of racing. Kirstin Chaulk was the top owner with two in the winner's circle on Saturday.
Martinez trained Theboyfromjersey, Free and Proud and Trask. Chaulk owns Phantom Menace, the third-race winner on Saturday, ridden by Cunningham and trained by William David, and Risky Boy, the final race winner of the weekend, ridden again by Cunningham and trained by David.
Cunningham's mounts won over $11,000, second on the weekend behind Jake Olesiak's $14,000-plus production.
Olesiak was shut out on Friday then won the first, fourth, sixth and seventh on Saturday.
He took Cooper's Boy from the five hole to the front by 2 and 1/2, followed that up with a win on Be a Factor from gate six to a 1/2 length victory after four-wide at the turn and rode Ranbir in the fourth post going wire-to-wire holding off a late challenge from Bethke and Morning Belle. Olesiak then went back-to-back with Cowgirl Judge from the second gate again going wire-to-wire though much more comfortably by four.
Cunningham won the second race on Friday with Lingering Sally, going from nine back at the quarter pole to a win by six. He then won the third race on Saturday taking Phantom Menace from the sixth gate to a lead at the half pole that held up despite Chris Fackler on Diesel's Prize trailing by just a head at the stretch and the final. Cunningham ended the weekend atop Risky Boy in the fourth post going wire-to-wire to win by a length over Bethke and Magic Cowboy.
Olesiak's win on Cowgirl Judge was the most profitable of the first two days, earning owners Landis Stables LLC $4,347.
Bettors collected the biggest prize in Friday's fifth race when Bethke took Trepi's Trpl Crown out of the gate hot to second place at the quarter pole then a win that paid $28.60. A 10-1 chance at the opening, Trepi's Trpl Crown was followed by Mine for a Song then Shesahawk, 9-2 and 7-2 bids at the open, for a $2 trifecta that paid out $1,469.60.
Favorites won seven of the 17 races and finished second five other times. They showed in at least 14 of the 17. The exceptions were Nickels for Pat in Saturday's second race taking 6 and 1/2 to 5 odds out of the gate and coming in fourth then Ladybug's Holiday going off as the 8.5 favorite just about two hours later and coming in fifth and Makin My Own Rules in the final race Saturday taking 2/1 odds to a fourth-place result.
Be the first to know
Get local news delivered to your inbox!