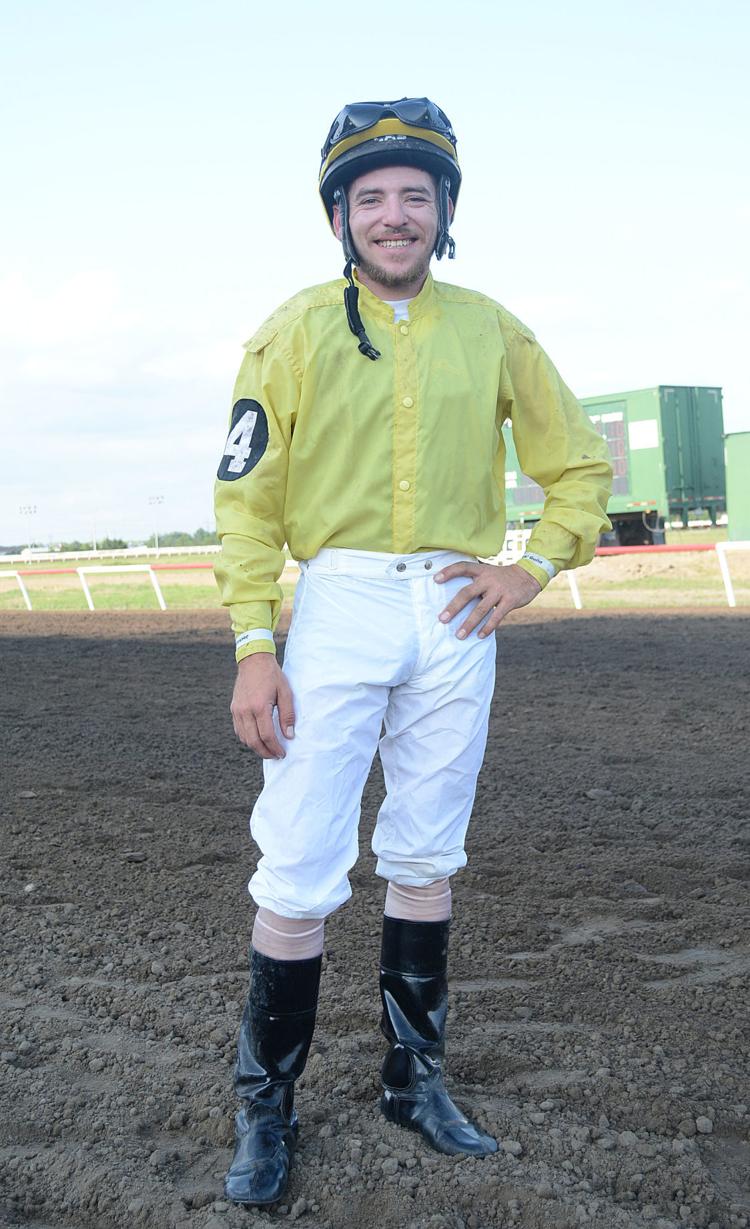 Familiar names and faces descended upon Ag Park last weekend for the opening of the horse racing season in Columbus. Back donning silks for another August were names such as Chris Fackler, Mike Luark and Jake Olesiak.
Trainers Kelli Martinez, Jesse Compton and Richard Bliss have been readying horses for a few weeks in the hopes of producing consistent winners. The Fetts, John Ness and Bill Krause have yet another stable of competitors filling up race cards vying for the title of leading money winner among Columbus owners.
Yet, it was one new name that fans had in their minds and on their lips when they left on Friday night: Dakota Wood.
The 27-year-old McAlester, Oklahoma, native made his inaugural start in the first race of the season, won it, then went on to win four more times on opening night. He was shut out of the winner's circle on Saturday, but had such a successful Friday, that he amassed almost $20,000 in winnings for his trainers and owners.
But it wasn't long ago that Wood had seemingly hung it up for a career. After making his first mount in 2009, and building towards a 2014 season where his performances earned more than $745,000, Wood suddenly walked away.
Four years later, he's in the midst of the third most successful season of his career. That didn't seem even remote just a few years ago when he was in one of the most remote parts of the world.
"The spark never left," Wood said about the three years he left the track. "I thought I could get away from it, get a normal job. I was happy in the oil field, but something was missing. When I came back to horse racing, I felt whole again."
Wood grew up in Southeast Oklahoma with a family that enjoyed the races as a regular past time. At 5, his uncle and his grandpa took him to Fair Meadows Race Track in Tulsa where he made his first bet. It was the No. 3 horse because of the silk color normally assigned to No. 3, blue, his favorite color. Well, as luck, or fate would have it, 3 won that day.
Wood was in the victory photo with the winner and was instantly hooked. Ever since then, he wanted to be a jockey.
That eventually became a reality on June 14, 2019, on the back of a horse named J D Smith. Wood came in sixth that particular day. He made four more mounts before the first win finally came on Independence day of that same year aboard I Albert.
Wood and I Albert were seventh out of seven at the quarter pole before eventually overtaking Turkey Hunter for the lead down the stretch. His win was worth $8,700 for owner R and P Racing Stables.
At the end of his first year, Wood made 83 starts, won six times and finished at least third 22 times, earning $58,321 in purse money.
He doubled his number of starts in 2010 but only found a win, place or show finish 14 times despite earning over $59,000 in purse winnings.
In the four years that followed, Wood experienced a meteoric rise. He won 26 times in 2011, 27 times in 2012, 37 times in 2013 and 50 times in 2014. Adding in all the placings in which his rides finished in the money, Wood went from earning over $350,000 in 2011 to more than $745,893 in 2014.
"It took me a while," he said, of learning how to win. "I was green and not a very experienced rider yet. I made a lot of mistakes riding; like moving too early or whatever. I did alright. I cut my teeth, and I made it to where I'm at today. Nobody starts out the best, it all comes with experience."
But then the battle to maintain weight was starting to become a burden. In 2015, Wood had a race season that included just 12 wins and $175,000 in earnings. He only made 165 starts, the second-lowest of his career and wanted to stop fighting what was becoming a losing battle.
"You do it for so long, and you kind of get tired of doing it. It gets harder, and it gets harder, you take a break and sometimes it gets easier, sometimes it doesn't. I had to stay on it so hard for so long that I was just getting tired of it," Wood said.
"I had kind of been feeling it come on for a while, but I didn't want to give in yet. Then I finally realized it was time. Just like any other athlete, they don't want to leave the sport they love. It's just time to do it."
So he stepped away. Wood began working for an oil company in the Texas oil fields. The next job site was in Russia.
"It was a fun experience going over there. I would have never thought I wanted to go see Russia, but once I had, I'm glad I did," he said. "I don't necessarily want to go back, but now I can say, 'Hey, I've seen Russia.'"
You have free articles remaining.
Register for more free articles
Stay logged in to skip the surveys
And what would be the best way to describe that experience?
"Cold," was the immediate description Wood gave.
But while he externally may have been falling deeper and deeper into the freeze, internally, the fire was still burning.
Then it became about proving it to himself and the naysayers.
Once he returned from Russia, and was in between job sites, Wood went to work shedding the weight to find out that, although the fire was still there, if the talent remained as well.
He was back in the states early last summer and spent six months getting back down to the 115-pound range.
"I just decided one day, people said I couldn't come back and make weight and I said, 'You know what, I at least have to prove to myself that I can't do it. I have to give it one more try. If I can't do it, that's it,'" he said. "I had to prove to myself I couldn't do it."
Wood was sitting at around 145 to 150 pounds when he began the process. He lost 30-plus pounds, went back to an old training center in Oklahoma, regained his license and was back atop a horse on Feb. 22 at Fonner Park in Grand Island.
It took until his 12th race of 2019 before he was back in a winner's photo, but in six months back in the saddle, Wood has already won 51 races, finished second 51 more times and third 44 times. The number of victories is the best in any of his eight years of racing. Wood's performances have won over $388,000 and he's winning at a clip of 42 percent.
As a jockey, he only collects 10 percent for wins and a couple of bucks for anything else, which is why jockeys, he said, consider second place the "first loser."
In Columbus, the payouts for anything other than winning is extremely small. But when you have a Friday like he did, Wood collected nearly $1,500.
"I've won four races in a night before, but that was my first time winning five in a night," he said . "That was a personal best. Then they told me I was one off from having the record for most wins in a day by a jockey."
Columbus is his current weekend stop following a midweek schedule that takes him down to Retama Park near San Antonio. He'll finish up Saturday night and get back on the road to be back in Texas on Tuesday.
This past week he had a schedule that included five races on Tuesday and Wednesday before taking the nearly 1,000-mile journey back to Nebraska.
But that's part of the life he said.
"That's why you truly have to love doing it," he said.
And he feels that love in Columbus and across Nebraska. Part of the reason Columbus fans have seen him on the track was because he rode in Omaha a few months ago and had a lot of fun.
"I just wanted to keep riding for the people that gave me a shot there. Everyone told me to go to Columbus. It was the next spot for y'all and I thought I would give it a try," he said. 
"I do love Nebraska racing. The fans are awesome. It doesn't matter if you run first or last. They're high-fiving you and screaming, 'Good job.' It's not about the wagers. We as riders really appreciate the fans. Without them we couldn't do what we do."