COLUMBUS — Maeghan Pieper didn't hesitate when asked about her expectations for the Central Community College volleyball team.
"No. 1. I honestly believe we can," she said. " ... We can be the best, we just have to prove it."
That was nine days ago, when the Raiders were 19-2, ranked No. 3 in the NJCAA Division II ratings and preparing for a rematch with Division I, No. 3 Iowa Western. Their only losses came against Iowa Western and Division II, No. 2 Parkland College.
A lot has changed since then.
Pieper, who led Central with 215 kills and was named the NJCAA Division II Player of the Week for Week 2 of the season, went down with a serious knee injury in the fourth set of last week's five-set loss to Iowa Western.
The sophomore middle hitter and Scotus Central Catholic graduate tore the ACL and MCL in her left knee, sprained her PCL and fractured her femur. She's done for the season.
Two sets earlier, Jessica Eurek, a sophomore outside hitter, also went down with an ACL injury. Her status for the remainder of the season is unclear at this time.
Central head coach Mary Young never had a player suffer an ACL injury before, let alone two in one match.
It was a shock to the system.
"It's been an emotional week. I've felt a lot of sadness for my team," Young said on Monday. "Our team is a close-knit group, so we've all hurt for Maeghan and Jess. It's hard to see any athlete injured, but especially sophomores. All of them have committed to our program and have led us on a great journey and they have been a huge part of our success."
Things went from bad to worse for the Raiders over the weekend when sophomore starting setter Paxton Throne injured her ankle during the Johnson County Community College Challenge in Kansas.
The Raiders, now 22-5 and ranked fifth, finished 2-2 at the event.
Throne will be back on the court this season, but the timetable for her return is unclear.
"Adjusting to a new setter adds another layer of adversity," Young said.
But it doesn't change the expectations.
"It's going to be different and it might be a little bit harder, but I think the team is still capable of some really good things," said Pieper. "There's still 13 people on the team and two good coaches."
For Pieper, who thought her season might be over earlier in the year when she injured her right knee, the role simply changes. She goes from being one of the Raiders' best players to their biggest fan.
"There's not really anything I can change right now. It happened," she said. "The best thing I can do is help the rest of the team."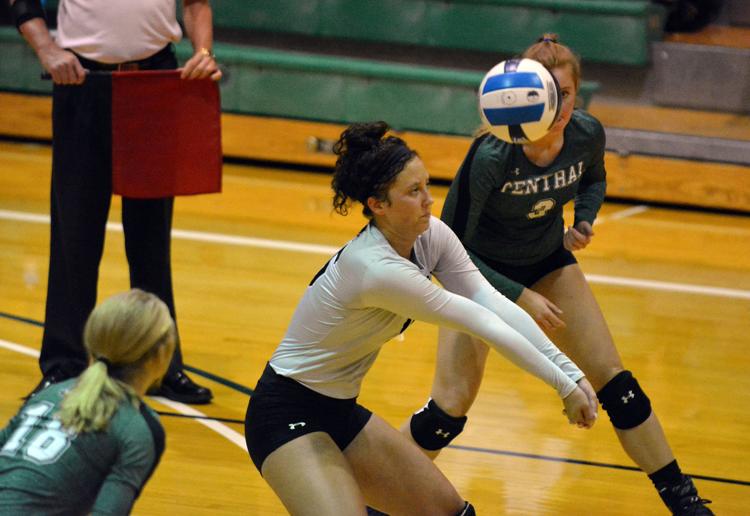 The same goes for Eurek, a Loup City graduate who was drawn to Central because it felt "like home."
Prior to their injuries, Eurek and Pieper talked about this team's chemistry and a "family" feeling that allowed them to connect both on and off the court.
"We all get along. We just mesh really well," said Eurek.
Both players referenced a change in the sophomore leadership between last year's squad and the 2017 team.
"The sophomores really have to be the leaders on the court and take the freshmen underneath their wing," Eurek said.
Now it's time for those freshmen, including setter Maddie Davis and Lakeview graduates Jordee Korte and Morgan Iverson, to step up.
"I've told our team that Maeghan, Jess and Paxton can still lead in other ways and be extremely beneficial to our success," Young said. "I also know that in times of adversity others will rise up to the challenge. We've seen that this past week and I know we will continue to see it."
Young, who is in her 23rd season as the Raiders head coach, certainly isn't lowering the bar for her team.
Central went 30-11 last season and reached the NJCAA Division II national tournament for the sixth straight year, but the Raiders lost their opening match in Charleston, West Virginia, and finished 1-2 at the tourney, tied for 11th place.
Young called the performance a "hard pill to swallow." It led to some offseason reflection among both the players and coaches.
"I think we learned a lot and our players also learned a lot," Young said. "I think our sophomores now, they don't want to feel that way again."
The Raiders may have experienced some setbacks in the past week and a-half, but Young believes there's plenty of talent, fight and heart on the roster to make sure that happens.
"Our team may look a little different, but we still have the same goals, the same expectations, and we intend to stay the path," she said.