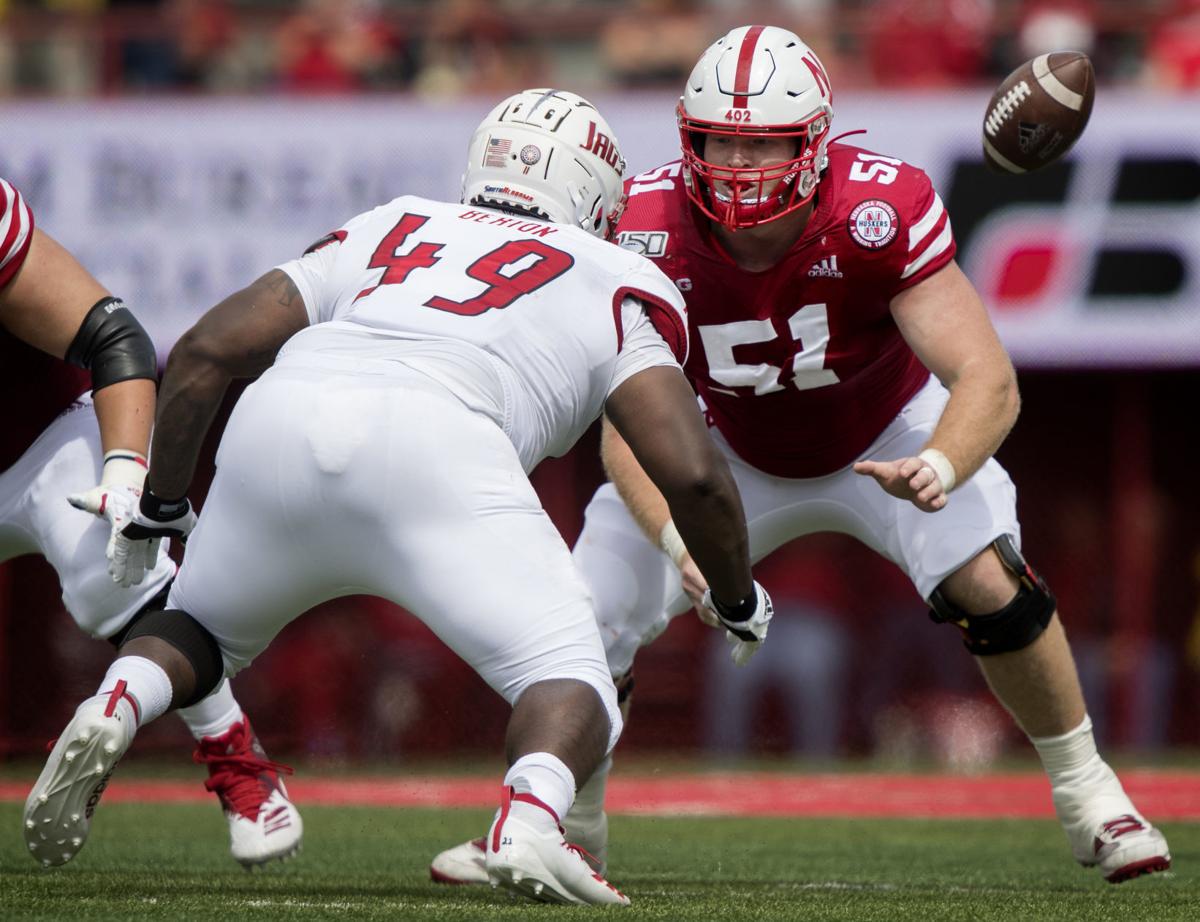 Nebraska spring football consisted of just two practices before it was halted due to concerns about the coronavirus pandemic. Even so, conversations with head coach Scott Frost, several players and almost every assistant coach provided at least some information about every position on the field.
Offensive line
Scholarship players (17): Seniors Brenden Jaimes (33 starts), Matt Farniok (28), Christian Gaylord, Boe Wilson (21); juniors Broc Bando, Trent Hixson (12), Matt Sichterman; sophomores Cameron Jurgens (12), Will Farniok; redshirt freshmen Bryce Benhart, Matthew Anderson, Jimmy Fritzsche, Brant Banks, Michael Lynn, Ethan Piper; freshmen Turner Corcoran and Alex Conn.
One storyline
This will be an interesting group to watch, to see what the starting lineup ends up being when the season begins and if all the experience on the line can help Nebraska's offense go at a better, and more consistent, level. 
Nebraska returns its full starting group from last season — tackles Brenden Jaimes and Matt Farniok, guards Trent Hixson and Boe Wilson and center Cameron Jurgens. But it's possible Farniok moves to guard, bumping out one of the returning starters. And that means a new right tackle, possibly redshirt freshman Bryce Benhart.
Regardless, the directive from Husker offensive line coach Greg Austin is that there is no reason the line shouldn't be better. Austin has 17 scholarship offensive linemen, plus a dozen walk-ons, on the roster.
"We don't have a new center, we don't have new all of this," said Austin when spring practice began earlier this month. "We've got 1,000 guys now, and plenty of reps to go around."
When the game or practice film gets shown in the O-line room, Austin says no excuses will be allowed.
"I don't want to hear it. Let's get the job done," Austin said.
Farniok has started 24 straight games at right tackle over two seasons. But Austin thinks he may like Farniok as a guard, too. 
"He's a thick kid that has a good low center of gravity and can move people," Austin said. "He's shown an ability to move people, get his pads under guys. I think athletically he's better in short spaces. I think his athleticism is tailored more to being a guard." 
One quote
The Nebraska offensive line is fortunate to have a player like Jaimes, a three-year starter who Austin said played really in 2019, especially in the second half of the season. You couldn't have asked for better tackle play, especially in pass protection, Austin says.
And Austin said Jaimes could have left early college a year early, and made an NFL roster.
"To be honest with you, it was, 'Is he going to come back? Is he not?' Nobody knew," Austin said. "Brenden knows why he came back. Brenden had an opportunity to play in the NFL this year. So him coming back, this is not, 'I want to come back and increase my draft (stock).' This is a come back to get this stuff right and be the senior leader in the room that you're supposed to be. Be the cornerstone of the offensive line and continue to mentor the young guys behind you and progress those guys and be the right-hand man to the coaches. Like, that's your job now."
One thought
Nobody knows what the condensed offseason will look like. How many "spring practices" will Nebraska get back when the NCAA opens things up? When will the whole team be back in Lincoln doing strength and conditioning workouts together?
But in a condensed offseason the offensive line may be best suited to lead the Husker offense, with the mix of returning starters and players with one or two years in the program behind them. That's more depth than the line has had during the previous two seasons.
Be the first to know
Get local news delivered to your inbox!