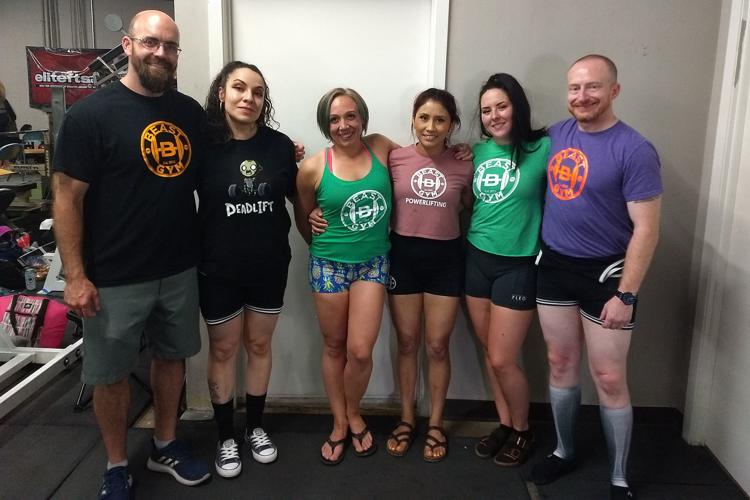 BEAST Gym came away with quite the medal hall thanks to five lifters who competed at the inaugural Ed Coan Classic in Omaha on June 27.
Sarah Evans, Ludy Harger, Shayla Urkoski, Carla Afre and Cody Nilson were the five lifters representing BEAST GYM competing in squat, bench and deadlift. 
All five either set personal records, placed in the top three of their weight class, or both.  
The team is trained by Aaron Bozarth, who owns the gym located at 3320 19th St. Bozarth couldn't have been more pleased with the results and how his team made a name for itself among many others.
"It was a really fun day," Bozarth said. "It's always stressful going into it because you hope they're (going to do well on competition day) like in any sport. It was a lot of fun. It was exciting to see how they competed." 
Harger won the award for best women's lifter of the meet with lifts of 280 pounds in the squat, 148 in the bench and 341 in deadlift. 
"It was amazing," Hager said. "There was so much adrenaline. It was really good. It was a really good experience."
Harger has been competing for nearly four years. She was among a field of 16 women at the meet.
Going into the tournament, Harger knew she'd have a chance to do well, but even she was surprised when her name was announced as the winner.
"My trainer and I were like, 'Maybe there's a chance to win some money,'" she said. "I was in shock when they called my name and said Ludy Harger has the best lifts of the day.
"I was literally saying, 'Wait, what?' I just couldn't believe it. Everyone was like, 'Ludy you won!' I couldn't believe it honestly."  
Evans was the second-best women's lifter of the meet after breaking her personal record in the bench press, lifting 193 pounds. 
"I only got a 10-pound bench PR," she said. "That isn't huge for a meet, but I was really happy that I went for some bigger numbers. In squat and deadlift, I went for some numbers I haven't touched before. That was kind of exciting." 
Coming into the meet, Evans said her focus was internal and improving on her own marks rather than concerning herself with the field of competitors. In particular, she saw the meet as an opportunity to test her limits.
"I just wanted to see how far I could go," Evans said. "I just wanted to see what a real max would feel like. I didn't want to play if safe this meet." 
Evans is fairly new to the sport. She has been competing for a little less than two years. Her first meet was in October of 2018. After this most recent eent, she's happy with what she achieved and even happier to have done it as a team with other members of BEAST.
All five of the competitors not only train together but also see each other socially outside of the gym. 
"We're all really close," she said. "We train together every morning at 6 a.m. Almost every Saturday we go get breakfast together. We do birthday parties together, or movie nights. 
"It's really good. When we compete sometimes we'll compete against each other, but everyone is kind of there to do better than they have in the past; so everyone is really supportive all the time."  
Urkoski overcame an injury to place third in her weight class with a squat of 236, bench of 149 and deadlift of 303.
"I would say that it was really exhilarating," Urkoski said. "It was just surreal to compete in such a big event."
A few weeks before the event Urkoski seemed unlikely for the event due to back pain. She recovered well enough to fight through it and record a mark in all three lifts.
 "When you're lifting large amounts of weight, it's not so good to have back pain," Urkoski said. "For the two weeks leading up to the meet I was unable to lift much weights. 
"It was nerve wracking when I got there to even know if I was going to be able to lift anything. I'm glad that I made it through and got a lift in every category ...It was very emotional for me to realize that I was as mentally strong as I was." 
Afre set personal records in all three lifts. Just six months after having a baby, she squatted 242, benched 132 and deadlifted 303. She also successfully completed all nine of her meet attempts.
"It was very exciting, honestly," Afre said. "I was looking forward to this meet. It's only my second meet since I got into powerlifting. I was out of the gym for a while because I recently had a baby. I was like, 'Oh no, now I'm going to be out of the gym. I'm not going to be strong enough. I'm not going to get the numbers I want." 
Had the meet been held as it was originally scheduled in May, Afre might not have been able to attend. When it was pushed back due to coronavirus, it allowed extra time to prepare for a big day. 
"It was very exciting," she said. "It was kind of a surprise. The training that (Bozarth) has been giving me lately had been making me stronger and stronger."  
Nilson placed second in his weight class after setting a personal record in the deadlift of 467 pounds. He was hoping to break his personal record by more than he did but is still happy with the accomplishment. 
"It was not as much as I wanted, but I got a PR in the deadlift and for total (score)," he said. 
Nilson has been competing in lifting for four years now. He said one of the best parts of the meet was watching his other teammates have success.
Despite it being an individual sport, he said there is definitely a team feel between him and the lifters from BEAST gym. 
"Our group of ladies we have, they're just absolutely monsters," he said. "They're strong ... It's awesome watching them win and do really, really well all the time." 
Be the first to know
Get local news delivered to your inbox!