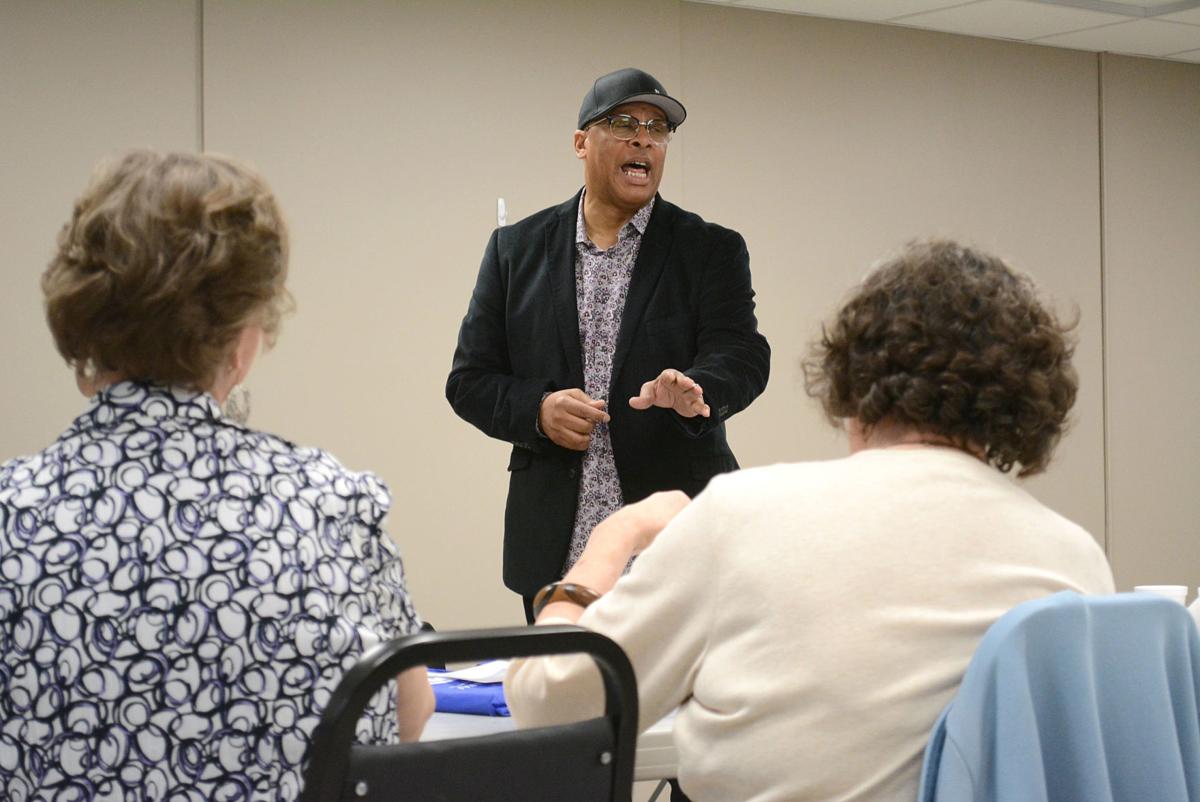 Former Nebraska split end Ricky Simmons can make even the grouchiest of grinches feel better about the world. 
Go ahead and try him sometime. 
Simmons has a new book out, "365 Days of Redemption," a daily journal of inspirational quotes by the former USFL and NFL player and current motivational speaker. His first book, "The Explosion of Redemption: Trying To Win The Game of Personal Forgiveness In Life," was originally published in 2017.
A 58-year-old native of Greenville, Texas, Simmons talks in startlingly frank terms about his days of cocaine abuse. We're talking about a $1,000-per-day habit and four prison stints. He can simultaneously make you laugh, wince and elicit tears of sadness during a 30-minute sitting. His story is rough. But he tells it with a mix of brutal honesty and charisma. 
His motto is "Another day in paradise" because he genuinely feels blessed to have survived his former lifestyle. He's been sober for 10½ years. He has at least two speaking engagements per month. Here's hoping you can hear him speak sometime. You'll likely come away feeling better about the world. 
"Here's the catch," he says while leaning back in his chair in his office in east Lincoln. "Society likes to focus on the negative." 
Simmons pays close attention to all of it, in large part by watching ABC's "World News Tonight" with David Muir. 
At the end of the 30-minute broadcast, there's often a feel-good story that usually lasts about 30 seconds. 
But it doesn't beat down Simmons, the Huskers' second-leading receiver in 1983 behind Irving Fryar.
"It's easier for me to be happy because of my past," Simmons says. "When you've been through what I've been through ... I've been to 10 drug-treatment centers. Graduated from nine of them. That's some adversity. So every day out here in society is way easier than prison and treatment centers."
This is not to suggest everyone should travel Simmons' route to happiness. Heavens, no. But folks can learn from his mistakes. That's what he wants. And you can learn from his books. He wouldn't mind that, either. 
Bottom line, it requires elbow grease to stay in a positive frame of mind on a consistent basis. Simmons' latest book is designed to help in that regard.
"I look at motivation like it's a shower," he says. "It's recommended daily. If you get up and take a shower every day, you'll smell decent. If you get up out of bed determined to be positive every day, there's a good chance you'll be more positive during that day.
Simmons works hard at being happy, arising daily at 3 a.m. and doing a set of spiritual readings.  
"And then I drink coffee out of a prison mug," he says. "It's a reminder. I brought it home on Dec. 12 of 2009 and have been using it every day since." 
He gets on Facebook and sends out videos depicting ... well, happiness. He dances and shares a positive thought or two. There's always something to do, someone to touch. After all, 6 p.m. comes quickly. That's when he goes to bed, soon after Muir does his thing on "World News Tonight."
"When I started this routine, it started in prison," Simmons says. "At 5 o'clock in prison when you watched the news, shortly after that your day was over and everybody started getting into things they were getting into in prison. Bad things."   
But Simmons went to bed at 6. The guards knew it. Knew where he was. It kept him out trouble. Kept him moving in the right direction. One day, in 2008, his movement in the right direction accelerated significantly. He was in the state prison in Tecumseh when he received a three-sentence note of encouragement from Tom Osborne, the former Nebraska head coach. His former head coach.
Dear Ricky, I know your parents believed in you. I believe in you. Upon your release, if there's anything I can do to help you, feel free to contact me."
Simmons fell to his knees in his prison cell and turned his life over to Christ. 
"It set a blaze under me that still burns," he says, noting that he seeks out Osborne at least once a week even if their encounter lasts only a couple of minutes.
For Simmons, it's about being accountable. And grateful. Extremely grateful. 
You never really know how profoundly an act of kindness might affect someone. Maybe, just maybe, it will inspire someone to alter the course of their life. 
Simmons loves sharing the story about Osborne's letter, hoping it inspires people. Ricky hopes the entirety of his story inspires people. He hopes he can put a smile on the face of even the grouchiest of grinches. 
Go ahead and give him a try sometime.
Be the first to know
Get local news delivered to your inbox!