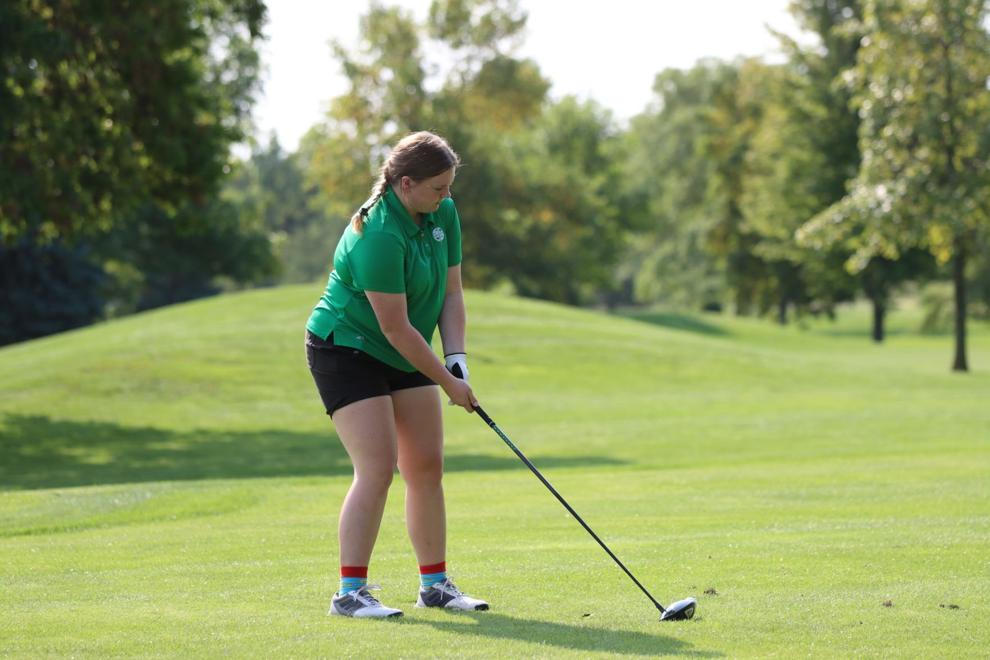 Sophomore Cecilia Arndt shot a round in the 70s for the third straight tournament and Scotus Central Catholic the runner-up at the Blair Invite on Monday.
Arndt's performance earned her a third place medal during a round of 76. She set the school record low for an 18-hole event last week at Quail Run with a 73.
Her 4-over total in Blair was eight shots back of the winner and five behind the runner-up. Arndt paced a Scotus group that also included a medal for Alaina Dierman in seventh with a 90, Halle Langan scoring a round of 101, Avery Dierman putting together a 109 and Ella Nahorny carding 111.
Elkhorn North was the dominant winner on a team total of 316 - a meet record that was 50 shots better than Scotus. SCC was also 36 shots better than Bennington in third place.
"Senior Halle Langan has been a very pleasant addition to the team in her first year paying golf for Scotus," coach Tanya Niedbalski said. "For Cecilia Arndt, this is her third straight meet scoring in the 70s. She has her sights set on lowering the school record she now holds at 73."
Scotus is back on the course Thursday at Quail Run in a triangular that includes Lakeview and Boone Central. The players tee off at 4:30 p.m.
Two days after setting a school record, Shamrock sophomore Cecilia Arndt was back on the course winning another gold medal. She put together a school record, 73, on Thursday at the Lakeview Invite at Quail Run while also winning a gold. Saturday she shot 79, won her second straight tournament and helped Scotus win the team title.
Arndt led a Shamrock contingent that included Kaelyn Dierman taking silver on a round of 98, Halle Langan shooting 100 and earning fourth, Ella Nahorny collecting a seventh-place medal for a round of 104 and Abee Hutchinson taking 14th with a score of 112.
Arndt and Scotus successfully found their way around the course while dealing with temperatures in the 90s and a heat index above 100.
"There were a few rough holes for the girls, as there always are, because of the creek that runs through the course," coach Tanya Niedbalski said. "We're still looking for that magic fivesome of players. We have been paying a lot of girls in different positions. We have 14 out for golf, and many of them are vying for varsity playing time with the scores they have been shooting."