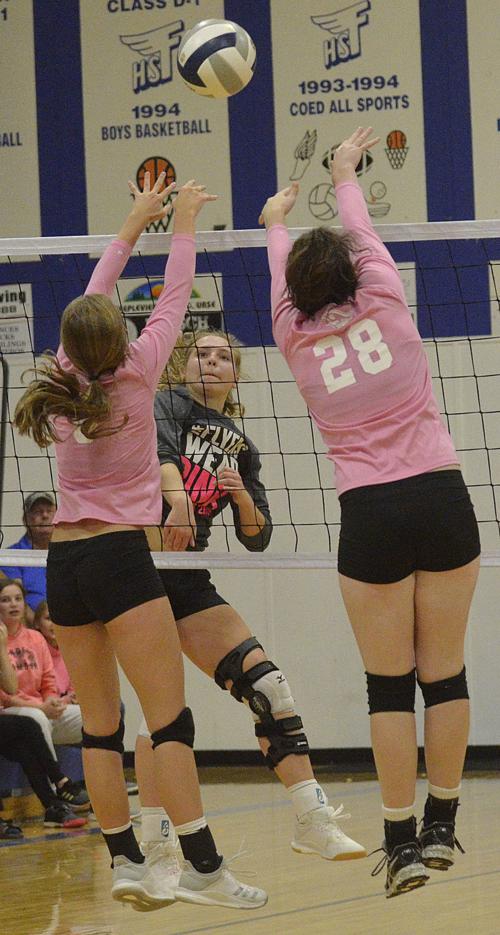 D-2 No. 5 Humphrey St. Francis and D-1 No. 9 Humphrey/Lindsay Holy Family are one win away from the state tournament after sub-district results on Tuesday night.
The two teams will play in the district championship on Saturday, though the time and location for both matches have yet to be released by the NSAA. 
The Flyers clinched their spot after defeating Riverside in the D2-5 sub-district in Greely. St. Francis, according to the power points standings, will most likely play Stuart in the district round. 
The Bulldogs lost to D-1 No. 3 Chambers Wheeler Central in the D1-5 sub-district in Albion but finished ninth in the wildcard and likely face Humboldt-Table Rock-Steinauer, the presumed eight seed.
While the town of Humphrey is celebrating moving on to districts, Twin River and Cross County both came up just short in sub-district championships, ending the season for both teams. 
Twin River fell to Fullerton in the D1-6 sub-district in Shelby and Cross County lost to C-2 No. 5 Wahoo Neumann in the C2-6 sub-district in Wahoo. 
D-2 No. 5 Humphrey St. Francis def. Riverside, 25-12, 25-13, 25-4: Senior Caitlin Jarosz delivered eight kills and blocked two shots to help secure a spot in the district championship for the Flyers. Junior Allison Weidner had seven kills and two aces as well.
Junior Peighton Eisenmenger recorded five kills, and freshman Kylee Wessel had three kills and two aces. 
Senior Makenna Krings led the Flyers with three blocks and added one kill, and junior Alissa Kosch served a team-high four aces. Sophomore Kaylee Stricklin finished with two kills, and senior Lauren Pfeifer served one ace and had one block. 
Kosch led St. Francis with 15 digs, and Eisenmenger recorded all 22 of the team's assists. 
The Flyers have now won nine straight matches and sit at 21-4 on the season. 
D-1 No. 3 CWC def. D-1 No. 9 Humphrey/Lindsay Holy Family, 25-17, 25-19, 25-12: Despite junior Paige Beller hitting a team-high eight kills and recording four blocks, the Bulldogs fell short of the upset.
You have free articles remaining.
Senior Allie Schneider had five kills and one block, and junior Hailey Goering recorded four kills and two blocks. 
Junior Lexi Frauendorfer finished with four kills, sophomore Addison Schneider tallied two kills and one block, senior Madison Swerczek recorded two kills and senior Brooklynn Magsamen and junior Kenna Roelle both served one ace. 
Senior Brittney Veik led the Bulldogs with 34 digs, and Allie Schneider had a team-high 11 assists. 
The loss drops Humphrey/Lindsay Holy Family to 21-10 on the season. 
C-2 No. 5 Bishop Neumann def. Cross County, 25-22, 25-22, 27-25: Junior Cortlyn Schaefer did everything she could to keep the Cougars' season alive, driving home 16 kills and blocking four shots, but Cross County fell just short in a three-set sweep.
"Neumann is just a darn good team," Cross County head coach Autumn Capler said. "We'd get a couple of good blocks on them and they'd come back and find a different hole on the court. They were aggressive and smart and served very well.
Sophomore Chloe Sandell had six kills and a team-high six blocks, senior Amanda Giannou led Cross County with 32 assists. 
It was the last game for three seniors, Giannou, Katie Kopetzky and Savannah Anderson. Cross County finished the season 23-9.
"(I have) such a mix of emotions right now. (I'm) so, so proud of the girls," Capler said. "They went out and, literally, every one of those girls left everything they had on that court. We played one of our best games to wrap the season up, and that's all I can ask of them as a coach." 
Fullerton def. Twin River, 25-13, 25-19, 24-26, 25-18: Senior Marissa Morris led the Titans with 16 kills, six blocks and one ace but Twin River fell just short of the district round. 
"We did not pass well the first game and really came out timid and not aggressive. It took us a while to settle into our game," Twin River head coach Julie Strain said. "In the second set, we passed much better but missed some blocking assignments and defensively we were not positioned right.
"The third game we really battled and didn't quit. We were down 22-18 and battled back to win it. But in the fourth game, their hitters were just too much for us to stop."
This was the last game for seniors Morris, Chloe Cave and Eva Fehringer. The Titans finish the season 9-21.