COLUMBUS — Columbus High sliced No. 8 Aurora's 14-point lead to just one, trailing 41-40 late in the fourth quarter.
The Discoverers had a chance to take the lead, but missed a layup.
Moments later, the Huskies, up 42-40, missed on the front end of a one-and-one, but gathered the offensive rebound.
Aurora (8-4) didn't miss again, making its last six free-throw attempts to escape upset-minded Columbus (4-8) with a 48-42 victory Saturday at Columbus High School.
"That hurt," CHS head coach Dave Licari said of the late offensive rebound.
But Licari isn't one to dwell on missed chances, he was proud of the way the Discoverers got themselves back in the game against one of the best teams in Class B.
"I loved the attitude and effort to come back against any team, but especially a good team like that," he said.
The Huskies scored the first four points of the game on free throws after offensive rebounds.
"We got hurt on the offensive glass," Licari said.
Back-to-back 3-pointers from Bailey Keller and Kennedy Jones gave Columbus a 6-4 advantage.
The Discoverers trailed 16-12 after the opening period, using four 3-pointers from four different players to keep it close.
Aurora went on an 11-3 run spanning most of the second quarter to open up a 27-15 lead.
"We just had some defensive lapses and they took advantage of our miscues," Licari said.
Alyssa Turner's 3-pointer with seconds left in the half brought Columbus back within 10 points at 27-18.
Columbus made six 3-pointers in the first half, accounting for all its points, and they came from six different players.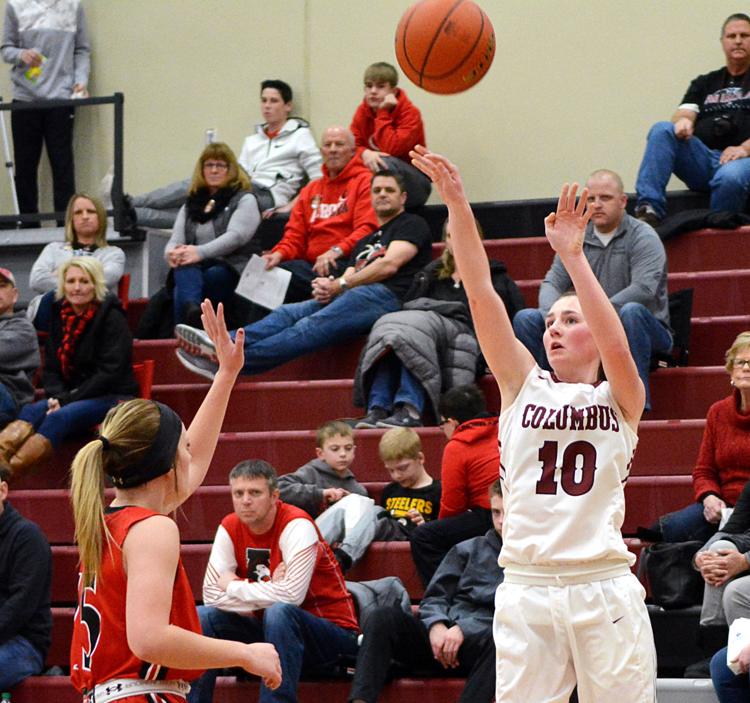 Aurora quickly regained a double-digit advantage in the second half, scoring the first five points of the third quarter.
Then Columbus started to claw back. The Discoverers had it back to a five-point game by the end of the period.
Jones hit a 3-pointer midway through the fourth quarter to draw Columbus within one at 39-38. After a defensive stop, the Discoverers missed a midrange jumper that would've given them the lead.
Instead, the Huskies scored to make it 41-38, but Columbus answered with a pair of free throws by Aspen Luebbe to make it a one-point game again with about two minutes left.
The Discoverers just needed to knock down one more shot.
Luebbe scored 13 points, knocking down three 3-pointers, to lead Columbus. As a team, the Discoverers made 10 of 30 shots from beyond the arc, but just 3 of 18 from inside it.
Aurora's size inside was a problem all game for Columbus.
"(Corrie Schneider) intimidated us a little bit and made us change our shot," Licari said.
Schneider, a 6-foot senior, scored 13 points for the Huskies and Kennedy Kredjl added a game-high 14.
Regi Zakrzewski chipped in 10 points for Columbus.
The schedule doesn't let up for the Discoverers, who play Tuesday at top-ranked Elkhorn.
"They're hanging tough right now, so hopefully they continue that," Licari said of his team, which has now faced four of the top 10 teams in the class.