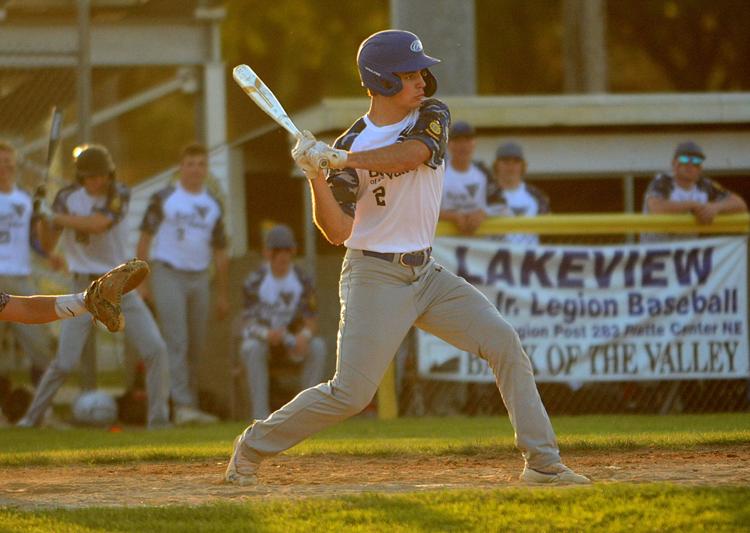 The Bank of the Valley Lakeview Seniors piled up nine hits but failed to score after the third inning and saw their winning streak come to a close Wednesday night in a 5-4 road loss at Arlington.
Bank of the Valley scored all of its runs in a productive third inning but otherwise left nine men on base and had just one runner in scoring position after the third.
Arlington took the lead with two runs in the second and regained it with three more in the fifth. Starting pitcher Braden Rump tossed all seven innings for the hosts, allowing two earned and nine hits but also striking out nine.
The combination of Ian Gibbs, Caden Pelan and Cooper Tessendorf took to the mound for Lakeview. Gibbs allowed the two second-inning runs while Pelan threw for the next three frames and was touched up for three earned on four hits and three Ks.
Bank of the Valley had a scoring opportunity in the first inning and had a chance to add more in the third but then created just two hits in the final four frames.
"Statistically, we struck out nine times, we had more hits, but we left two or three more runners on base. We left the bases loaded in the first, and as it turned out, that might have been the difference," Lakeview coach Brach Johnson said. "It was a great game between two very evenly-matched teams."
Cameron Drozd's leadoff single in the first at bat of the game started a rally that included a walk and a hit batter. But after two ground balls eliminated runners at second and third, Lakeview failed to capitalize with the bags full and two down.
Keegan Lavicky, Haustyn Forney, Evan Tessendorf and Layne Forney scored during the four-run third. Pelan led off with a walk and was replaced on the base paths by Lavicky as a courtesy runner. Lavicky came in on a single by Evan Tessendorf. Haustnyn Forney singled and scored on a Michael Rerucha drive to right. Tessendorf came in on an error at second. Layne Forney singled and eventually scored on Logan Jaixen's ground out to short.
Arlington went down in order in the third and fourth but then used four hits and an error for four runs in the fifth. The hosts put together three singles in the second to take the initial 2-0 lead.
"We do things a little differently. They had their guy throw 104 pitches and went the distance. We had three guys throw based on what we've got for pitching and trying to limit their pitch count," Johnson said. "We were every bit as good; we just didn't get the clutch hits when we needed them."
Lakeview had won three straight before the loss. The team started 0-2 in losses to Central City and Wayne, scored 12 or more runs in three straight games, but returned to higher level of competition on Wednesday.
Johnson said that despite the loss there were obvious signs his group had grown over the past two weeks.
"We've improved in a lot of little ways. I'm starting to understand our personnel a little better and where they can play," he said. "I can tell you the kids were disappointed. This was a high-quality opponent."
Get in the game with our Prep Sports Newsletter
Sent weekly directly to your inbox!