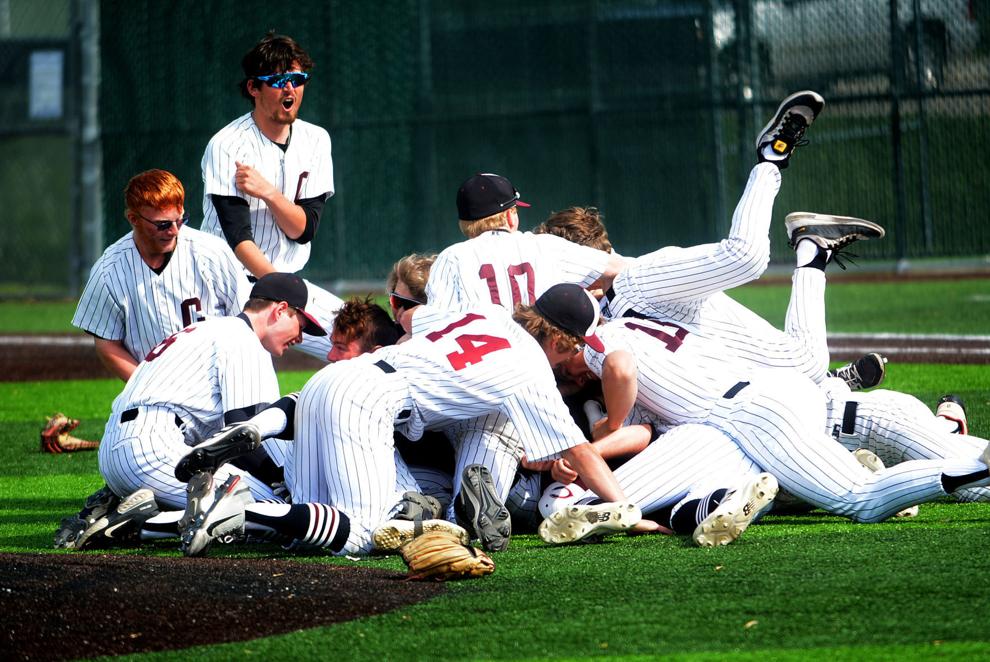 How long are 48 hours? It depends on who you ask.
Ask a Columbus High baseball player what the last two days have felt like and you'll get multiple perspectives about how the Discoverers, their coaching staff and their families have navigated life since Saturday night.
But ask them what Monday meant and you'll get the same response: Joy.
A diving catch by Tadan Bell in right field provided the last out needed for Columbus to make the long-awaited dogpile and celebrate the state tournament. CHS defeated Lincoln East 7-4 on Monday in the A-3 district final back in Lincoln two days after the Discoverers took a 6-4 lead in the 10th then had the proceedings halted by lightning and rain.
CHS returned to Den Hartog field for what amounted to a little less than 15 minutes of game action but a moment 68 years in the making.
Columbus, according to NSAA records, had qualified for state twice before Monday - 1952 and 1953. The program went defunct at one point, though no one can remember exactly when then was brought back in 1999.
All of those years, with a team, without a team and just over two decades back on the diamond led up to Monday.
"It was a rough two days sitting there thinking about it, thinking about, "Three outs, three outs, three outs; can we get three outs?," senior Brent Beard, who pitched those final three outs said. "Oh man, it was rough. But here we are; we did it."
Columbus had the bases loaded and two out with Evan Bock coming up to hit when the game resumed. Bock coaxed a walk with a full count after fouling away the sixth pitch and taking a ball on the seventh. He pushed Colin Flyr across the plate and made it 7-4.
Beard then went out to the mound to try and wrap it up with a three-run cushion. He walked the first hitter he faced then snagged a line drive off the bat of the next and tossed to Kaden Young at first for a double play. The runner broke on contact and gave CHS big sigh of relief with two outs in an instant.
A single then a double put East runners at second and third with two down. Thanks to Bock, that meant the best the Spartans could do was bring the tying run to the plate. On a 2-2 count, East junior Keegan Brink slapped a hard liner to right that was tailing away from Bell to his left. He came in and dove headfirst to the turf for the snag.
"We haven't been there in 68 years, so I was putting everything on the line in order to do that," Bell said. "I knew, if I took a chance they were only scoring two, and if I got a piece of it, I'd only let that one guy score. I took my chance, and it was worth it."
Columbus High was in position for history after defeating Creighton Prep in the district semifinal 7-6 then exploding for four runs in the top of the first against East.
Beard singled with two on to make it 1-0, Sam Kwapnioski sent a one-out liner to center and made it 2-0. A fielder's choice off the bat of Jarrett Bell made it 4-0.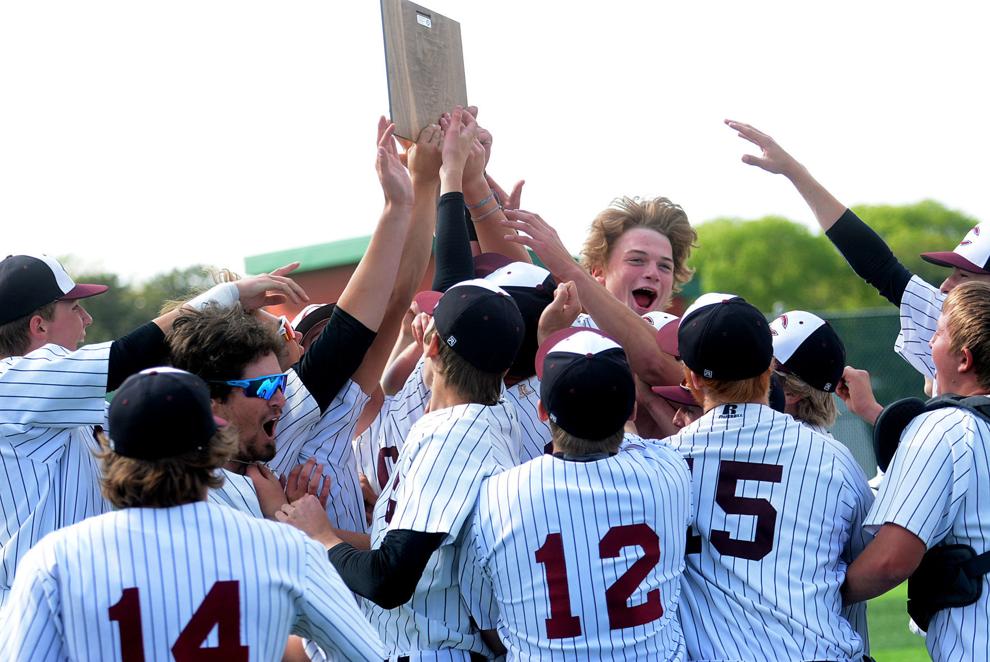 East cut the lead to 4-3 in the bottom of the second when two-out walks and a single were cleared off the bases with a three-run triple. The Spartans tied it in the fourth on two walks, a hit batter and a sac fly.
Neither team threatened again until several wild sequences took place starting in the seventh.
Trey Kobza was hit-by-pitch to start the seventh, stole second then moved to third on a ground ball from Colin Flyr. Playing for the force out at home, East issued intentional walks to Beard and Young. The gamble paid off. Bock struck out and Kwapnioski grounded out to short.
A one-out double and walk had the Spartans in business in the bottom half of the inning. A ground out to Bell at second then a line drive to Young at first sent it to extra innings.
Columbus loaded it up again in the ninth when Colin Flyr singled with one down then Young and Bock walked with two down. Kwapnioski popped out and East escaped.
It was the Spartans' turn to create some drama in the bottom half when they led off with the single then filled the bases with a one-out error and a one-out walk. The Discoverers wiggled off the hook by throwing a runner out at home on a failed suicide squeeze before Kobza ended the frame on a strikeout looking.
Bell singled, Zrust bunted him over and Tanner Kobza singled to start the 10th. Trey Kobza brought Bell in on a shot in hole at center that turned into a ground out but also an RBI. A passed ball then an infield hit just over the pitcher by Flyr added another Columbus run.
Beard and Young were both beamed in the next two at-bats when Evan Bock was due up and the game was suspended.
"I was just trying to keep it simple and not try to do too much with the ball," Bock said about resuming the game with him coming up. "Coach Johnson said to just get on the batter's box line, so that's what I did. I was just covering the plate. I was going to let him pitch to me because, the two guys before, he hit. I was just trying to get my pitch. It was a good job by the coaches, too."
Trey Kobza, who earned the save in the Prep game, earned the win against East after coming on in the fifth inning and tossing four frames with three hits, no runs, two walks and three strikeouts. He threw 64 pitches then had to watch the conclusion from the dugout after being on the verge two days earlier.
"I've never played a game where I had to wait two days to finish it, especially, probably the biggest game of our lives," Kobza said. "It's just a lot of emotions. We talked about it all season. We knew we had the capability of doing it."
The full state schedule hadn't been released Monday night, but by all indications, Columbus will play Millard South back at Hartog field at 10 a.m. on Saturday.
"Marriage and then kids, this is right up there," coach Jimmy Johnson said. "It's exciting. I'm just some guy who happened to be here in the right spot coaching. It's just amazing ... I couldn't have done it without ... the Lord just works through people. He deserves the glory because I'm just a guy coaching baseball. He put me in the right spot and gave me amazing kids to work with, and now we get to say we're the first team that got it done."