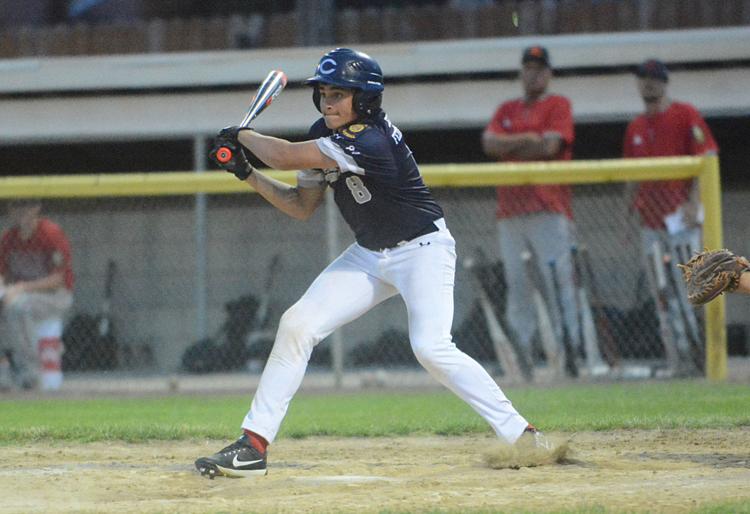 Pitching and early offense led to a Game 1 win but late runs by the Lincoln Southeast Reserve team in Game 2 forced the Columbus United Federal Credit Union Junior Blues to settle for a split Wednesday night at home after winning 5-2 then losing 5-4.
The combination of Brennen Jelinek starting the Yurisky Rivera in relief plus four first-inning runs allowed the Juniors to win their third game of the year to go with six losses. Jack Faust had the start in Game 2 and had a 3-0 lead after four innings before defensive miscues led to three Lincoln runs in the fifth.
The visitors took the lead in the sixth with two more, Columbus answered with one in the bottom half and had the game-tying and winning runs on base but failed to bring either of them home.
At the plate, Ryan Eickhoff led CUFCU with four combined hits, two in each game, and Rivera was 3 for 8 with three runs driven in.
The Blues are a respectable .284 with runners in scoring position this season but have struggled over the last week during crucial moments in games.
They had the tying and winning run on in the last inning of Tuesday's 11-10 Game 1 loss but failed to come up with a hit, had the bases loaded and two down trailing by three in Game 2 but grounded out again and dropped a 7-4 decision. Thursday's Game 2 loss was another instance of the team perhaps still finding its bearings and becoming comfortable with the game on the line.
Johnson admitted while that may be the case, playing in close games is proof that his guys are starting to figure it out.
"Winning the big moments and expecting to win those moments," coach Jimmy Johnson said. "But to our guys credit, I think they've started to buy into and understand the concept of, OK, you want to win a game, but let's shrink it  down to winning each inning. They're starting to shrink down that competitiveness and understand every piece of the game matters. They'll get to the point where they understand how to win each pitch."
GAME 1, CUFCU 5, Lincoln SE Reserve 2: Brennen Jelinek started and went 4 and 2/3 with two runs allowed, four hits, one walk and struck out three. Two hits, a hit batter and a walk in the third were his only damage.
But by then he had taken the mound with a 4-0 lead on first-inning RBIs from Nick Zoucha, Jacob Wagoner, Colby Salak and Izic Pillen. Rivera and Eickhoff put together back-to-back one-out singles to start a rally that included six straight hits.
Jelinek set the Lincoln lineup down in order in the fourth after Lincoln had cut the lead in half. He had also retired the first two batters in the fifth before Rivera came in for relief. In his second appearance, Rivera was much more in command than when he went just 2/3 a week earlier, allowed four hits, four runs and walked three.
This time he was in a one-out, runners at second and third jam in the sixth but struck out the next two hitters. He pitched a 1-2-3 inning in the seventh.
Rivera also drove in Columbus' final run in the fourth after Bohden Jedlicka led off with a single. Faust singled in the next at bat and Rivera brought Jedlicka in with a line drive to center moments later.
"They both really pitched well," Johnson said of his throwers. "Brennen was able to get ahead of hitters, and Yurisky really found his offspeed. He had that working; that was really effective for him."
GAME 2, Lincoln SE Reserve 5, CUFCU 4: Faust started and cruised through the first two three innings only allowing two hits. He took to the mound in the fourth with a 2-0 advantage when Rivera drove in Faust on a one-out single to center and Jedlicka singled past shortstop for a two-out RBI three hitters later in the home half of the third.
Faust needed just 10 pitches to exit the fourth unscathed then went back to the mound in the fifth leading 3-0 when Rivera pushed a run across on a sc fly set up by two singles and a walk.
Lincoln began to find the offense in the fifth with a leadoff double then a single. The runner at first appeared to be cut down stealing at second for the first out but the play was eventually ruled interference after two CUFCU players converged on the throw from Jelinek at catcher.
A suicide squeeze brought one run home. Faust struck out the next hitter and was one out away from ending the inning before a grounder to short ended with Eickhoff tracking the ball to his right but tripping in the dirt when he went to make the throw. That brought another run in and made it 3-2. A double steal in the next at bat then ended in disaster with a bad throw to third. Faust picked up another strikeout but the game was now tied 3-3.
Back-to-back singles to start the third came in on a two-out single for Southeast in the sixth.
A Faust leadoff single and Eickhoff one-out double turned into a run on a error in the bottom half. But Columbus had two on and one out and failed to produce anymore.
An error, walk and fielder's choice put the tying run 90 feet away in the bottom of the seventh but a grounder to third with two outs denied the CUFCU comeback.
The Blues sit at 3-7 and are back in action Monday at home against the Grand Island reserves.
Get in the game with our Prep Sports Newsletter
Sent weekly directly to your inbox!