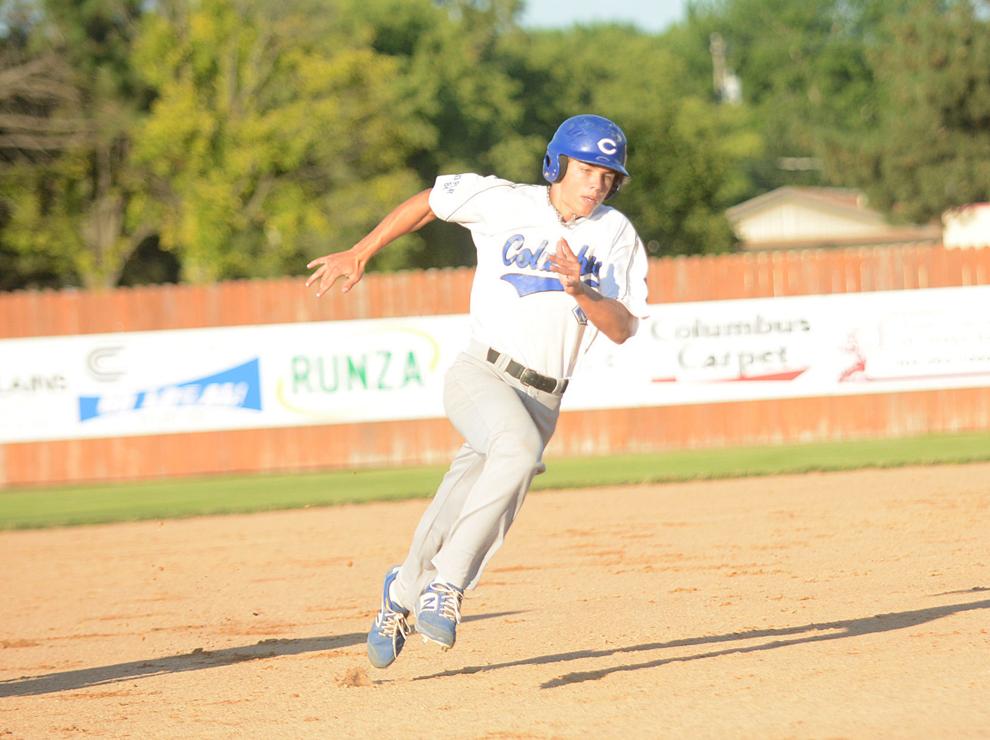 After back-to-back losses on runs in the sixth inning or later, Trey Kobza and Tadan Bell ensured Columbus High baseball would reach the finish line Tuesday at Waverly without any heartburn.
Kobza started and went 3 and 2/3 allowing just one earned run while Bell took his spot in the fourth and struck out seven of the 11 batters he faced. Perhaps more importantly, Waverly was never able to advance a runner past first base in the final four innings.
If there was any dread hanging around the Discoverers dugout, they didn't show it.
Columbus hitters had just enough to support the pitching thanks to six hits, RBIs by Colin Flyr, Brent Beard and Kaden Young, a double by Beard and stolen bases from Caleb Van Dyke and young.
Columbus improved to 6-7 with the win and earned a third victory over a ranked opponent - this one against No. 8 in Class B.
"It was good for the psyche," coach Jimmy Johnson said. "The losses to Blair and Westside were pretty heavy. Blair was just a stunner the way it ended, and Westside had a quality team. Not that we'd do anything different, but they just found a way to put a big inning together. Tonight was huge for our guys to hang on to one and continue to have confidence in our pitching and defense; because that's really carrying us."
Kobza carried the load first in his first game of the season with a 55-pitch effort that included 36 strikes and 13 first-pitch strikes to 18 batters faced.
Naturally, making his first start on the mound and playing in his first game of the season 13 games into the schedule included some early rust. However, it didn't take long for him to find a groove.
Kobza gave up a triple to the first batter he faced, trailed 1-0 following an RBI ground out in the next at bat then faced two on when Waverly's 3 and 4 hitters both singled to the outfield. He worked his way out of the jam on a sac bunt then a swinging strikeout.
Kobza sent the Waverly lineup down in order in the second, gave up another triple that eventually scored in the third then had two outs in the fourth when a single to center sent him to the dugout.
Bell threw just two pitches and ended the inning on fly ball to right. The junior lefty struck out the side in the fifth, walked the leadoff in the sixth then struck out the next three and put the Vikings away 1-2-3 in the seventh.
Beard's single to right with Tanner Kobza and Colin Flyr on base in the second tied it 1-1 when Kobza came in to score. A Van Dyke walk, steal and error by the pitcher sent him home for the 2-2 tie with one down in the third. Flyr singled two hitters later and scored Sam Kwapnioski for a 3-2 lead. Beard's double then Young's single to left added an insurance run in the seventh.
Columbus is back on the road Saturday in Lincoln for a pair of games at 10 a.m. then 1 p.m. First up is Lincoln North Star followed by Kearney.
"One of our goals every week is to win each win, have a winning record each week and break the season down into smaller, more manageable, more focused pieces," Johnson said. "Tonight was big. It gives us a chance to go and do that by winning those two (in Lincoln)."
Columbus (6-7)..............................................0..0..1..2..0..0..1 -- 4  6  1
Waverly (6-5)................................................1..0..1..0..0..0..0 -- 2  6  2
(Runs-Hits-RBI): Colin Flyr 0-2-1, CJ Fleeman 0-0-0, Brent Beard 1-2-1, Kaden Young 0-1-1, Evan Bock 0-0-0, Caleb Van Dyke 1-0-0, Cody Zrust 0-0-0, Sam Kwapnioski 1-0-0, Tanner Kobza 1-1-0. Pitching: Trey Kobza 3.2IP, 6H, 2R, ER, 3K, 1BB. Tadan Bell W (2-0) 3.1IP, 0H, 0R, 7K, 1BB.