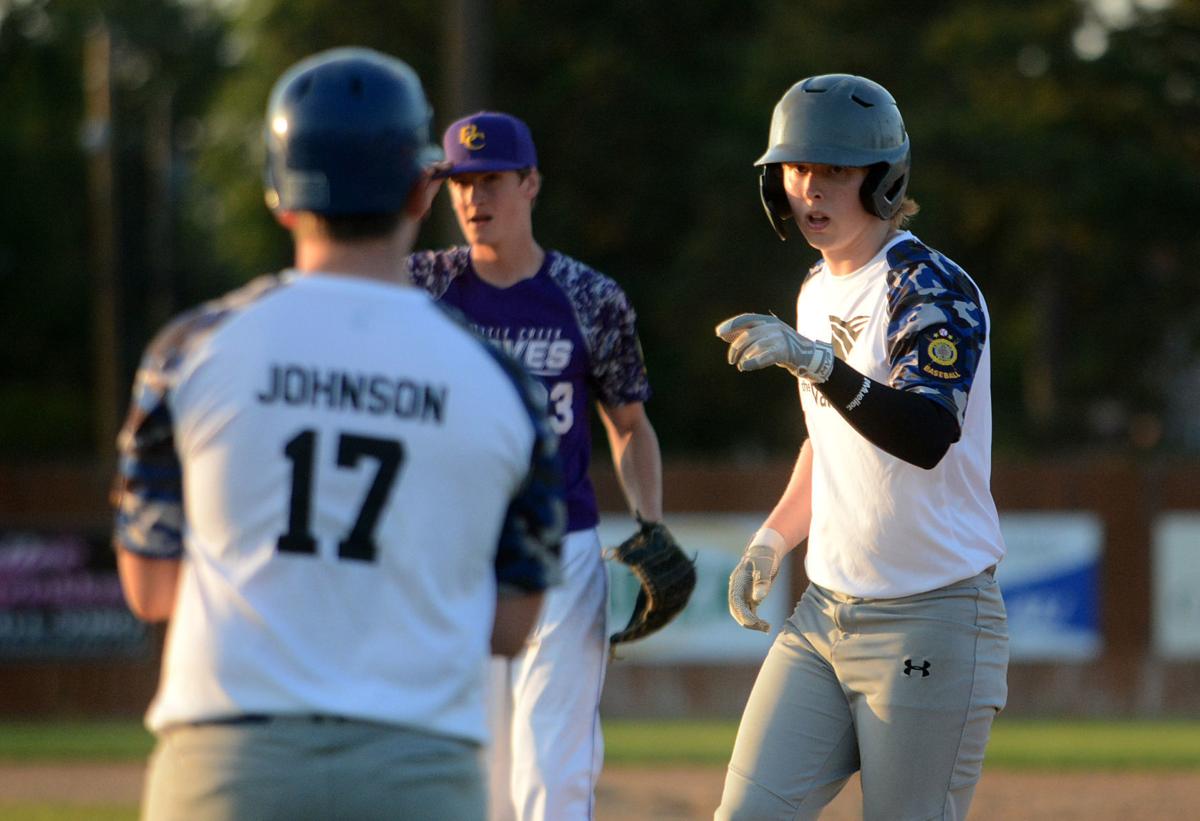 Columbus baseball teams held the home diamond on Friday night.
The Owens Wealth Advisors Post 283 Junior Reds started the evening with a 5-0 win over Battle Creek behind a dominant pitching performance from Humphrey's Jacob Sjuts.
The Bank of the Valley Lakeview Seniors then won an offensive affair over Battle Creek thanks to early runs and another strong start on the mound, this one from Logan Jaixen.
The Reds remained unbeaten and improved to 3-0 on the young season. The Seniors evened up their record at 2-2 following an 0-2 start.
Owens Wealth Advisors 5, Battle Creek 0: Jacob Sjuts made his second start of the season and was again dominant. Though his command wasn't quite as sharp, his stamina and stuff were on point.
Sjuts again only allowed one hit, walked four but struck out 11. He was in line for a no hitter with two down in the sixth before Battle Creek broke it up on a single up the middle.
He struck out one in every inning except the fourth, and of those innings, he struck out at least two each time other than the third.
Offensively, Adam Van Cleave was a table setter at the top of the lineup going 3 for 4 with a run scored, Kolby Blaser was 3 for 4 with two runs and Eli Osten drove in a run. Battle Creek committed six errors leading to four unearned runs.
"My curve ball was working really good today. I had a lot of good movement, and I was showing the fastball and everything else," Sjuts said. "It seemed like everything was working today."
Bank of the Valley 12, Battle Creek 8: The Lakeview Seniors scored 12 runs for the second straight game following an 0-2 start with just seven combined runs.
Ian Gibbs went 3 for 4 with two RBIs and a double, Eric Mustard was 2 for 4 with his sixth double of the season, Caden Pelan drove in two on a double, Michael Rerucha scored three times and Logan Jaixen earned the win in 4 and 2/3 innings of work.
He ended up allowing four earned runs but three came in the fifth with two down just before he was replaced.
Before that inning, Jaixen had struck out six, half on called third strikes, and stranded runners in each of the first three innings. His only trouble until the fifth inning came on back-to-back doubles in the fourth.
Bank of the Valley led 8-1 after four before both sides began knocking around each other's relief pitching.
"He gave me a lot of good ones. A lot of first-pitch strikes were right down the middle, and they were just great pitches to swing at," Gibbs said. "I always think, the earlier you can get out there, the less you leave up to him and the more you leave up to yourself. When you get out in front, it's your ballgame; he has to come to you."
Pick up Tuesday's edition of the Telegram for more on Friday's wins.
Get in the game with our Prep Sports Newsletter
Sent weekly directly to your inbox!