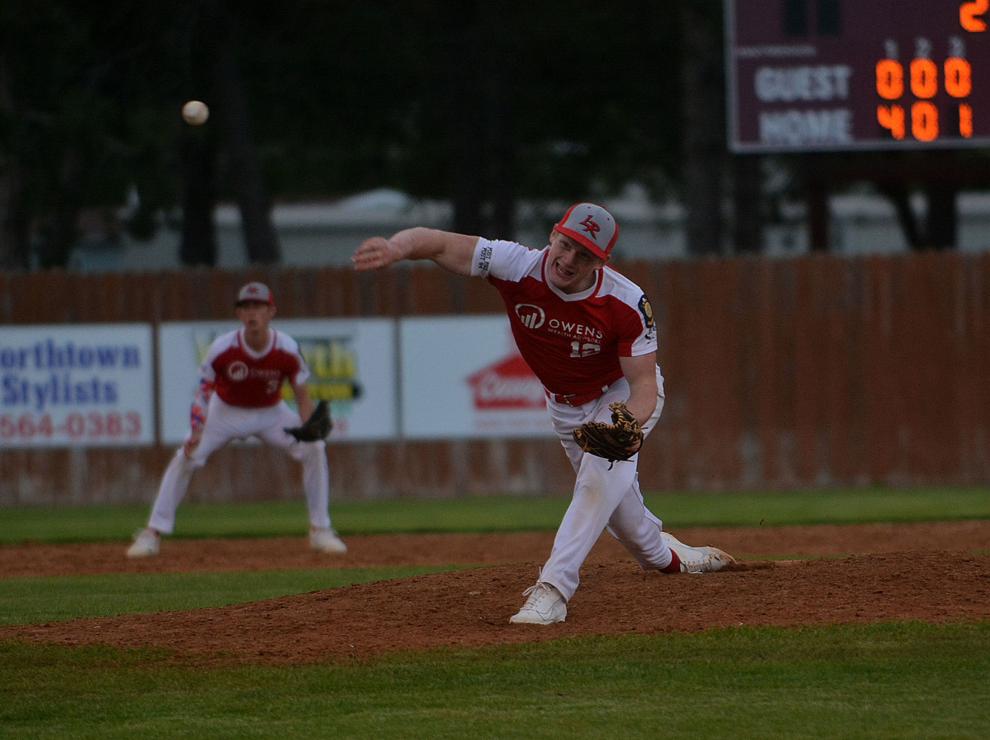 Landon Ternus faced 15 hitters and struck out 12 in Wednesday's Owens Wealth Advisors 10-0 win at Hooper-Scribner. When he gave the ball up in the fourth, Logan Salak kept the momentum rolling and struck out all three he faced.
Combined with an offense that scored 10 runs and put the mercy rule into effect, OWA earned all 15 outs by strikeout. Ternus also walked three but the combined performance of him and Salak led to a 10-0 win in which Hooper-Scribner failed to put a ball in play.
OWA improve to 4-1 with the win.
"Both of those guys threw lights out. Landon is really coming into his own pitching, and is really strong and really solid right now," coach Mike Sloup said. "They had no answer for him. They couldn't time him up."
Ternus threw 75 pitches, 43 for balls, and was removed based on the total pitch count the coaching staff approved before the game. He walked Hooper-Scribner leadoff hitter Aiden Crawford and gave up a stolen base to him both times, walked five-hole hitter Gavin Ruwe in the fifth but also had eight in a row set down at one point.
Salak came on for the fifth and needed just 12 pitches to get all three of his guys swinging. Ternus had four swinging and eight looking.
"Ternus just struck them out left and right, then it's great to have Logan Salak come in," Sloup said. "Trying to build depth in our pitching, he had a great way to finish off the game."
Turner Halvorsen put the Reds up 1-0 in the first on a leadoff single, two stolen bases and a run on a sac fly RBI from Krae Lavicky. Brenden Sloup's leadoff single and stolen base came around on an RBI groundout from Joel Thomas for a 2-0 lead in the second.
Salak walked and stole second to start the third. He scored on an error in right off the bat of Lavicky. Ternus doubled him across the plate in the next at-bat for a 4-0 advantage.
OWA exploded for six in the fourth on six hits. Halvorsen and Salak had RBI singles, Ternus smacked another RBI double, Sloup doubled a run in and Thomas scored another on a single then plated the 10th run on an error.
"You don't see (15 outs and 15 strikeouts) really at all. But that just shows how well in tune those guys were," coach Sloup said. "It was a beautiful thing to watch."
OWA Junior Reds (4-1).........................................1-1-2-6-0-0 -- 10-10-0
Hooper-Scribner......................................................0-0-0-0-0-0 -- 0-0-5
Win: Landon Ternus 4IP, 0R, 0H, 3K, 12K. 1B: Turner Halvorsen, Logan Salak, Brenden Sloup 2, Joel Thomas. Ternus 2, Sloup. RBI: Halvorsen, Salak, Krae Lavicky 2, Ternus 2, Sloup, Thoms 2, VanBuskirk. R: Halvorsen 2, Salak 2, Lavicky, Ternus, Sloup, Thomas, Zanyr Kohl, Jonathan Fernandez. BB: Halvorsen, Salak, Kohl, Blake Anderson. SB: Halvorsen 4, Salak, Lavicky, Kohl, Fernandez, Carson Hoefer.