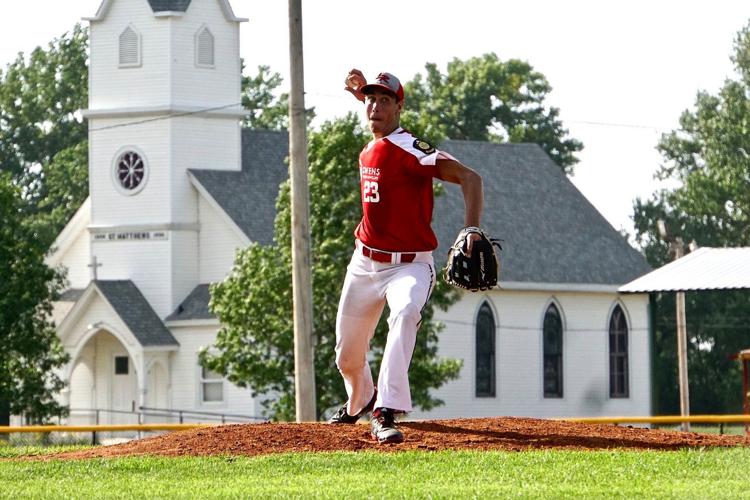 Curt Schilling and the famed 'bloody sock' game of 2004 happened when Jacob Sjuts was still a toddler. Michael Jordan's 'flu game' in the 1998 Finals was a few years ahead of his time.
But the lanky right-hander from Humphrey joked about both when asked if his latest start for the Owens Wealth Advisors Junior Reds deserved a nickname.
At least in the Columbus/Humphrey area, his one-hitter with 17 strikeouts over six innings in a 15-1 win Friday night in West Point will go down in local baseball lore.
Sjuts struck out the first 11 hitters he faced, struck out eight looking and had a perfect game going until the fourth. He threw 104 pitches and tossed 65 of them for strikes.
It's all the more impressive considering Sjuts hadn't been feeling well for a while, discovering early last week he had tonsillitis. Yet, there he was Friday in West Point in triple-digit temperatures putting together an all-time performance.
"I was pretty sick all week, and I was scheduled to get them out Aug. 17. Friday I wasn't feeling the best yet, but I decided I better go play. They needed a pitcher, and I ended up doing all right," Sjuts said. "I tried to forget about it all. It was pretty hot out. Mentally, I was just trying to prepare myself.
"...I was just trying to prepare myself - put all the sickness and heat behind me and just go out there and pitch."
Sjuts had been untouchable all summer in three previous appearances - striking out 20 in 11 innings of work with just four walks. He hadn't allowed an earned run, or a run of any kind when he took to the mound on Friday night.
It wasn't the best circumstances for a player coming off tonsillitis when he needed eight pitches to strike out the first hitter he faced, but no one in the West Point lineup could solve his arsenal of pitches until an eight-pitch walk in the fourth gave the hosts their first base runner.
His only non-strikeout out of the game came in the top of the fifth on a bunt back to the mound.
Sjuts walked a hitter with one out in the sixth and tried to pick him off but the throw got away from the first baseman and turned into a two-base error. An infield hit in the next at bat with the runner at third accounted for the only West Point run.
Sjuts struck out the next two hitters on called third strikes.
"My junk and stuff was really on point. They weren't touching my fastball. I was really feeling good," Sjuts said. "It felt pretty good. My fastball was really locating really nice. My ball had a lot of good movement on it."
Every time he went into the dugout, he had an idea the strikeouts were piling up, but like any good pitcher in the zone, he mostly stayed away from his teammates.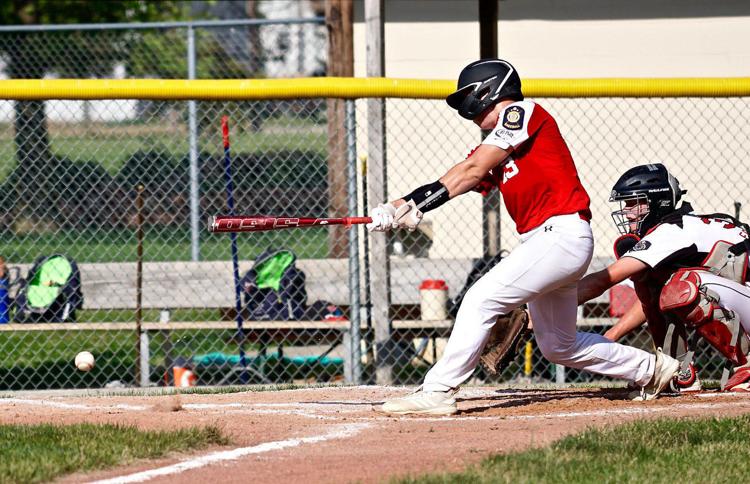 Though he wasn't fully 100%, Sjuts admitted a perfect game and a no-hitter were in his head once he began retiring hitter after hitter. He was less than pleased when he lost the perfect game on the fourth-inning walk and wasn't happy when a dribbler to the right of the mound broke up his no-hitter in the sixth.
"I was not too happy. In the back of my head, I was like,'You've got to be kidding me,' because this has happened two times in a row. I lost (a no-hitter) like that to a guy from Battle Creek," Sjuts said.
But while he missed a no-hitter and a perfect game, he struck out 17 of 21 hitters he faced and likely put together the most dominant pitching performance in the history of the Junior Reds.
"I've never seen anything like that. In all my years of playing and coaching baseball, I've never seen anything like that," coach Travis Tessendorf said. "He was just absolutely in the zone and overpowering; his breaking ball was working and his fastball was unhittable Everyone was just kind of like, 'Wow!.'"
Sjuts didn't need all that much help in terms of run support, and he didn't have much early on until the bats came alive in the final four frames.
OWA led 1-0 through two when Cooper Tessendorf singled Adam Van Cleave in from second after Van Cleave led off the game with a single and a stolen base.
The Reds plated three in the third on three hits and an error. Turner Halverson drove two of the runs in.
OWA added three more in the fourth on a Kolby Blaser sacrifice fly, Eli Osten sac fly and Jordan Kracl RBI double.
The Reds put the game away with eight in the sixth when they sent 14 hitters to the plate and piled up eight hits. Mason Klug singled in a run, Halverson drove in another, Brenden Sloup pushed on across on a double, Krae Lavicky picked up an RBI single, Landon Ternus blasted an RBI double to right center, Noah Koch singled for a run, Osten singled for another and Klug drove in a second run on a line drive to right.
Still, the talk of West Point wasn't the offense. Schilling and assistant coach Chad Van Cleave went to two different locations to grab food after the game, and all anyone wanted to talk about in West Point was the Reds pitcher who had struck out 17.
It was difficult for even Sjuts to comprehend until later that night before he drifted off to sleep.
"That night I was laying in bed watching TV, and it was like, 'Holy cow, I had 17 strikeouts. That doesn't happen every day,' he said. "My goal is to go into the game, let them hit ball and let the defense make plays. When those strikeouts kept coming I just couldn't believe it."
Get in the game with our Prep Sports Newsletter
Sent weekly directly to your inbox!