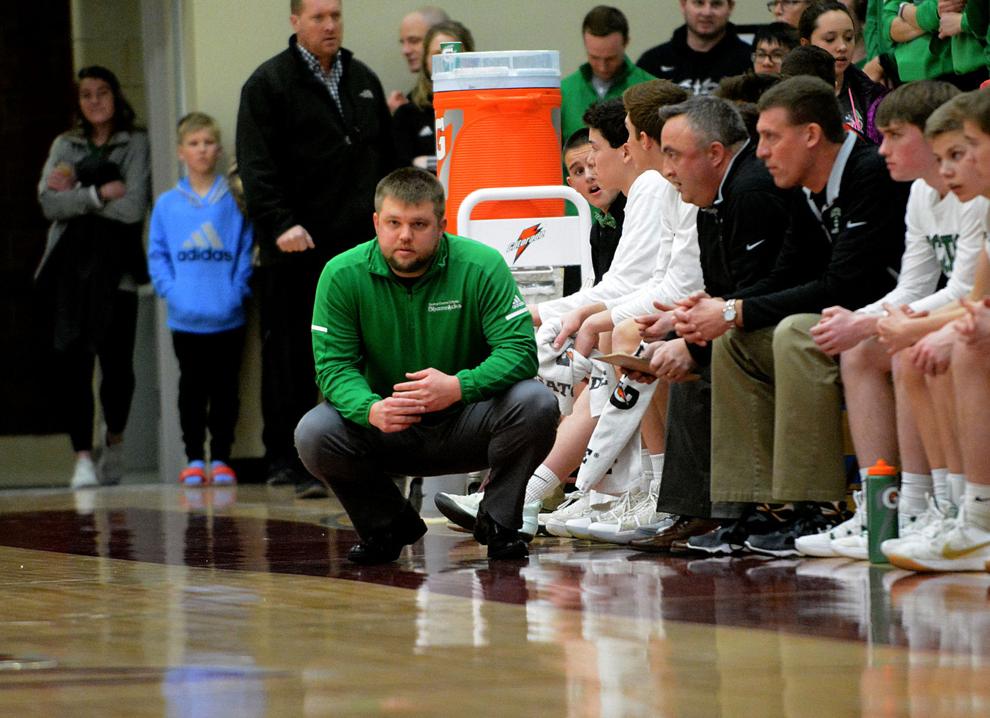 Scotus Central Catholic boys basketball made tremendous strides by the end of the year when the Shamrocks grew up quickly and began to find success with a lineup suddenly infused with that youth.
If that youth takes the next step next season, coach Tyler Swanson will be witnessing it as a spectator.
Swanson announced recently that he was stepping away from Scotus basketball after five years as the head coach and nine years total on the boys coaching staff.
"Having a young family, now seems the right time to put some more effort and energy into them and not be gone so much," Swanson said. "The rigors of being a head coach can really dig into your family life. It's not always easy to balance both and switch back and forth. You feel like you're not being fair to one or the other. Now might be the right time to step away and let someone else take it over and see if they can carry this group of guys to the next level."
Swanson steps down at Scotus with a 54-73 record in his five seasons. His time as assistant, and the first year of his job as head coach, coincided with the greatest era in Shamrock boys basketball history.
He led the 2017 squad to a 24-4 record and a fourth place finish at state. Swanson was also on the staff of current Scotus President Jeff Ohnoutka. Ohnoutka's teams with Swanson on the staff went to state in three straight seasons between 2014-2016. The 2015 group was the state runner-up and the only Shamrock boys hoops team to ever play in a state championship.
"I don't think I'm done coaching yet. There will be a time when it comes along and I come back and do it, and when I do I'm going to be really successful," Swanson said. "But right now I'm going to spend some time with my family."
Swanson and his wife, Whitney, have four daughters. The oldest is in kindergarten.
Before Scotus he was a Fremont Bergan and Midland University grad who was an assistant for the Knights from 2008 to 2012. He coached on Bergan teams that won a state title in 2008, played for championships in 2010 and 2011 and won the third place game in 2009.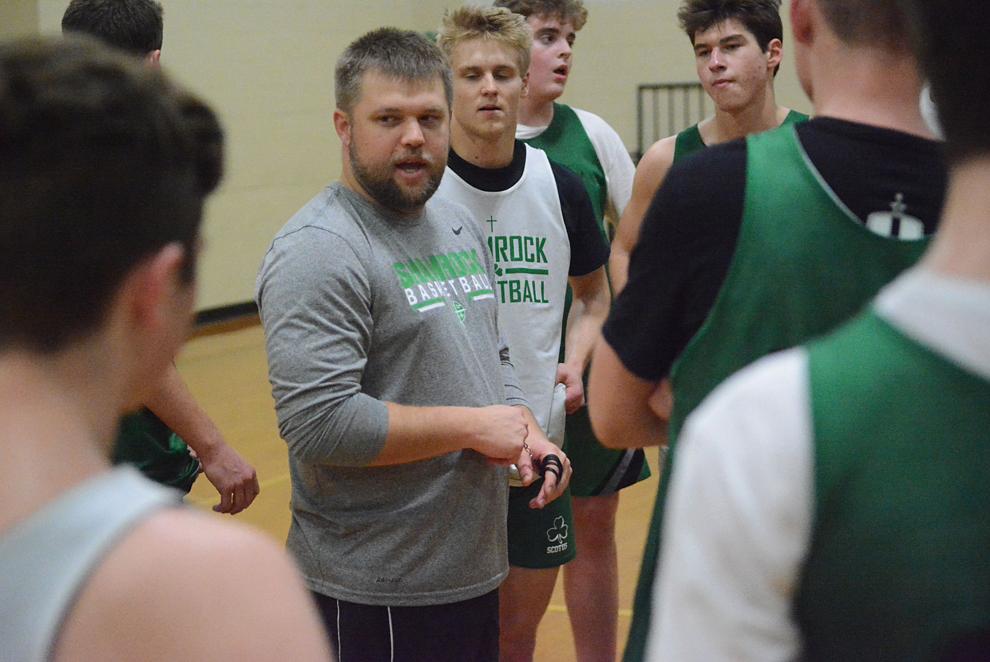 His tenure at Scotus includes a trip to state in his first season and a subdistrict title to go with a district final in 2019. The Shamrocks have been eliminated from the postseason in the subdistrict final each of the past two years.
He leaves the program most proud of what he helped accomplish from 2014 to 2017 when Scotus played in the state semifinals four years in a row. Perhaps the most memorable contest in that span was the first round of state in 2017 against Boys Town when Scotus trailed by 12 to start the fourth quarter then scored 30 points in the final eight minutes for the victory.
"And knowing that we did it the right way, taught it the right way, kids worked their tails off every day and expectations didn't change even if the record wasn't the same. The kids still gave the same effort," he said. "I look forward to the current kids now continue on, be successful on the basketball floor and in their lives."
Swanson remains the boys golf coach and plans to stay on as part of the Scotus staff. He teaches in the business department and leads such classes as video production, personal finance, computer science and computer aided design.
The first game he ever coached was as a student assistant in his senior year for his brother's fourth grade YMCA team under Chris Paulson. Paulson coached at Bergan for 16 years and started the Knight Hoops youth program that Swanson became a part of before graduation. Swanson coached his brother's team in some form or fashion for the next eight years until his brother graduated. He left for Scotus shortly after.
In his own career, Bergan was at state his sophomore year and lost to North Platte St. Pat's in the first round of the state tournament. Swanson came off the bench and scored 17 points in that one. Bergan was ranked third in his junior year but lost to No. 2 in the subdistrict round and failed to earn the wildcard. Four starters graduated from that group. As a senior his class fought to a 10-10 record with a mostly new team.
In this past season leading Scotus, the Shamrocks started 1-4, won the holiday tournament then dropped seven in a row starting with a contest in which junior post Garrett Oakely went down with an ankle injury. As the group grew up and found contributions from freshmen and sophomores, Scotus finished 4-3 and with a loss to Boone Central in the subdistrict final. Boone Central went on to nearly upset Auburn in the district final - a two-time reigning champ that won its third straight title on March 13.
"There's a lot of potential there," Swanson said. "The defense is there. They need to learn to rebound well, but from the things I saw this year, it would not shock me if they played in the state tournament next year."