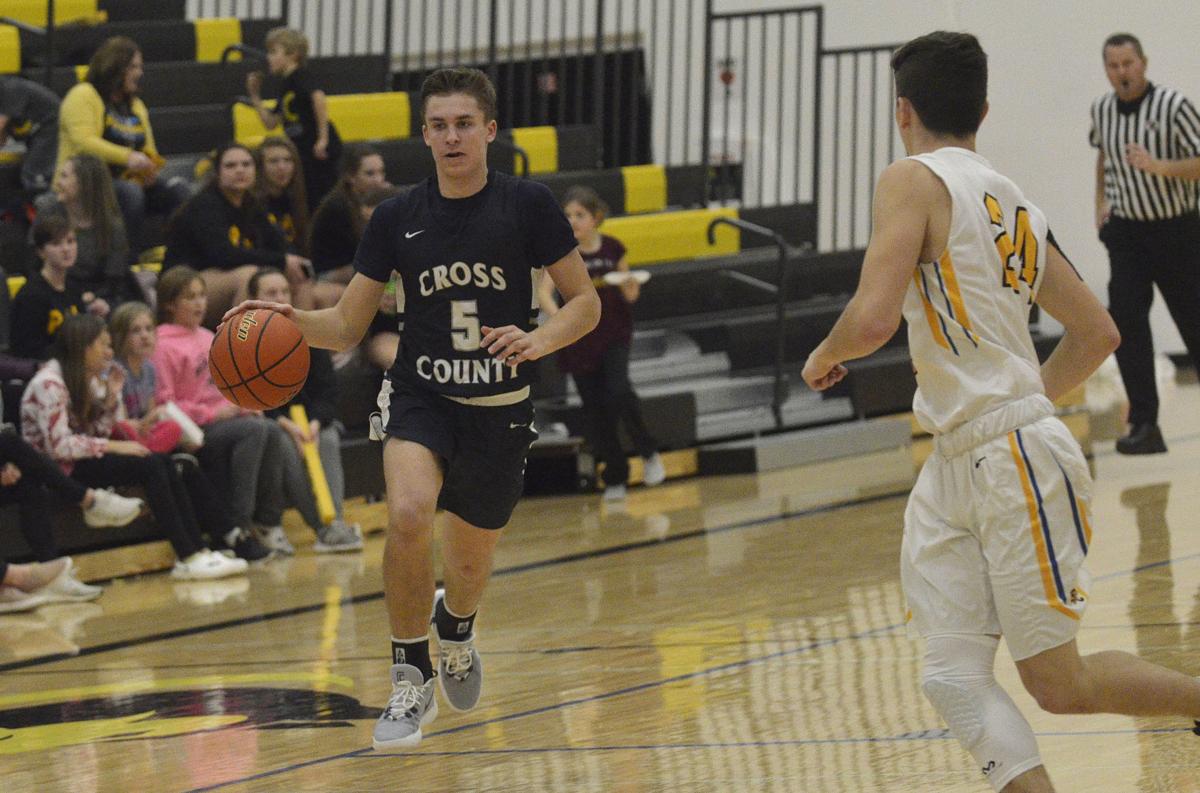 Cross County senior Austin Vanhorn scored a career-high 18 points and the Cougar boys won for 10th game in a row on Tuesday night, this one in a 58-34 final over East Butler.
Vanhorn was in just his fifth game back from an injury sustained during football season. He tore his ACL and MCL in September, rehabbed, and came back a week earlier in a win over Nebraska Lutheran. But Tuesday was his most effective game of the season, and likely of his career.
Vanhorn scored 18 on 7 of 8 shooting, went 4 for 4 at the free-throw line and posting a double-double with 10 rebounds. The senior scored 10 the night before. Before this recent stretch, Vanhorn hadn't scored in double figures or grabbed 10 or more rebounds at any point in his career.
"The kids played well tonight. We were down two starters due to illness and injury, so we had some other guys step up," coach Dan Donway said. "Haiden Hild played well and Isaac Noyd was really good tonight. We played most of the second quarter with some different lineups for us, and kids like Shayden Lundstrom, Lincoln Kelley and Thomas Harrington-Newton stepped up."
Lundstrom scored two and grabbed two rebounds, Kelley didn't record any statistics but was solid defensively and Harrington-Newton scored five and grabbed four rebounds.
Vanhorn was the only Cougar with 10 or more points, but Hild and Noyd both had nine points. As a group, Cross County limited East Butler star Jaden Rhynalds to just nine points, his lowest total of the season.
You have free articles remaining.
The Tiger senior came into the night averaging nearly 25 points per game and having scored at least 14 points in every game this season.
"With them, it's always about knowing where No. 14 is," Conway said of focusing on Rhynalds. "He is such a dynamic scorer that he takes a lot of your focus defensively. We wanted to be more aggressive offensively against their zone, and I think we were."
Cross County allowed just seven points in the first quarter, took a five-point lead into the second then came alive with a 22-point second quarter. East Butler only managed double digits in the fourth when the Tigers were already trailing 42-21.
Junior Cory Hollinger has been the Cougars' normal leading scorer at 15.6 points per game. With his 6-5 presence in the post, and the return of Vanhorn at 6-4, Cross County has quickly become bigger and stronger.
The Cougars improved to 16-6 on the season and won their 10th game in a row. CC has two games left on the regular-season schedule - Friday at home against Exeter-Milligan then a week later back at home against Friend.
"Getting Austin back has been huge. We were penciling him in as a starter before the season started. So, when we lost him due to a football injury, it stung a little," Conway said. "He is another big body kid who can take a load off Cory. I'm very happy with what he is doing and so proud of his efforts to get back. He is a tremendously hard worker."