LINCOLN - Clarkson/Leigh's first-ever trip to the state tournament was made a short one Thursday afternoon by No. 1 Oakland-Craig in a foul-filled, turnover-ridden affair at Lincoln North Star High School.
In a game that featured 37 combined turnovers and 40 fouls, Oakland-Craig eventually rose to the top in a 41-36 final. The Knights opened up a double-digit lead early in the third quarter and had it as large as 14 early in the fourth.
Senior Kennedy Benne, who averages 21 points per game, had 18. Teammate Sadie Nelson scored 12.
Cassidy Hoffman led Clarkson/Leigh with 12 points, the only Patriot with 10 or more. Hoffman, like her teammates, had to do most of her damage at the foul line.
Though 19 Clarkson/Leigh turnovers led to 10 Oakland-Craig points, it was more the empty possessions that hurt the Patriots' chances. Because of nearly 20 giveaways, Clarkson/Leigh only attempted 27 shots. Because of the Knights press, few of those shots were taken in rhythm.
Oakland-Craig came into the contest with 508 steals on the year, more than 19 per game, and only added to that total with a press that forced bad passes and poor decisions.
But for a Clarkson/Leigh squad that was beaten 55-31 by Oakland-Craig in the third game of the year, there was pride in proving that, while the Patriots may not have won, they certainly showed they belong on the big stage.
"We battled. We just took a team that beat us by 24 early on in the year and took them to the end. The kids, they played their hearts out for us," coach Matt Murren said. "They've done it all year for us, and it's been fun coaching them."
Though it wasn't a masterpiece of execution from either side, it was the style Clarkson/Leigh needed to give itself a chance. On average, Oakland-Craig scores more than 57 points per game and wins games by more than 23.
But through the first eight minutes, the Knights had just 11 points and were forced into five turnovers. The Patriots led 4-0 on makes from Kim Stodola but also had ball handling issues and missed three times in the paint. They led 7-5 in the final 90 seconds when Nelson sank two 3-pointers and stole the momentum.
Up 11-7 after the first, the Knights took a 20-15 advantage into the break during a second quarter that featured 30 combined free throws.
Benne then started the third with a driving layup and dumped it off to Jeannina Blahak for a bucket and a 24-15 advantage after the first two possessions.
"They're a good team. Yeah, we got beat by 24 earlier in the year, but we've grown a lot, and they've grown a lot. We made some errors, but our effort was there," Murren said. "It was there for 32 minutes, and I couldn't be more proud of the girls."
Oakland-Craig was up 10 with more than half of the fourth quarter gone when Clarkson/Leigh nearly put together a miracle comeback. Novotny started it with a hoop, the Knights missed back-to-back 1 and 1s and Kennedy Settje cut it to six with two free throws.
With less than 30 seconds left, a steal on an inbounds play went into the hands of Cassidy Hoffman. She gathered it in, missed a layup, grabbed the putback and drew a foul. The ball sat on the rim for a split second and looked poised to fall in. That hoop plus the bonus free throw could have made it a one-possession game.
Instead, it rolled off and Hoffman went 1 of 2 for the final point on the scoreboard.
"They're pressure is fantastic. They play great full-court man. They deny you, they get after you and they tried to deny everything from our point guard," Murren said. "We just had a little spell there in the third quarter where they were able to get a lead, and we couldn't come back from that."
Still, while the pride of the achievement will likely outweigh the pain of the loss, the Patriots will probably always look back on the game with some regret. They mostly dictated the style of play and had their chances.
"Forty-five was our number. We had to keep them under 45 and we had them at 41," Murren said. "We just couldn't get enough on the other side."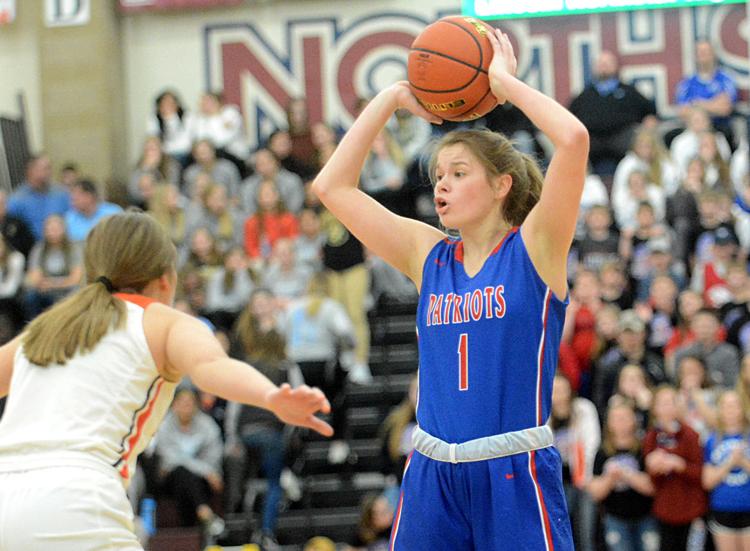 Get in the game with our Prep Sports Newsletter
Sent weekly directly to your inbox!