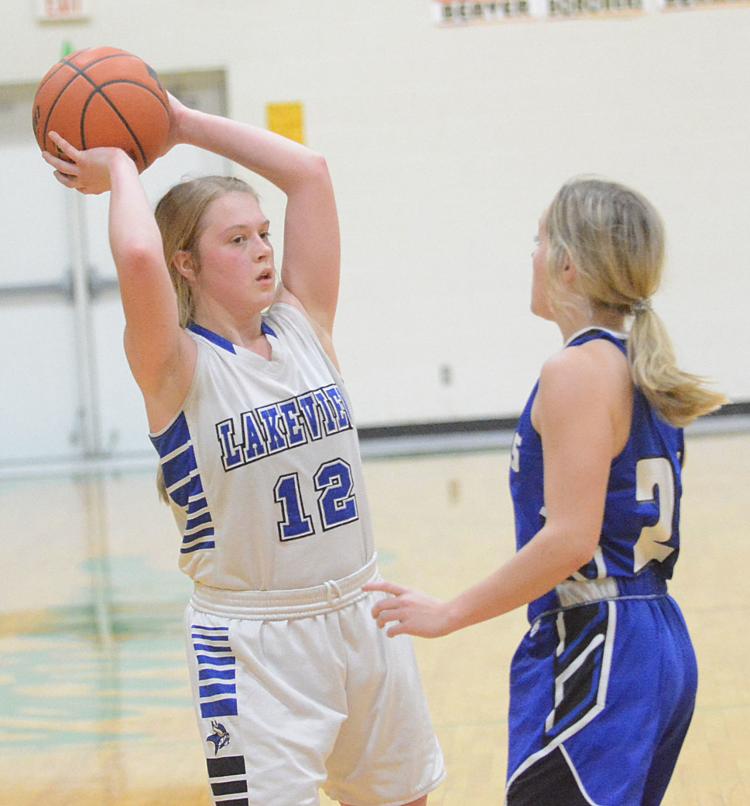 Lakeview girls basketball failed to generate any energy and spent most of Friday's holiday tournament opener chasing Twin River. The Lady Vikes never caught up with the Titans and were sent to the consolation final as a result.
There would be no chasing on Saturday.
Lakeview allowed just two first half points to a struggling Schuyler squad and eventually finished off a 57-13 win for third place - the largest margin of victory for the program since a 54-point win over Douglas County West last season.
Eight different Lady Vikes scored at least two points led by Katee Korte with 13.
Coach Monte Jones said the big difference from one day to the next was momentum. His group never created any on Friday then never gave any away on Saturday.
"Our one main concern was to play with better effort than yesterday, and we did," he said. "Sometimes, that's hard when you get a little bit of a lead, but we kept after it and learned a lot.
"This was a hard weekend for us, but it's going to end up teaching us in the long run."
You have free articles remaining.
Lakeview led 14-2 after the first quarter then exploded for 22 points in the second for a 36-2 halftime advantage. Korte was the main reason why. The 5-10 sophomore had 10 of her game-high 13 in the second eight minutes.
"Katee played well yesterday, too," Jones said. "She had the kind of weekend that we needed to have from her."
Lilly Rowe, Reece Janseen and Maddie Vogt all tied for second with nine points. Janssen had all nine of her points in the first half and Rowe seven as the starters mostly watched the reserves finish it off after halftime.
"Right now, we're just inconsistent scoring. Every night it's different people that step up scoring," Jones said. "But we need to be consistent from all five spots.
"Reece is our leading scorer, and consistently puts up numbers. But at this level, people will take her away. We've got to be able to answer when that happens."
The 57 points were a new season high for a Lakeview team that improved to 3-5. The Vikings came in averaging just over 34 points for and over 43 against.
"It's good to see Katee step up there, and Maddie Vogt was aggressive with the ball, too," Jones said. "Hopefully that's a positive sign."
Lakeview is next in action Friday at 6-3 Clarkson/Leigh, the Shelby-Rising City Holiday Tournament Champions that come in on a four-game win streak.
The Lady Vikes held off a late charge from the Patriots last year. They had the ball with 14 seconds remaining and a chance to tie. Clarkson/Leigh threw an errant pass to an empty corner allowing Lakeview to escape with the win.