After a sensational regular season that saw the Clarkson/Leigh girls put together a 20-1 record and spend multiple weeks at No. 1, the Patriots saw their state hopes extinguished in back-to-back playoff losses.
While it will be difficult to ever wash away the taste of that disappointment, three of the Patriots and coach Matt Murren will have the chance to leave the court together for a final time on a more positive note. Murren coaches the Silver Team Thursday for the Central Community College-Columbus Girls Basketball All-Star game opposite Bryan Pilakowski from Twin River leading the Silver Team.
"It's going to be fun," Murren said. "I'm looking forward to coaching three of my players one more time. Just go out and enjoy playing in front of some fans."
Members of Murren's 2021 roster on his bench Thursday at Central include Cassidy Hoffman, Alissa Kasik and Kayden Schumacher. Kasik led the team in 3-point shooting, Hoffman was tops in rebounds and Schumacher was second in rebounds, second in field goal percentage and fourth in scoring average.
"They had a significant impact," Murren said. "They all had different roles. They were all great leaders. They're going to be missed severely. I'm just very excited that they have one more opportunity to go out and showcase their ability and talent."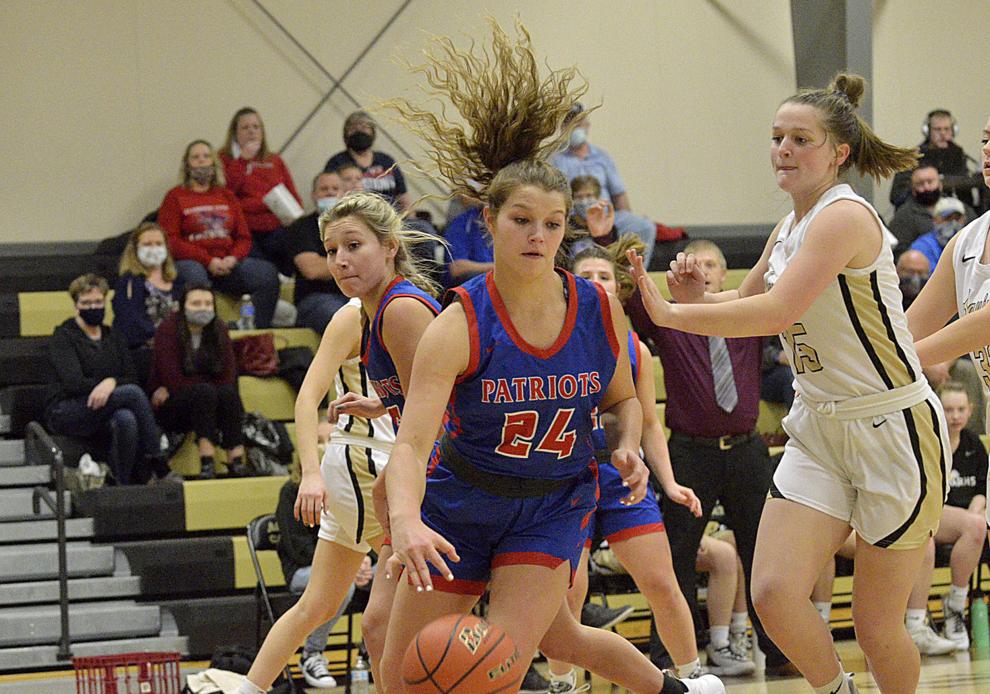 The Silver roster also includes High Plains' Brooke Banister, Aquinas Catholic's Bethany Emswiler, Central City's Jade Erickson, Lakeview's Reese Janssen, Humphrey/Lindsay Holy Family's Riley Jurgens and Shelby-Rising City's Allie Neujahr.
Scotus leads the representation on the Green Team with four players in Kamryn Chohon, Ava Kuhl, Camille Pelan and Janae Rusher. Also on the team is Aquinas' Madisen Jelinek, Twin River's Katie Paczosa, Howells-Dodge's Janessa Schmidt, Nebraska Christian's Tenny Sebek, Cross County's Erica Stratman and Central City's Taryn Wagner.
Pilakowski said it's going to be a fun game and is looking forward to coaching a positive group of players who love basketball.
Coaching Paczosa in her final high school game will also be special.
"It's going to be great coaching her one last time," Pilakowski said. "She has meant a lot to our program over the last two years that I was coaching. She's been a strong leader for us and she's going to be greatly missed."
Murren believes the girls basketball talent in the area is really strong.
"In Northeast Nebraska, basketball is top-notch," he said. "Obviously I coach up here, but the talent in Northeast Nebraska is as good if not better than anywhere in the state."
The Patriots head coach expects Thursday's all-star game to be fast paced and a tight affair.
"It's an all-star game so I'm sure it'll be up and down a lot," Murren said. "Hopefully lots of shots, lots of smiles, lots of fun. Hopefully at the end of the game we'll have a shot to win it, and hopefully we have somebody on our team that does that."
Pilakowski is also anticipating an up tempo affair, but he's wary that some of the players haven't touched a basketball in a while.
"I like to play fast pace so we're going to try and push the ball and hopefully score a few points," he said. "Although, I can tell some of the girls are a little bit rusty. Some of them haven't picked up the ball in a while, so we'll see if they did an extra shooting between practice and game time."
The girls game begins at 5:30 p.m. with the boys to follow at 7. Tickets are $7 for adults and $5 for students.