Rusty Moore as a basketball parent may have been the type of parent that Rusty Moore the high school basketball coach wasn't always thrilled about — the type trying to coach their kids.
When Moore went from coach to dad while cheering on his daughter, Samantha Moore, on the Mullen girls basketball team, it was difficult to not try to do a little coaching.
"It was definitely advice," said Samantha Moore of what her dad was like as a basketball parent. "My dad was not a quiet person. If he was quiet, you knew something was wrong."
Samantha Moore is playing in the girls state basketball tournament this week, just a few weeks after her father died following a two-year battle with brain cancer.
Many people knew her dad or heard of his story over the past few years. The rancher coached the Mullen boys basketball team to the school's first state basketball championship in 2017. But when Mullen made it back to state in 2018, Rusty Moore's brother had to coach the team during the tournament, although Rusty was able to come to the state games and sit on the bench.
When the Mullen girls team made it to state last year, Rusty Moore was there to watch his daughter play. He got to watch many of her games this season, too.
Samantha Moore likes being a basketball coach's kid. She liked that her dad pushed her to be her best. She liked some of the fun perks.
"I was a student-manager for my dad's team, since he was the boys head coach, and I would always ride the bus with them," Moore said. "And I'd go with him to the gym, because he'd always want me to get extra shots."
Mullen lost against Humphrey St. Francis 68-38 in the Class D-2 state semifinals Friday, and will play Falls City Sacred Heart in the third-place game Saturday morning.
Moore is the team's leading scorer at 17 points per game. In the first round against BDS, she scored 27 points and made all of 11 free-throw attempts, including eight in the final minute to seal the win.
Just a few days after Rusty Moore died, Mullen played its district championship game, the one it had to win to get back to state. It was tough, but Samantha Moore played.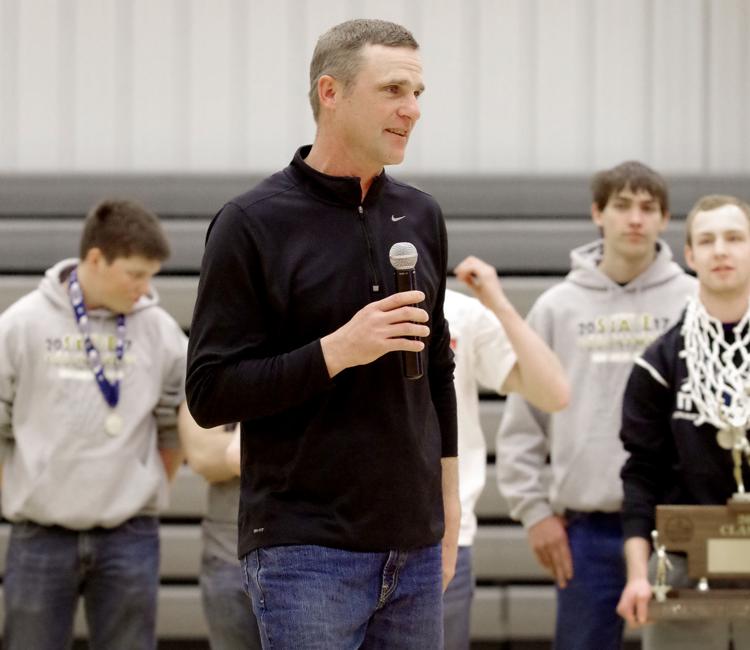 During districts and the state tournament, several girls basketball teams have worn ribbons or T-shirts as a tribute to Rusty Moore, including Humphrey St. Francis, BDS, Wauneta-Palisade and Fall City Sacred Heart.
"When I first saw that, I wasn't expecting any of that," Samantha Moore said. "It tells you how much Class D-2 is there for you. It's like one big family."
Oakland-Craig having special year: This has been a good year for sports at Oakland-Craig, and Joe Anderson has had a good seat for all of it as the head coach of the school's football and girls basketball teams.
In November, Oakland-Craig won the Class C-2 football championship with a 19-0 win against Sutton at Memorial Stadium.
And the girls basketball team played in the state semifinals Friday night. The Knights lost 53-44 against Ponca, but still have a 26-2 record and will play for third-place Saturday.
Anderson was the head football coach first, returning to his alma mater after previously being the head football coach at Plainview, where he also won a state title in 2005.
When he came to Oakland-Craig, he also was an assistant for girls basketball. But seven years ago the girls basketball coach took a new job just before the school year began.
"I was the assistant, and there really wasn't time to advertise, and there wasn't a teaching job open, so they asked me to do it, and I guess I haven't turned them down since," Anderson said.
For about one week in November, Anderson was coaching basketball at 6 a.m. and football after school. One of the girls basketball assistant coaches, Scott Guzinski, was also pulling double duty as the defensive coordinator for football.
Just like a lot of high school athletes, Anderson says his favorite sport is the one that's in-season.
"You can't pick," he said. "I got done coaching 41 absolutely great kids in the fall, and now I got 12 girls out here who will play as hard as any group I've ever had."
After this week Anderson's schedule will ease up a little, but not completely. There are 60 students on the junior high track team, and he's one of the two coaches.
Get in the game with our Prep Sports Newsletter
Sent weekly directly to your inbox!