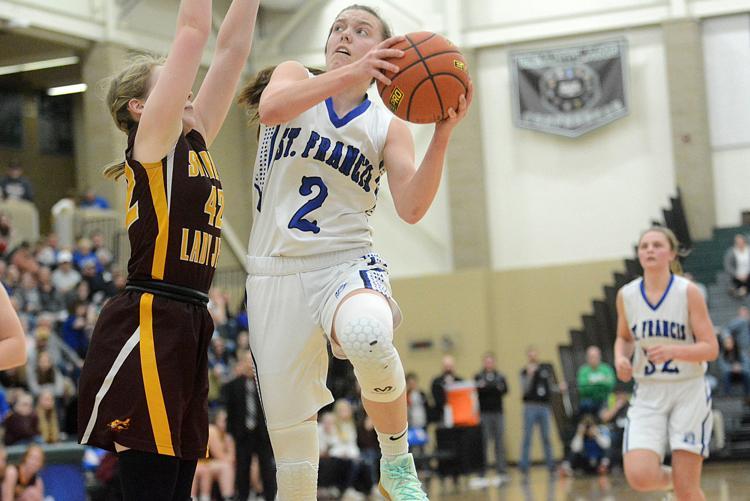 Humphrey St. Francis execution and defense wasn't great in the fourth quarter of Thursday's first round D-2 matchup with Sterling at Lincoln Southwest High School. The Flyers allowed 21 points in the quarter, two 3-pointers and three offensive rebounds.
The No. 1 team in in D-2 was almost never pushed to the final eight minutes this season. So, perhaps the starters were in a little bit of unfamiliar territory. They're normally watching from the bench as the reserves finish it off in mop up duty.
But thanks to the three previous quarters, if there was a lack of energy or some taking the foot off the gas, it didn't really matter.
St. Francis led 50-32 to start the final frame and eventually finished off a 60-53 win to advance to its second semifinal game in three years.
Point guard Allison Weidner scored 20, junior teammate Alissa Kosch had 17 and St. Francis led by as much as 24 at one point.
Coach Bryan Reichmuth admitted he might second-guess himself and taking the air out of the ball late. After all, that's not the Flyer way. But overall, its a fairly minor concern after what took place the previous 24 minutes.
"Maybe we should have kept attacking, kept going. But, to be honest, we were getting the shots. We'd run some clock then get a good shot. We just didn't finish them," Reichmuth said. "I think it was the right move. It's a great team. We played a great basketball game for a lot of quarters against a really good club."
A year after suffering a first-round loss to eventual champion Wynot, St. Francis made sure there would be no doubt this time around. The Flyers led 38-14 early in the third quarter before the Lady Jets went 6 of 13 in the fourth quarter and cut the final separation down to seven.
Sterling freshman Macy Richardson had a game-high 24 for the Lady Jets, Colby Thies had 10 but the visitors on the scoreboard struggled to maintain possession and played right into the hands of St. Francis by trying to match tempo.
That led to 16 giveaways and a 58-41 disparity in field goal attempts. St. Francis also turned those mistakes into 20 points and used 18 offensive rebounds to score 11 second-chance points.
"Coach said, when they want to run, advantage us, because we run a lot in practice," Weidner said. "We were ready for it."
St. Francis trailed 10-9 in the first quarter when a 9-0 run took the lead for good on a Kosch offensive rebound and putback, Weidner layup, Kosch 3-pointer and Lauren Pfeifer bucket.
It was a 26-14 separation near halftime when Jalyssa Hastreiter converted a turnover into a jump shot, Weidner grabbed her own miss for points and Hastreiter hit again.
Leading 32-14 to start the third, Pfeifer scored on bounce pass from Weidner in the paint, Kosch hit two free throws then scored again.
There were few actual dramatic moments after halftime. But every time Sterling put a few buckets together, it was Weidner either scoring or finding an open teammate for an easy 2.
"Allison is a gamer. She understands the game so well. She's always playing at a high level, but she knows when we need a big play," Reichmuth said. "But she's bound to go make it whether it's a steal, a big rebound, a big shot, a big pass, whatever. Gosh, she's fabulous."
It also helped that Kosch heated up early with two first-quarter 3s. She hit another in the second and another in the fourth in one of her best offensive performances of the season.
"I shoot with confidence," Kosch said, "and I know if it doesn't go in, I have an awesome team for rebounding, and I know they'll help me out."
St. Francis moves on to face Mullen on Friday at the Devaney Center at 3:45 p.m. The winner will play the winner of Falls City Sacred Heart and Wynot on Saturday at 4:30 in the D-2 state championship.
Wynot eliminated St. Francis in the first round last season. Sacred Heart defeated HSF for the 2018 D-2 state championship.
"That wasn't talked about at all. Obviously, we got knocked out early last year, and (the girls) were runner-up in volleyball, but we never talked about it," Reichmuth said. "But there's a hunger to do better. We're not satisfied until we're playing Saturday."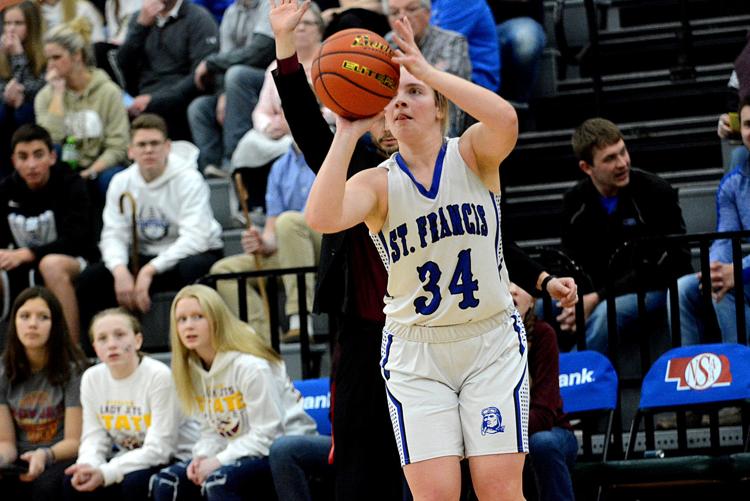 Get in the game with our Prep Sports Newsletter
Sent weekly directly to your inbox!