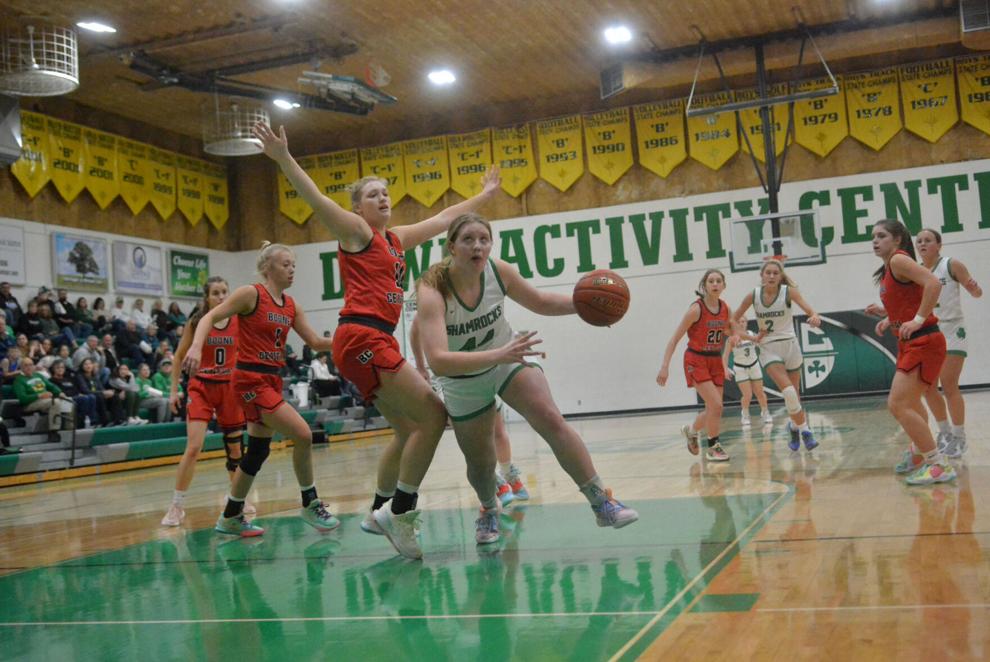 Scotus Central Catholic girls basketball rebounded from defeat on Jan. 15, at North Bend with wins over Fremont Bergan on Friday and Boone Central on Saturday.
The Shamrocks defeated the Cardinals 46-35, pulling away in the second quarter and maintaining a healthy lead in the second half.
They finished the game with five players scoring at least five points. Defensively, Scotus forced Boone Central into 21 turnovers.
"Tough night for both teams coming off a big win (last night). We rebounded really well in the second half. Got some second-chance points. That was big for us," Shamrocks head coach Jarrod Ridder said. "We found a way to win, which is always great. Boone Central's got a lot of seniors that play really hard so we're really happy to come away with the win."
Hailey Steffensmeier and Joanna Rusher led the team in scoring with 13 and 10 points, respectively. Steffensmeier recorded a team-high eight rebounds.
Kaelyn Dierman and Emma Brezenski tallied seven points each and Larkyn Mahoney ended with five points. Libbie Brezenski and Emma recorded four and three steals each.
"We just really came out and played hard. Coach said play good defense," Mahoney said. "We didn't really have a good first half, so just kind of stepped it up in the second half and pulled out a win."
After a quiet first quarter in which Scotus led 7-4, the Shamrocks ended the half on a 9-2 run on a steal and two field goals from Dierman, a 3-pointer from Emma and a Mahoney layup in transition following an Emma steal. Scotus led 19-10 at halftime.
Boone Central cut the deficit to 21-17 midway through the third, but the Shamrocks scored seven unanswered points on two Dierman free throws, a 3-point play from Steffensmeier and a field goal from Rusher.
Scotus led 35-27 entering the fourth. Rusher scored seven points in the final frame to salt away the game.
"We just started to come out strong, play really good offense and started to execute plays more," Mahoney said.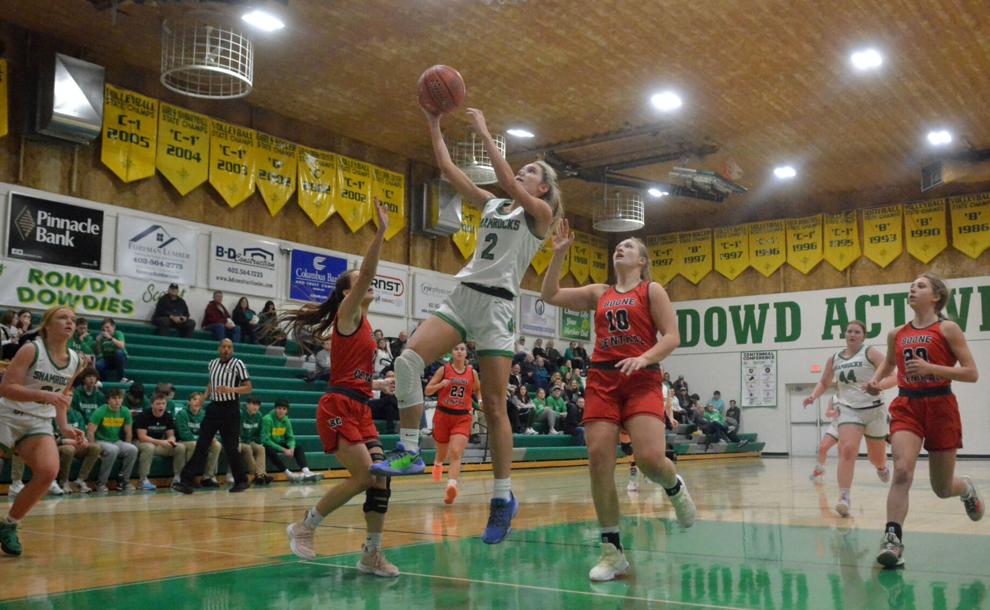 Mahoney has been a spark plug for the Shamrocks off the bench in her sophomore season.
"Offensively, I think I've made a bigger improvement starting from GACC," Mahoney said. "I didn't really play my best game, so from where I was then to now, I think I've really stepped it up."
On Friday, Scotus earned an impressive 40-17 win over Fremont Bergan. It was the fewest points the Knights have scored in any game since Feb. 19, 2015. The Knights shot just 19% from the floor including 3-for-21 from 3-point range.
Rusher's 14 points and seven rebounds led the team. Mahoney scored 10 points and Steffensmeier ended with five points.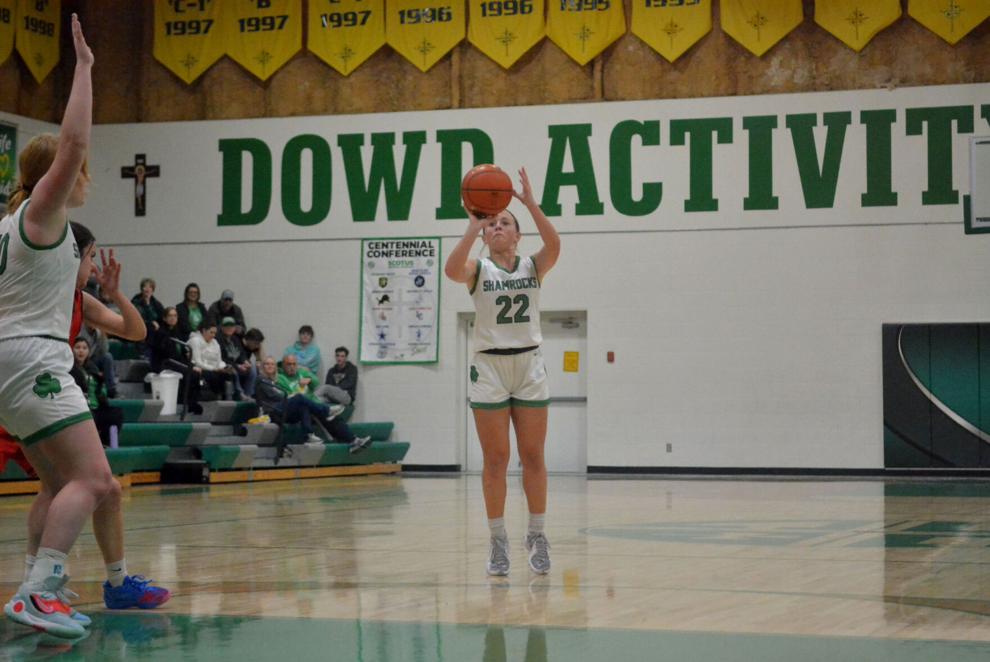 Dierman posted three steals with Emma, Rusher and Libbie tallying two steals each. The Knights turned the ball over 20 times.
"Playing them, holding them to 17 points, that's a pretty good deal. We just did a really good job of making them take hard shots," Ridder said. "We really rebounded well (last night), offensively and defensively. That was big for us too."
Scotus enters the Centennial Conference Tournament at 12-4. The Shamrocks are the No. 4 seed and will host No. 5 Grand Island Central Catholic on Tuesday in the quarterfinals.
The Shamrocks defeated GICC 57-47 on Dec. 9, but the Crusaders are coming off a win at previously undefeated Adams Central on Saturday.
"The (Gracie) Woods girl is back and they're really talented in the post. They just beat Adams Central (tonight)," Ridder said. "I think they made like 10 or 11 threes in that game. It's a big challenge for us, but it's one I think our kids are ready for. Centennial Conference basketball, it's the way it's going to be."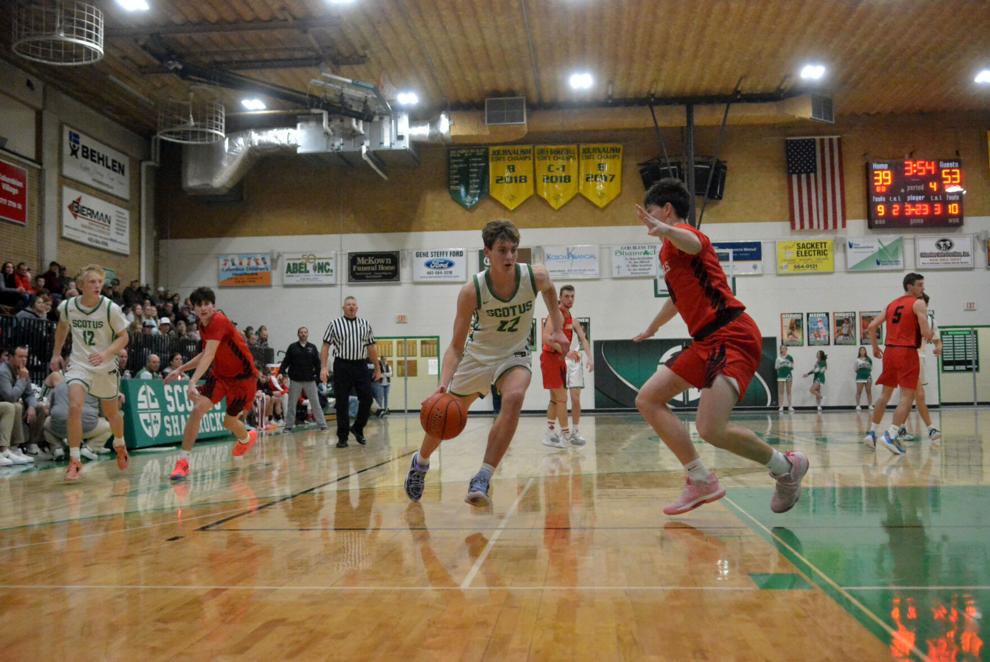 Scotus boys struggle offensively
An early deficit proved to be too much to overcome for the Shamrock boys Saturday against Boone Central.
The Cardinals, behind 22 points from Alex Christo and a combined 23 points from forward Trent Patzel and Ben Reilly, defeated Scotus 60-44.
"They're a talented team. They put pressure on all five spots. Their guards are really quick and gave us some problems in man, which is why we played a lot of zone," Scotus head coach Mike VunCannon said. "I thought we competed hard. We got to seven in the third quarter and we just couldn't get over that hump."
Scotus trailed 12-8 late in the first quarter before Parker Borer knocked down a 3-pointer in the final minute to give the Cardinals a seven-point lead.
A Jude Maguire 3-pointer put Scotus within two points early in the second quarter, but the Cardinals outscored the Shamrocks 10-4 to lead 27-19 at halftime.
Boone Central stretched the lead to double-digits in the third. The Shamrocks pulled within seven, but Christo drained a 3-pointer at the buzzer to restore a 10-point lead heading to the fourth.
That jumpstarted a personal 14-0 run from Christo to blow the game open. In the fourth quarter, he made five free throws and three field goals. Christo made two more free throws down the stretch to complete a 13-point quarter.
"If we go into the fourth quarter down seven, I like our chances based on our history," VunCannon said. "This was a big game and they're a really good team and we still have some little things that we're still not doing right."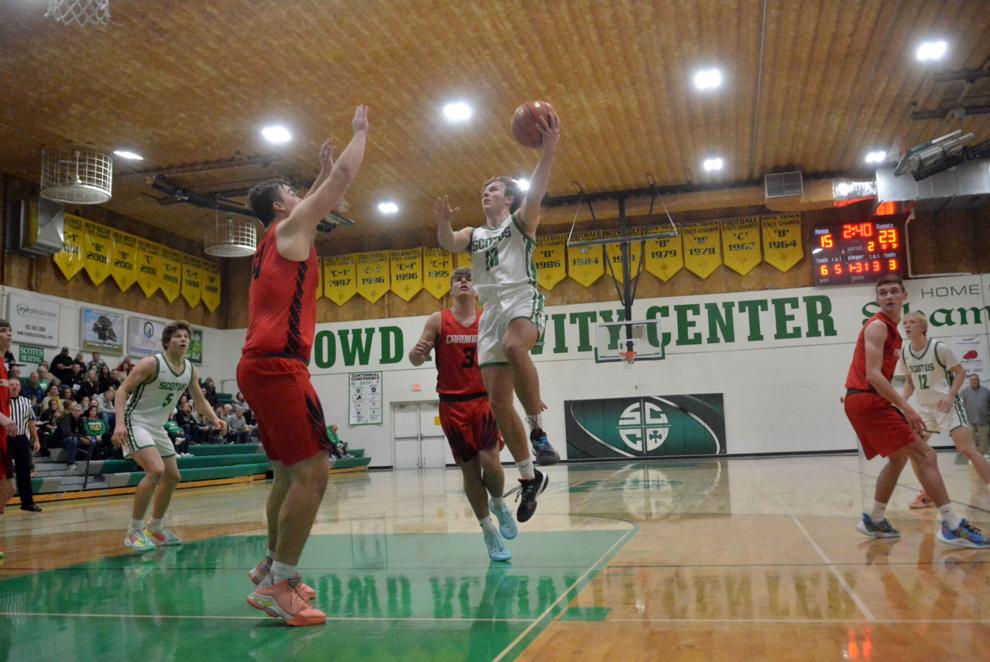 Max Wemhoff led Scotus with 11 points. Jack Faust ended the night with nine points. Maguire and Cohen Pelan finished with seven and six points, respectively. For Maguire, it was his best game of the season.
"Jude (Maguire) had a great game. He's progressed from the summer to now, Jude's a different player," VunCannon said. "He's contributing and he's really stepping up and taking some minutes that we need."
On Friday, Scotus completed a 50-48 comeback win over Bergan. The Knights led 28-20 at halftime and entered the fourth quarter with a six-point lead.
In the fourth, the Shamrocks outscored Bergan 15-7 behind four points from Wemhoff and Jackson Heng. Pelan made a 3-pointer and Faust and Owen Lindhorst scored one field goal each.
Pelan scored a team-high 15 points. Wemhoff and Heng ended the game with 10 points each and Faust tallied nine points.
"We had some guys that didn't have their best game (last night) against Bergan, but we had other guys pick them up and step their games up instead," VunCannon said. "We just hung around long enough and made plays when we had to make plays."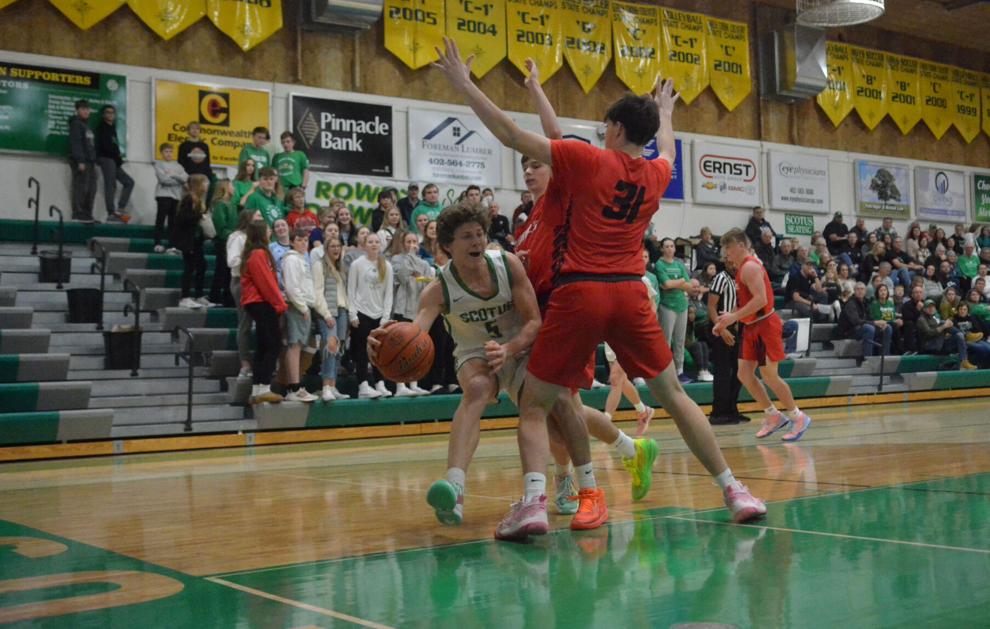 Scotus is 10-5 entering the Centennial Conference Tournament and is the No. 2 seed. The Shamrocks will host the winner of Lincoln Christian-GICC in the quarterfinals on Tuesday. They beat GICC 44-43 on Dec. 9 and Lincoln Christian 58-53 on Jan. 12.