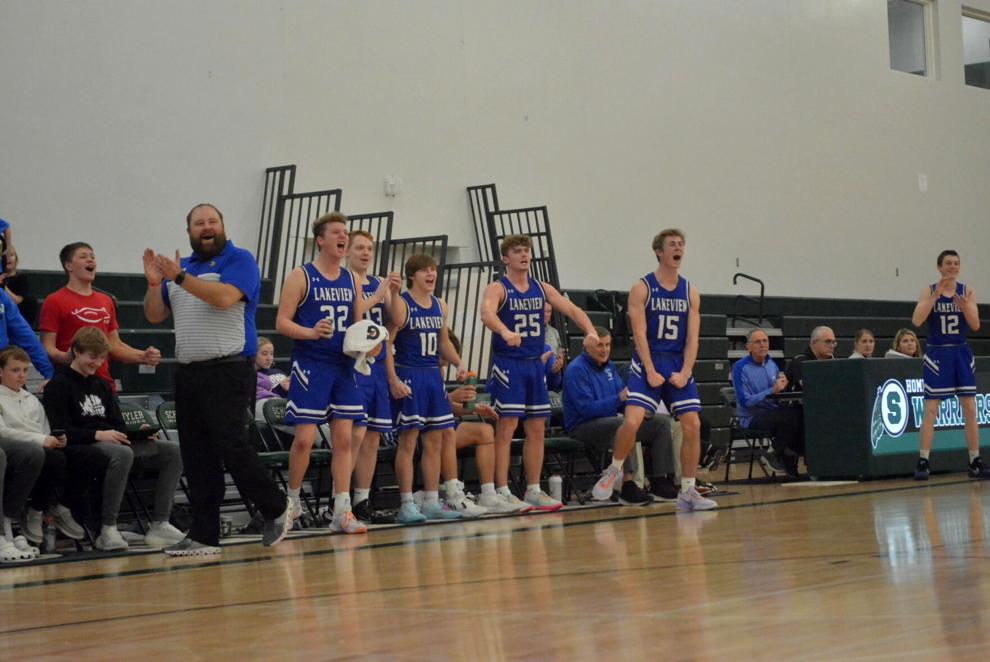 SCHUYLER - Lakeview basketball secured its second win in three games Friday at Schuyler. The Vikings defeated the Warriors 70-45 in their biggest win of the season while the Lady Vikes allowed their fewest points in a game all season in a 50-18 win.
The boys defeated Schuyler behind a balanced scoring attack. They finished with seven players scoring at least five points. Defensively, Lakeview limited Schuyler's offense to 37% shooting and forced 12 turnovers.
"I thought we did a lot of good things offensively. We were able to get in the paint off the drive and we finished strong. Probably finished a little bit more consistently through some contact and contests than we maybe have in other games," Lakeview head coach Tyler Colvin said. "I thought we shared the ball well. I thought we saw the floor and guys were making that one extra pass in rhythm to guys where they could drive. They could catch and shoot."
Turner Halvorsen led the Vikings with 18 points on 6-for-10 shooting. The senior also made six of his seven free throws. Max Fremarek posted 13 points, knocking down a pair of threes.
Braxton Borer scored 10 points and five rebounds. Jacob Dawson and Humberto Adame tallied eight and seven points, respectively. Will Hrouda and Blake Rathbone each made two field goals for five points.
"We definitely came out strong. We hit our free throws early. You see the ball go through the hoop easy on a free throw or a layup, it really just sets the whole game and gets you going early in the game," Halvorsen said. "I think that's what really set us starting for and throughout the whole game scoring a lot of points, so that was really good."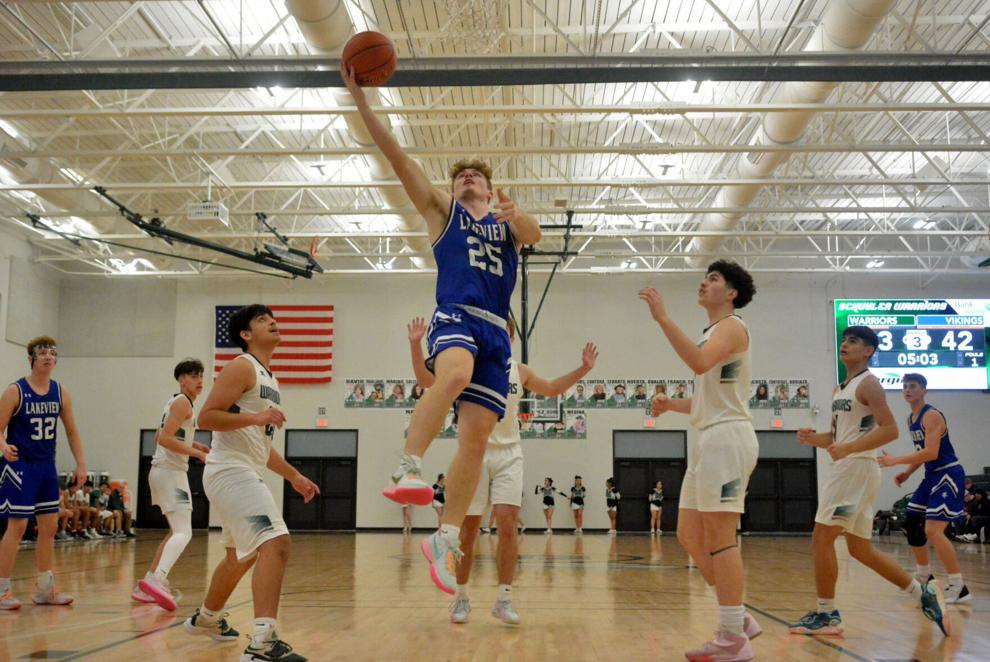 After a Schuyler field goal from Emiliano Rosas cut the deficit to 9-7 in the first quarter, the Vikings went on a 14-1 run to take a 23-8 lead early in the second.
Rathbone and Hrouda hit back-to-back threes to close the first. In the second, Halvorsen scored four straight points and Dawson converted a 3-point play in transition. A Borer free throw extended the lead to 15.
The closest Schuyler got was 13 points following a Gavin Bywater 3-pointer in the second. Lakeview led by as many as 30 points in the second half.
"We attacked the lane really good," Halvorsen said. "We got inside the lane, played off two feet so we're going up strong, getting easy layups, getting those and-1s. Just playing off two helped real well." 
In the fourth quarter, Colvin emptied the bench and gave meaningful playing time to some of its JV players. Adame stood out with seven points, all in the fourth.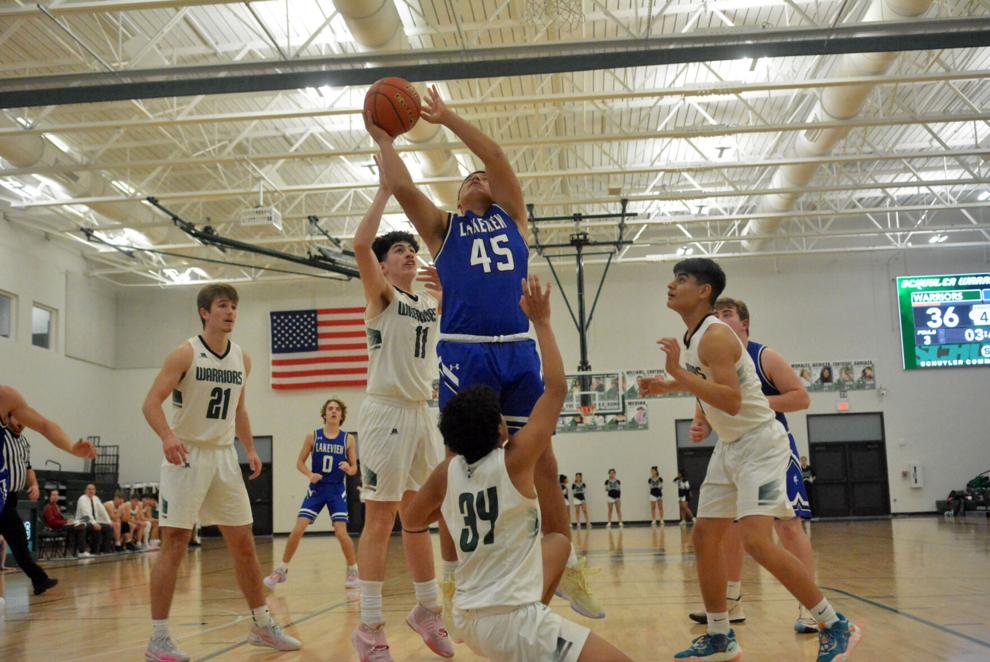 The junior completed an and-1 following an offensive rebound, scored another field goal underneath the basket after a missed shot and made the final field goal of the game for Lakeview.
"It's tough when you don't get to play a lot of varsity minutes. Those guys have had a great JV season. Just happy those guys got to play and got them that experience. We're going to need them next year," Colvin said. "Berto (Adame) coming in and getting seven points. He has just really improved. His transformation as a player is really impressive the last couple years."
The win improved Lakeview to 5-11. Next up for the Vikings is the Central Conference Tournament. They are the No. 6 seed and will play at No. 3 Aurora in Tuesday's quarterfinal.
It'll be the second meeting of the season after the Huskies won at Lakeview 54-23 in the third game of the season on Dec. 9.
"I think we're playing pretty well. We know it's going to be a tremendous test. I don't feel like we've played very good the first time we played Aurora. We got to compete better," Colvin said. "We've got to make them earn it for four quarters. That first game, they kind of came out and really put it to us. We never really got into the fight. We want to go and play our best and make them earn everything."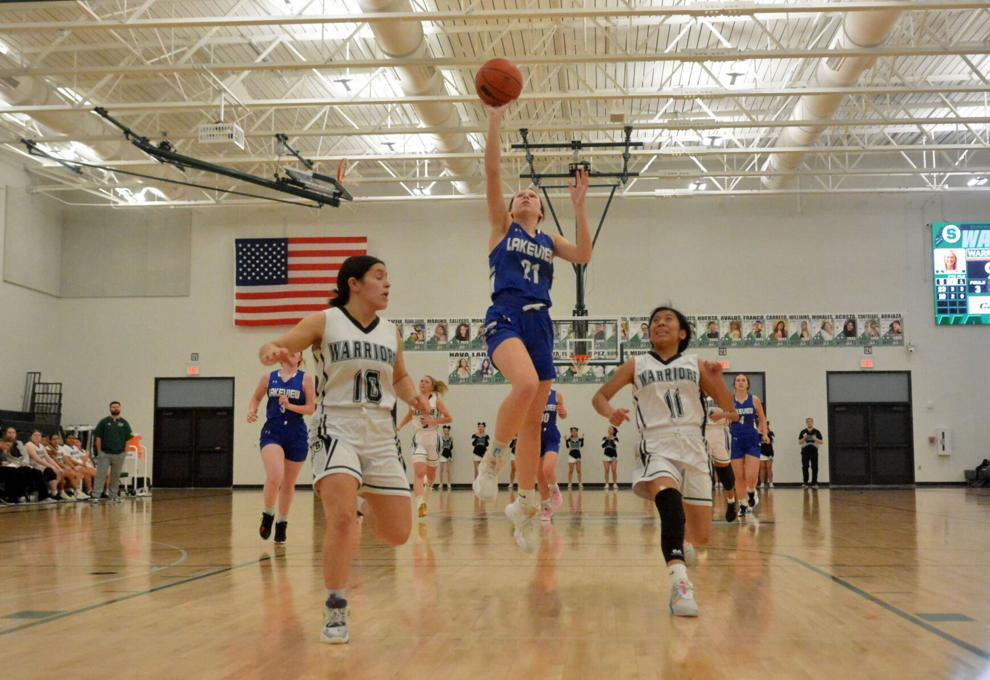 Lakeview earned a wire-to-wire victory on Friday. It led Schuyler 34-7 at halftime and never looked back.
Nine Lady Vikes scored with Taylor Helms leading the team with 10 points. Tori Osten contributed with nine points and Taylor Greisen, Josie Bentz and Kiara Kula recorded six points each.
"On Tuesday, we played a great game and we just didn't want to take a step back (tonight) going into the conference tournament. We did a great job," Lady Vikes head coach Monte Jones said. "We had a high energy level, we shared the ball, we shot the ball well. I thought we showed good respect to Schuyler and they earned it. They played well too. Exactly what we wanted out of (tonight)."
Friday's game was the fifth double-figure scoring game of the season for Helms, who's grown into a vital role off the bench.
"I can owe it a lot to my teammates," Helms said. "They've always found me with a good pass and I just think I look to rebound a lot more as a post."
Lakeview improved to 8-8. On the back of Friday's performance along with a narrow three-point loss to Milford last Tuesday, the Lady Vikes have increased confidence heading into the conference tournament.
"We've been struggling to score lately, so just seeing the ball go in is really giving us some confidence," Helms said. "Our coaches have talked about being balanced and being bold, so I think those two things have really helped us with our shot."
The Lady Vikes are the No. 4 seed in the Central Conference Tournament and they'll host Aurora on Tuesday in the quarterfinals. They defeated the Huskies 47-31 back on Dec. 9.
"Always when you play a team that you've beaten before, the danger is you don't make the adjustments that they do. We need to adjust and make improvements," Jones said. "Aurora always plays extremely hard and they'll adjust and take some stuff away from us. We got to go in knowing that it's going to be a great fight and treat it that way."