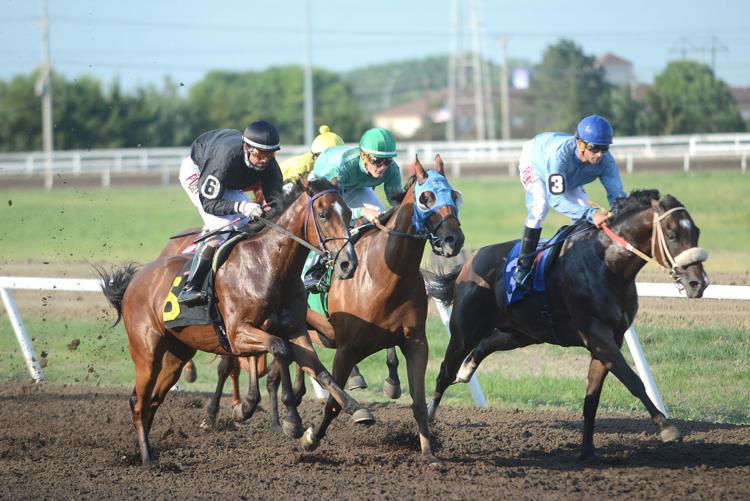 After favorites won nearly half of the races over the course of opening weekend Aug. 2 and 3 at Columbus' Ag Park, successful bettors walked away with a better take when just three went to the winner's circle this past Friday and Saturday.
Race fans who correctly chose Be Stormy in Friday's fifth race took home the largest pay day of Week 2 when the Scott Bethke ridden, Mark Lemburg trained and Deb Lemburg owned steed went off at 10 and 1/2 to 1 and took the $4,400 claiming race by a half of a length over Pivotal Edge.
E Lee in the following race at odds of 7.9 and Siblyline in Saturday's second race at 9.9 were the delights of the weekend.
Be Stormy paid $23 on a $2 wager, $171.80 on a $1 exacta thanks to longshot Pivotal Edge coming in second and $338.90 on a 50-cent trifecta with Miss M Kays Deputy, also at nearly 10 to 1.
E Lee paid $17.80, $71.50 on the $1 exacta and 59.05 on the 50-cent trifecta.
The only favorites to come to the line ahead of the field all came on Saturday when All for Truth in the third, Chance of Frost in the sixth and Fat Tire in the eighth all crossed at odds of 2.1 or lower.
Dakota Wood, the headliner from the opening weekend with five jockey wins, produced three more in his second trip to Columbus. Chris Fackler was the dominant force in Week 2, winning six times, four of those coming on Saturday.
You have free articles remaining.
Travis Cunningham doubled his total with four more victories and sits tied with Wood and Fackler with eight each after four nights of racing.
Fackler took E Lee from the third gate to the lead at the stretch run before holding off Rain Ray by a length. He then went back-to-back on the saddle of Melanie's Trumpcard from the five spot again running to the lead at the stretch then outrunning the field by 7 and 1/2.
Saturday he went back-to-back twice, in the third and fourth then the seventh and eighth.
Trainer Salvador Arceo had the most wins of any trainer, taking Friday's second and eighth races then finishing Saturday with a win in the eighth.
Kelli Martinez and Ron David both won twice.
William David took home two wins and is tied with Martinez for the track lead with five. David has started 20 horses, won five times and finished third or better in 16 of those, earning $22,465.
Martinez has started nine horses with three runners-up, five winners and earnings of $17,520.
Among owners, Kirstin Chaulk has the top spot on seven top three finishes, three wins and $11,215 in total earnings. Her stable produced two winners and two runners-up on opening weekend followed by a first, second and third this past weekend.
Bill Mimick, Dan Reinhart, D and L Farms and Robert Mitzner are the only other owners with multiple wins.