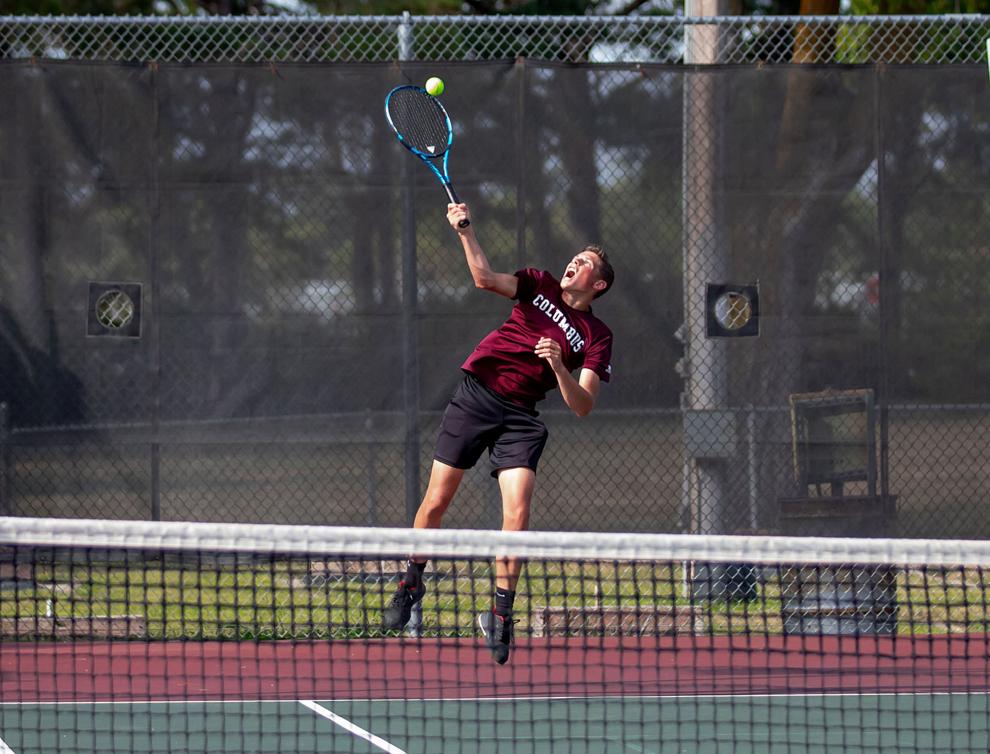 Columbus High boys tennis lost all four of its first-round matches Thursday at the Class A state boys tennis championship at the Omaha-Koch Family Tennis Center in Omaha. All four matches were decided in straight sets.
Junior Ted Fehringer played against 7-seed Ian Lewis of Papillion-La Vista in No. 1 singles and lost 6-0, 6-1.
In No. 2 singles, sophomore Frank Fehringer faced the No. 8 seed, Millard West's Colin Schulte. Fehringer ended the match in defeat with a score of 6-1, 6-0.
CHS had a pair of juniors, Bohden Jedlicka and Blake Wemhoff, compete in No. 1 doubles. They squared off against Lincoln Pius X's Cooper Nichols and Ian Woita, who were the No. 10 overall seed. The Thunderbolts defeated the Discoverers 6-1, 6-2 to advance to the second round.
Sophomore Carter Goc and junior Alex Zoucha competed as the No. 2 doubles tandem against No. 8 Bellevue West and lost 6-0, 6-0.
"We went to the state tournament and we competed. Going in we knew the odds wer not in our favor to win our opening round matches considering we were matched up with seeded teams/players in each division. The goal was to play the best we can, win as many games as possible and maybe pull upset," coach Scott Bethune said. "We didn't pull any upsets and we won a total of five games, which is way below what we could have liked. I felt like some of the kids came in serious and played hard, but as a whole team I felt we were lacking the fire."
Creighton Prep's Zachary Kuo, the top seed, won the No. 1 singles bracket and lost just five games in four matches. Joshua Rosenblatt of Omaha Westside was the No. 2 singles champion after dropping the opening set of the finals match 6-3 to top seed Yakub Islamov of Lincoln East. He recovered 6-4, 6-4 in the next two sets.
The Lincoln East pairing of Kyle Givens and Gabriel Whiston entered state unbeaten and stayed that way for a No. 1 doubles championship 6-4, 6-3 over a team from Creighton Prep.
Kaiden Bradley and Caden Haar of Lincoln East were also perfect as a pairing throughout the season at 29-0 and went unbeaten at state for a No. 2 doubles win 6-1, 2-6, 6-2 over a team from Elkhorn South.
Two doubles champions and a singles runner-up gave Lincoln East the Class A state title with a team total of 54 points - 12 ahead of Creighton Prep. It was the first tennis championship for the Spartans since 2007 and the 10th in school history.
Class B champions included Gavin Foster of Elkhorn Mount Michael in No. 1 singles, Avelino Hanmer of Omaha Skutt in No. 2 singles, William Mallisee and Ethan Pentel of Elkhorn Mount Michael won No. 1 doubles and Bowdie Fox and Alex King of Grand Island Central Catholic took the No. 2 doubles title.
Mount Michael scored 56 team points and won the Class B title. McCook was the runner-up with 42.5.
Columbus won two matches at state in 2020 but both of those were seniors. All of the Discoverers who played in state this fall will return to the lineup next season.
"Lack of energy may have been a result of a long season with not much success and knowing what the final outcome would ultimately be," Bethune said. "Either way, I would have liked to have seen a little more passion and aggressiveness. The day was short but experience was gained. We knew this would be a learning season for us. With all players returning next year and some extra offseason work we should be able to improve across the board next season; that is the goal."