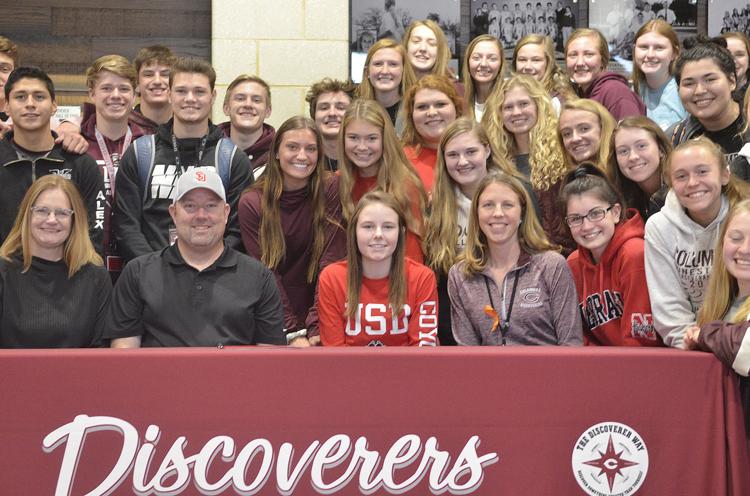 Columbus High senior Jaidyn Garrett, one of the most decorated pole vaulters in Nebraska high school history, set plans for her future on Wednesday when she signed a National Letter of Intent with the University of South Dakota track and field. 
Garrett is a three-time state champion in Class A for pole vault, holds the all-time record height for girls in Nebraska and won the overall state medal as a freshman and sophomore. 
"It's always exciting when a player decides to continue their sport at the collegiate level, especially when it's D-I," Columbus High girls head track coach Julie Kreikemeier said. "We've had several that have gone to D-2, so it's always exciting to see them be able to continue and see how much they're going to grow going on to that type of program.
Garrett's career-best height is 13 feet, 4 inches set on April 18 at the Nebraska Track and Field Festival hosted by Papillion-La Vista South. 
"She's very goal oriented," Kreikemeier said. "At the beginning of the year she always comes to us and tell us, 'This is what I want to focus on this season. This is the goal I want to hit.' That's what she sets forth and that's what her eyes are set on. She is more than willing to put in extra practice sessions if needed or go to clinics or lift some more weights or whatever it might be to reach that goal."
Competitiveness is another attribute Krenkmeier believes has led to the success Garrett has had thus far. She said that competitiveness shows up in the high level of expectations Garrett has for herself. At each meet, Garrett is always asking what she's doing wrong or what she could do better.
Often, she's far and away the best vaulter at the meet, and the event becomes sort of a contest with herself. When Garrett doesn't perform up to her own standards, she's not happy, gold medal or not.
Her high school career caught the attention of multiple colleges, but it was South Dakota that eventually won Garrett over. 
"I'm just super excited just to get it out of the way," she said on Tuesday after signing. "Just to know where I'm going and know that it's going to be good." 
You have free articles remaining.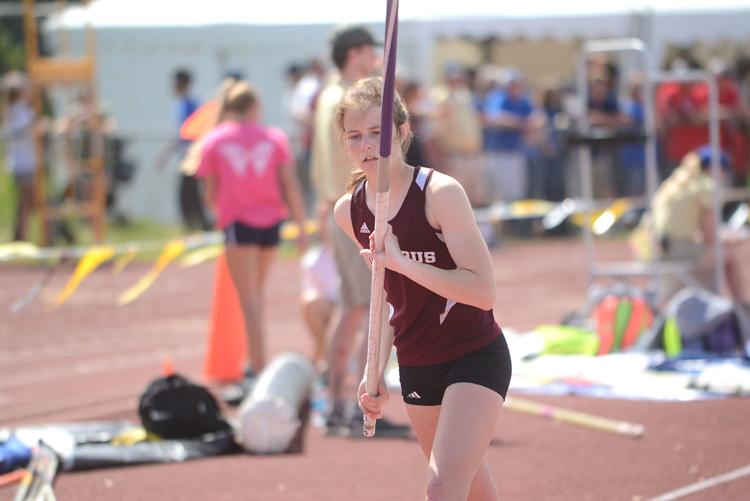 When talking about South Dakota, one word was a recurring theme when Garrett talked about the Coyotes - support. 
Garrett first visited South Dakota in September. 
"Everything was just super supportive and just based on everyone being together," Garrett said. "The coach is awesome and all the kids are super supportive there and it just felt like home." 
Garrett is still undecided on what she will study while at South Dakota. 
The Coyotes have a history of success in pole vault with multiple All-Americans, national championships and success on the international stage.
According to Kreikemeier, USD is currently rated No. 1 in men's pole vaulting while the women are ranked No. 2. 
"The coach has had a lot of success through every year and all of his vaulters have been super good," Garrett said.  
Garrett finished in the top-10 nationally for high school girls last year. 
"I definitely think that she'll be an athlete that will have success at the collegiate level," Kreikemeier said. "Just with her work ethic and her dedication. She is very coachable. If you tell her something needs to be changed, she's willing to listen and make that adjustment so that she can have that success."