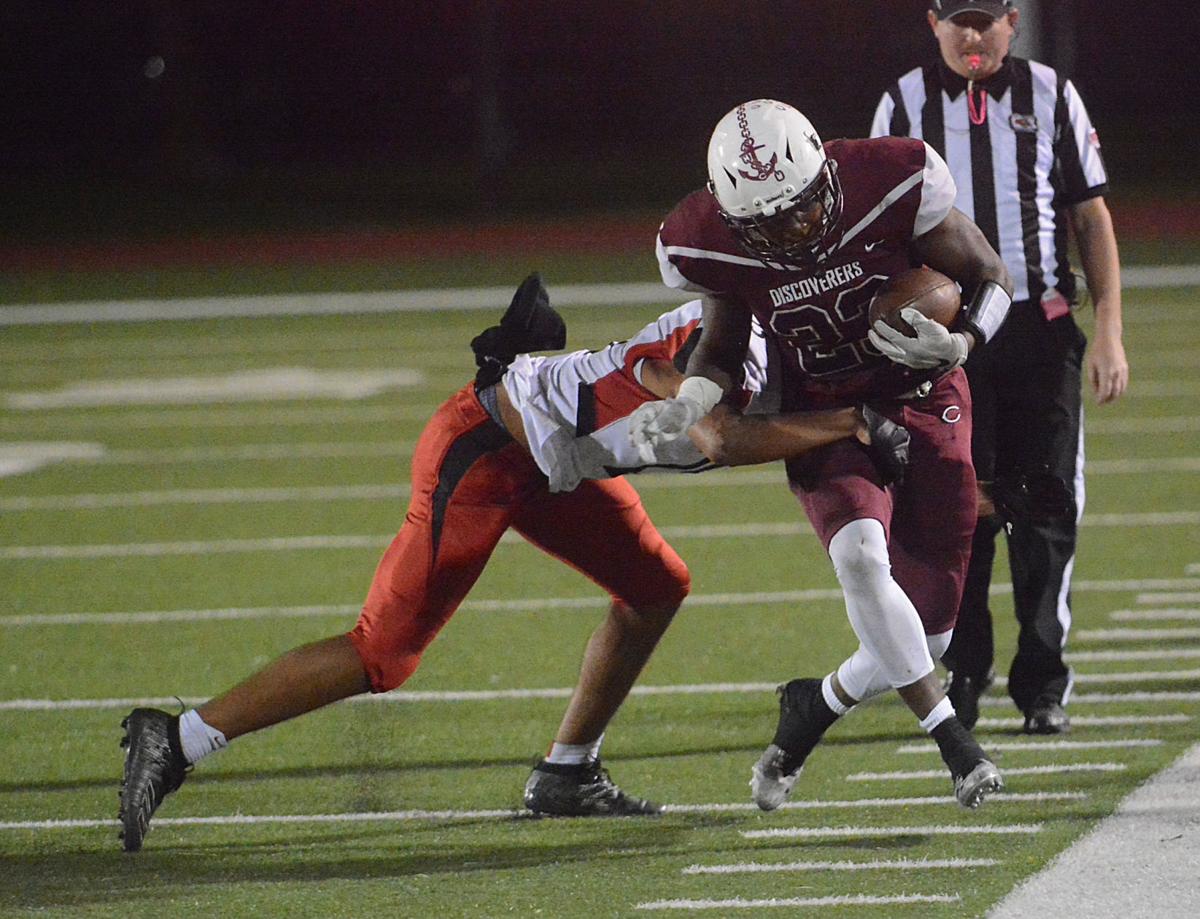 After playing four top-10 teams in a four-week period, Columbus High took advantage of playing a team in a similar situation last week - bruised and beaten up, looking for something, anything to go right.
Yet, in the final game for 13 seniors, the Discoverers didn't simply limp in and hope for the best. CHS forced eight turnovers, scored through the air, on the ground and with the defense and routed Omaha Northwest 64-0.
Following a month of facing top-10 teams, Columbus, in a sense, took out its frustrations and left the 2019 season with a better taste in its mouth than it could probably remember before it faced the district schedule of Elkhorn South, Creighton Prep, Millard South and Omaha Westside.
The Discoverers started somewhat slowly, coach Craig Williams suspected, because of a 4 p.m. kickoff. But as he also suspected, his group wasn't about to come out seeking pity.
Instead, Columbus scored late in the first on a Joey Braasch touchdown, and CJ Fleeman scored twice late in the second quarter, once cashing in on one of those turnovers. 
By the time Fleeman hit Landon Thompson for a long touchdown on the second play of the second half, the Discoverers started to remember just how good and how dangerous they can be.
"Defense was really flying around," coach Craig Williams said. "Once our kids kind of got going a little bit after a little bit of a slow start, they really started playing aggressive and flying around. We kind of forced our will a little bit and got going." 
While the possibility still technically existed for the Discoverers to get into the playoffs with some help, Columbus never let that uncertainty hang over its performance.
After two Trey Kobza touchdowns in the third quarter, a forced fumble by Kobza returned for a score by Caleb Van Dyke and two Cayden Micek touchdowns, Columbus had its first shutout since a 2017 win over Ralston and its largest point total since a 62-45 win over Northwest to end the 2013 schedule.
After the game, while there were certainly some emotions, players and coaches stayed in the moment and enjoyed each other's company on the field for one last time. 
"It was happy," Williams said. "The seniors were taking their pictures in case it's the last time we step on the field, because you're not going to have that moment back. You want to make sure you don't miss it.
"... We didn't talk about any other games. Just enjoyed each other there as we were leaving the field and said our congratulations and how proud we were of them and of each other and moved on."
Unfortunately for the seniors, Friday proved to be the last game as the results around the state didn't go the way of the Discoverers. 
Regardless, Columbus still felt pride in its final 48 minutes of 2018. 
"We were having fun," Williams said. "I think everyone that traveled got to play. That was great to see. It was good to see the guys that were backing some of those kids that don't get to play very much and got to see them carrying the football and getting tackles and flying around and still preserving the shutout on the defensive side even though we had subs in for most of the second half." 
"We've been on the other end of scoring 40, 45, 50 points and had to score every one of them to win the game," Williams said. "It was a little more relaxing when you can put that many points up when the defense is playing that well for sure. It gets you a chance to get kids in on both sides of the football and get a lot of reps, especially for some of the seniors that don't get a lot of reps in a regular game."