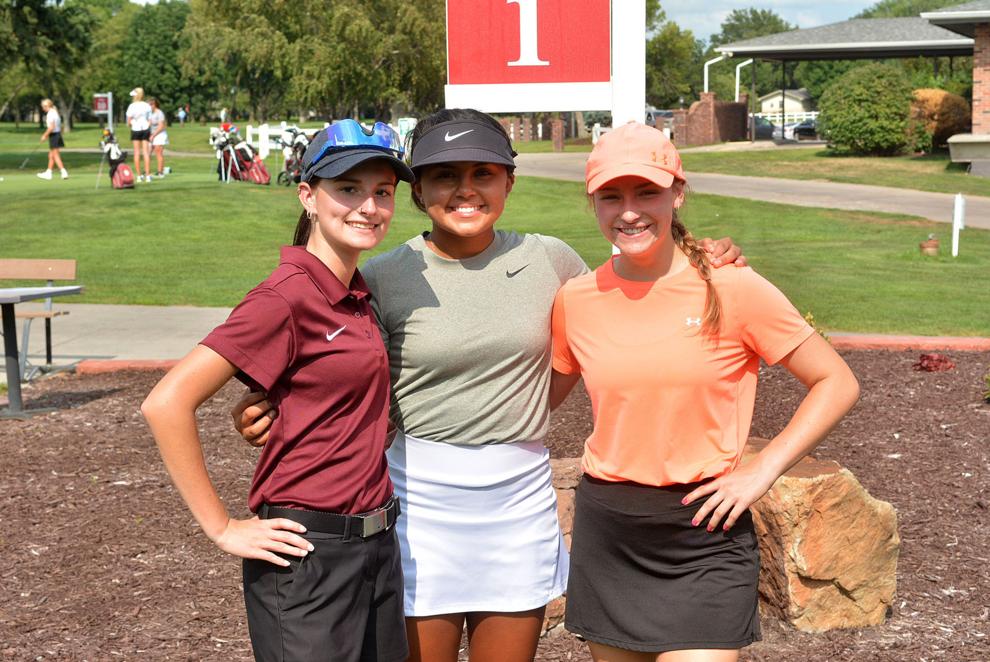 There's no doubt about the emotions and expectations the Columbus High girls took with them on a bus ride to Grand Island on Thursday.
The Discoverers qualified four members to the state tournament last season and bring back three of those four, one who earned a state medal.
Even as humbling as golf can be, there's a certain level of confidence that is flowing through the roster. Three experienced state players will watch closely as the rest of the starting lineup comes together. Until then, Sarah Lasso, Jacey Hughes and Kaidence Spiegel will move the team forward and try to develop it into one that can send all five to state in October.
Four was a lot of fun, but competing among the best in the team standings is the goal.
"I'm very excited for the incoming freshmen and everyone who's been working hard to this point. I'm also just so excited for this whole season because I know we are going to do really well," Lasso said. "I have an expectation as a team we can make it to state this year. There's even more excitement this year because I know we're capable of doing that."
Lasso was the best player of the bunch when CHS barely missed out last fall. Her sophomore year ended with a 15th place finish and earned the first state medal of her career.
As a group, Columbus High was one shot away at the district meet from forcing a playoff for the final team qualifier and two shots away from earning the trip outright. The Discoverers last did that in 2017. Lasso and Hughes qualified automatically. Spiegel and class of '21 graduate Sarah Massman made it in on differential, finding out just about 24 hours after the district tournament.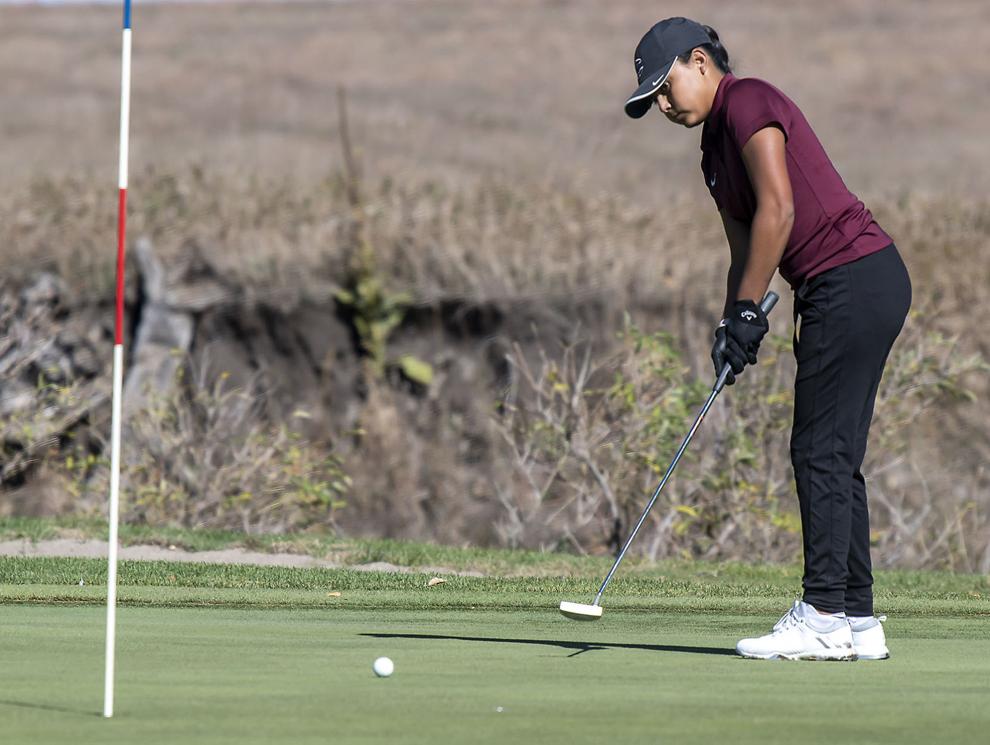 Lasso was third at the district meet, Hughes fourth. Hughes was tied for 30th in Norfolk at state with a 90-92 while Lasso shot a pair of 87s. Spiegel shot 94-98 and tied for 52nd.
"Everything was just starting to click a little bit for everybody (last season)," Lasso said. "We all just started to get it simultaneously. We had a lot of momentum by breaking 400 in most meets, and I'm just excited to see what we can bring as a team this year."
Since then, everyone, not just the three state returnees, has been hard at work. It's the first time in 24 years, head coach Anne Robertson said, that she had every member of the team play during the summer. Some played more than others, but there's no doubt the commitment was throughout the lineup.
"There aren't any girls out there that don't know the basics of the swing. That's maybe the first time I've ever had that," Robertson said. "I'm really excited for the season because of that."
Who will fill in behind the three looks more like it may be a race for one spot. Josalyn Bice, a senior like Hughes and Spiegel, was the fifth player at the district meet and is poised to make Robertson's decision about the top four an easy one. After that, Robertson will average scores over two week segments.
When the season reaches week three, the scores from Thursday at Grand Island will drop off. Other factors also go into the decision-making process, but a two-week rolling average is one way to ensure those whom are playing their best stand out.
There should also be an opportunity to set a new school record. Cathy Curry, Connie Ernst, Karin Saalfeld and Denise Thomsen posted a collective 346 in 1976 and set the standard that has lasted for 45 years. Curry also owns two of the top five best season averages and has the lowest home course nine-hole score. All of those are in jeopardy.
The chance to win duals, triangulars and tournaments, the possibility of setting new records, finishing it all off with a trip to state...needless to say there are a lot of reasons why Discoverer girls golf comes into the year full of anticipation and excitement.
"I think it was a drive this summer, not to let those little mistakes (make the difference). It's not a big deal, but then later you realize, it was a big deal. I really like our chances in qualifying in Class A this year," Robertson said. "Class A is loaded with talent. but I like our chances to get in there. They're not afraid of hard work. They've been up (at Elks Country Club) playing on their own and they'll be up there on the weekends. I really like our chances."