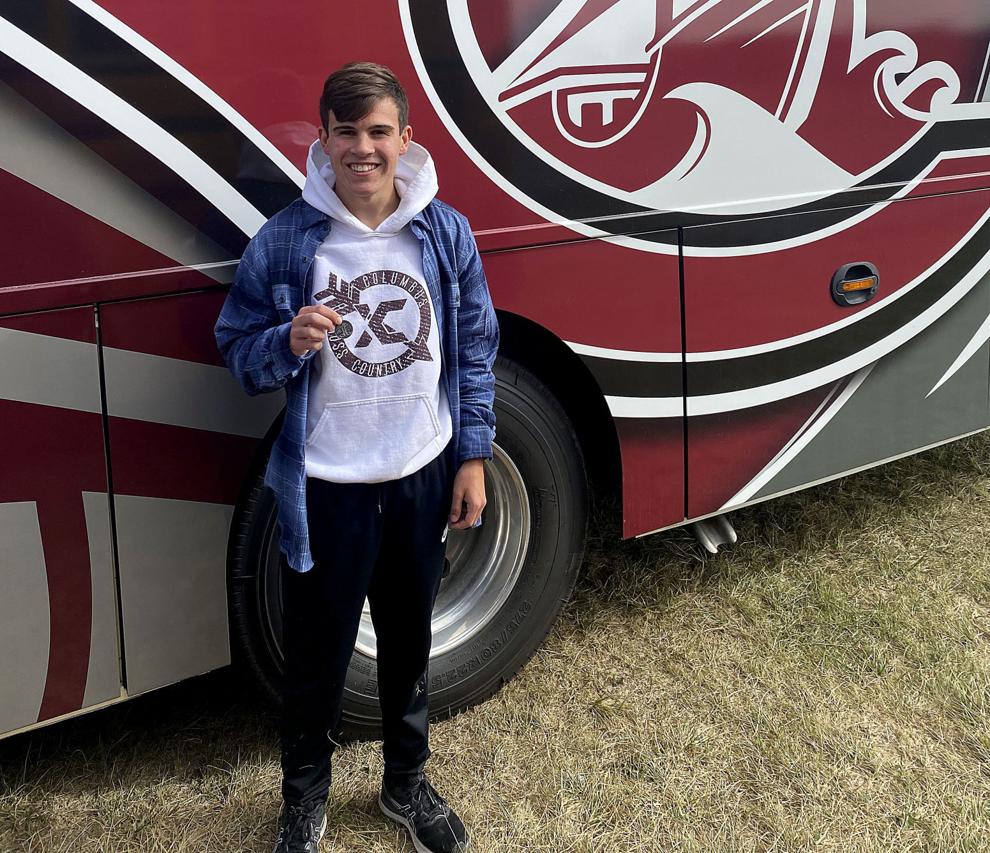 Columbus High's Noah Lawrence will be running in Kearney for the second straight year as the Discoverer junior cross country runner qualified for state Thursday at the Class A-1 district meet at Pioneers Park in Lincoln.
Lawrence finished runner-up with a time of 17 minutes and 1.18 seconds. He finished about three seconds behind Norfolk's Isaac Ochoa for the fastest time of the day.
Last year at the Class A state meet, Lawrence finished in 24th place with a time of 16:42.10. It was the third-fastest time posted by a sophomore.
"Noah ran a smart race," Columbus High head Stacy Smith said. "He hung around in a pack of eight throughout the race until the last 200 meters, where he kicked it in."
The Discoverer boys and girls team each finished in fifth place. A top-three finish is needed to qualify for state as a group.
In the boys race, Brandon Urkoski finished less than a second out of a spot at state. He placed 16th with a time of 17:45. Heath Dahlke ran the race in 18:23 for the third-fastest time by a Discoverer.
Alexa Matulka and Jordyn Stempek posted personal record times. Matulka completed the run in 22:38 as she bested her record time by 35 seconds. Stempek beat her best time by 45 seconds as she clocked in at 22:56.
"The girls did a good job competing today," Smith said. "We finished fifth as a team, but closed the gap on teams that have been beating us all year. Overall, I was really happy with how the kids competed today."
The Class A boys cross country meet is set for 4 p.m. Oct. 22 at Kearney Country Club.
Millard West took the team title at the A-1 district with a score of 25 points and the third through eighth runners at the finish line. That was 55 points better than Lincoln Pius X as runner-up. Norfolk was third with 92.
The rest of the Class A field for Kearney will also include Fremont, Lincoln East, Elkhorn South, Papillion-La Vista South, Gretna, Lincoln Southwest, Creighton Prep, Lincoln North Star and North Platte.
Fremont senior Elli Dahl won the girls A-1 district title on a time of 18:30.57, 18 seconds ahead of the second place runner from Omaha Westside. She helped led Fremont to the team title on a score of 38 points that included medals for first, fifth, eighth, 11th, 13th and 14th.
Gretna was second with 46 points and four medalists. Westside was third with 52 and also four medalists.
The girls Class A field for state will also include Lincoln East, North Platte, Millard North, Millard West, Kearney, Elkhorn South, Lincoln Southwest, Papillion-La Vista South and Lincoln Pius X.