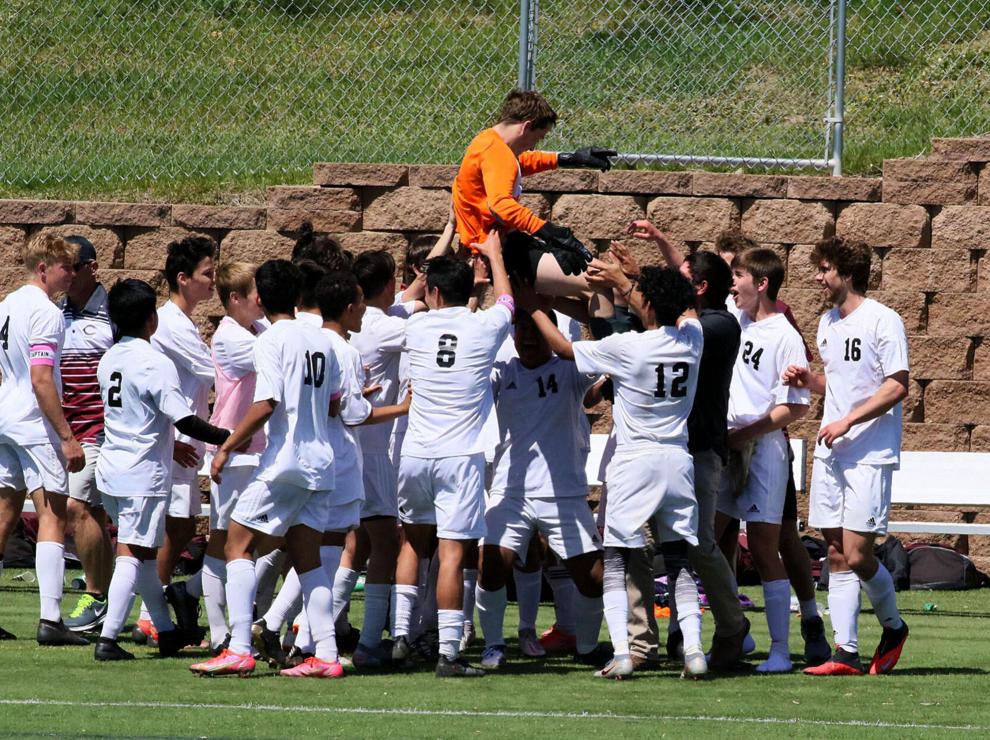 Columbus High coach John Arlt asked one of his team managers to be sure and send text messages back to his wife to keep her updated on the Discoverers' district semifinal game Saturday at Omaha Creighton Prep.
When the match was over and CHS did the unthinkable, he asked if she had followed his directions. Unfortunately, she had been caught up in the moment and failed to serve as long-distance messenger.
"So I told her, 'You don't get to tell her anymore. I want to do that,'" Arlt said.
Who could blame him? A win over the No. 4 team, on the road, in overtime during a season in which Columbus started 1-7...it might have made for a good script but likely would have been rejected by any self-respecting producer.
Once again, truth was stranger than fiction. On an 82nd minute goal by senior Juan Ixquiactap, a handful of five-bell saves by goalkeeper David Bennett and a gritty determination by the rest of the roster, Columbus won 1-0 in what has to be one of the most significant victories in program history.
"(Bennett) made two or three really, really good saves. I mean, he was on his 'A' game, kept us in the game and, like the Kearney game earlier this week, we just have a toughness about us now," Arlt said. "We were really being outplayed the first 20 minutes, I mean, really being outplayed. We started finding our groove a little bit, had some chances, not many, because they are solid, but we were just really tough, really tough."
Bennett made one dazzling save early on when Prep came out and punched Columbus in the mouth. The Discoverers were chasing and looked certain to be easily eliminated from the postseason by several goals. But Bennett's emergence during a rough start inspired some confidence as the 10 players in front of him began to figure it out.
He came up big again in the second half when a foul from 25 yards out-earned Prep a direct kick on net. Bennett laid out to his right and denied a curling shot that made its way over the Columbus High wall and bent toward the far post.
"We defended that pretty well, but that save alone, that ball was going in; it was definitely going in," Arlt said. "He had a few others where he was just fearless."
CHS managed a few of its own opportunities but didn't produce its best until two minutes into overtime.
Senior captain Alex Larson stole the ball in the neutral zone past half field on Prep's end. He sent a pass to Alex Ortiz in the corner. Ortiz served a cross into the box that, if he's being honest, wasn't meant for Ixquiactap. Ixquiactap, as Arlt said, "if he stands at 5-foot-2 it's because he's wearing six-inch shoes." Regardless. Ixquiactap put a head on the pass and put it just over the fingertips of the Prep goalie. It went off his hand up to the cross bar and came down beyond the line.
"How he got a head on it, I'm not sure," Arlt said.
Columbus then switched to a five-man back line. The Discoverers had worked on that formation Friday in practice. Arlt had an inkling Prep might push more strikers forward. Although the Junior Jays hadn't yet shown that look, it became necessary with time winding down.
It didn't generate anything meaningful. After 18 more minutes of overtime, Columbus celebrated the first win over Prep in 30 years. That celebration included Bennett on a teammate's shoulders as players gathered around to salute his efforts.
"We were pretty excited, but we had talked at halftime about, the longer the game is tied, or if we have the lead, we felt like the pressure was on them," Arlt said. "I didn't feel like they pressed because they're too disciplined, but you're also talking about 17, 18-year-old kids and they know what's going on. We kept our composure."
The win sends Columbus to Grand Island on Thursday to play the Islanders for a second straight trip to Morrison Stadium and the first Class A state tournament since 2011.
Columbus lost to Grand Island 4-0 on April 5 in what was the fifth of six straight losses. CHS had the first prime chance in that one but took a shot prematurely instead of making a pass to a wide-open teammate. After Grand Island scored the first goal of the game, Columbus had an immediate chance to answer but sent a shot off the frame.
The Islanders scored all four of their goals in a 16-minute stretch of the second half in which Arlt was critical of his team's energy and intensity. A month later, the team from that afternoon seems like a completely different roster.
"To make this even better, we have to win the next game," Arlt said of his message following the victory. "Obviously, beating Prep, in boys soccer in Nebraska that's probably the first time you think of. ...To beat them is something good, but we also know the ultimate goal when we started the season was we wanted to get to the state tournament in Class A and show that we belong here."