COLUMBUS — Nathan Slusarski's second-half heroics sealed ninth-ranked Columbus High's 48-30 home victory Friday over No. 10 Grand Island Northwest.
The senior defensive back and receiver hauled in a 30-yard diving catch at Northwest's 1-yard line to set up a Juan Leon touchdown run late in the third quarter that put CHS on top 35-17.
Slusarski then put an exclamation point on the Discoverers' dominant second half with an 80-yard interception return that made the score 48-24 with 6:34 remaining in the fourth quarter.
"Nate's a guy that has really come on strong. He's worked himself into a position there. He's on special teams, he's on defense and he's on offense," Columbus High head coach Craig Williams said. "The young man can play all over the field. He's a great athlete."
Trailing 17-7 in the second quarter, Michael Koch started Columbus High's comeback with a 37-yard touchdown run with 1:18 remaining before halftime.
Koch then intercepted a Northwest pass with less than 30 seconds left in the quarter, but a CHS Hail Mary attempt came up short on the ensuing possession.
Still, the Discoverers had the momentum entering the break.
"The biggest thing is we were wondering how we were going to react when we faced adversity and how we were going to respond. I thought our kids did a great job there in the second quarter," Williams said.
Koch picked up right where he left off to start the second half. The senior quarterback drove the Discoverers down the field for a touchdown, another keeper he took 28 yards for a score to give CHS the lead.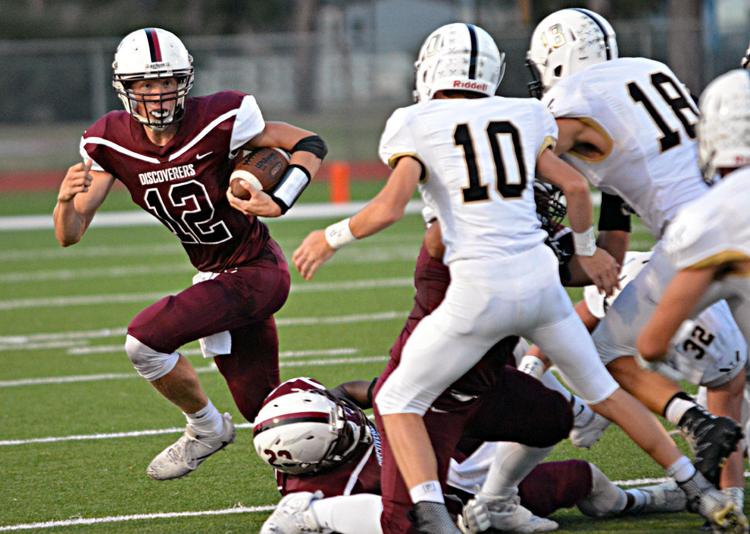 "I think our kids did a great job up front giving Michael a little more room to get started. That's the biggest thing with Michael, once he gets started he's tough to bring down. He's really shifty, so we just got to get him going downhill," Williams said.
The game continued to roll Columbus' way as Leon scored with 2:52 left in the third quarter to put CHS on top 28-17.
On the ensuing kickoff, Columbus' Joey Braasch recovered a squib kick that was mishandled by Northwest at its own 31-yard line.
"To be honest, I think he just missed the ball because we did not call an onside kick," Williams said.
Slusarski's diving grab followed the recovery and Leon's third rushing touchdown made it a three-possession game at 35-17.
Leon finished with 11 rushes for 48 yards and those three TDs.
Northwest responded with a 32-yard touchdown pass from Carter Terry to Riley Schliep, which was set up by a roughing the punter call against Columbus.
Koch followed with his third rushing touchdown of the game, this one from 17 yards out with 8:23 left in the fourth quarter. CHS led 41-24 after a mishandled snap on the PAT attempt.
Slusarki's interception secured the victory at Pawnee Park's Memorial Stadium.
Koch rushed for 196 yards on 20 attempts and scored three times. He was 16 for 19 passing for 192 yards.
Williams was happy with the way his team played against a ranked opponent.
"We haven't been tested adversity-wise in the first couple of weeks, so we were really wondering how they were going to respond to that. And we thought they responded very, very well," he said. "That's something that is going to help us down the road."
Columbus (3-0) plays at Norris next Friday.