COLUMBUS — Columbus High rode the momentum of a three-set win over Lakeview on Saturday morning to the championship of the Columbus Classic volleyball tournament.
However, the Discoverers emptied their gas tanks by the time they played their fourth match of the day, more than six hours after the victory over Lakeview. Despite attempts to take naps between matches to recharge their batteries, Columbus came out flat in the championship match against Kearney Catholic and the Stars swept the Discoverers 25-23, 25-16.
"You could tell we lost some of that intensity," Columbus head coach Jeri Otten said.
Otten could tell Kearney Catholic, which only played three matches in the tournament hosted by Scotus Central Catholic, was the fresher team.
"It's difficult, but everyone goes through adversity," she said. "It's who's going to show up for a match and Kearney Catholic did that between the two of us."
Scotus beat Lakeview 25-13, 25-18 in the third-place match.
Up to the championship match, Otten was thrilled with her team's play.
"The team played awesome," she said. "We really made some great strides, especially pushing through such a tough, in-town match against Lakeview right away. That was huge."
The Discoverers played in the first match of the tournament at 9 a.m. and won a marathon third set to top the Vikings 25-21, 20-25, 29-27.
"Columbus High played really well in our match," Lakeview head coach K.C. Belitz said.
CHS springboarded from that victory to a 25-23, 25-23 sweep of Class B, No. 10 Hastings, then made quick work of Blair, winning 25-14, 25-8 to reach the finals.
Jaidyn Garrett had a team-best 34 kills for the Discoverers in the tournament. Telegram Super Senior Rylee Kwapnioski finished with 79 set assists and 13 kills and Regi Zakrzewski recorded 69 digs.
Lakeview bounced back from the loss to the Discoverers to beat Blair (25-17, 25-17) and Hastings (26-24, 25-16).
"I was pleased with the match against Blair and real pleased with the match against Hastings," Belitz said. "I think that was one of our better wins this year."
The Vikings finished their day with the loss to Scotus in the third-place match.
"Scotus played well in that match," Belitz said. "They didn't make many errors and put the pressure on us."
Lakeview's Britney Stock ended the tournament with 27 kills and Brooklyn Wilke added 25 kills and seven blocks. Telegram Super Senior Mallory Gotschall had 60 digs, including 29 against Columbus.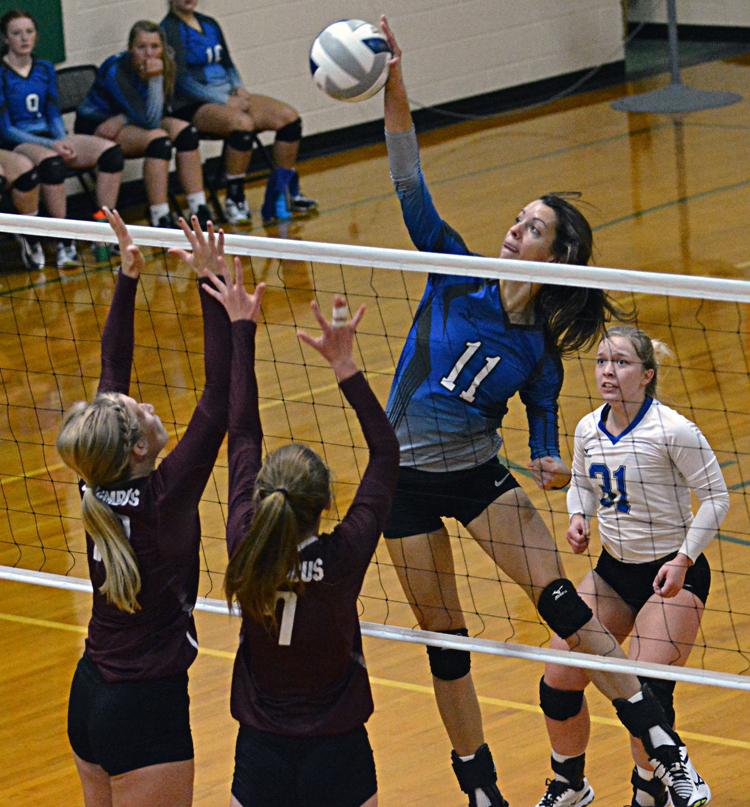 Overall, it was another up-and-down day for Lakeview.
"It's been the nature of the season," Belitz said.
The Shamrocks split their matches in pool play, beating Norfolk Catholic 25-13, 25-17 before losing 25-22, 25-17 to Kearney Catholic.
Like Lakeview, some familiar problems popped up for Scotus.
"I'm pleased with the effort, but it's a little bit of the same issues we've been having with breakdowns in passing and serving. That kind of signifies how we're going to do," Scotus head coach Janet Tooley said. "In the match against Kearney Catholic, we couldn't keep things rolling our way. We'd have a great play, then shoot ourselves in the foot."
"Fortunately, we're not at districts yet, so we still have time to improve."
Scotus ended its day on a high note with the win over Lakeview, its second victory against the Vikings this week. It's the third time the teams have played in the month of September, with Lakeview winning the first match.
Tooley is hoping the rivals don't meet again.
"It's tough to continually face off against one another," she said. "Seeing the same opponents over and over again isn't real conducive to anything really positive to happen. It's good to face some different teams and different offenses to get you ready for the end of the season."
Elley Beaver had a team-high 23 kills in the tournament for Scotus, including 14 against Lakeview. Shania Borchers added 15 kills and four blocks and Abbie Zoucha finished with 65 set assists and 16 digs.
The Shamrocks (12-5), a ratings contender in Class C-1, play at No. 6 Wahoo Neumann on Tuesday before beginning play Thursday in the Centennial Conference Tournament.
"This was just a warm-up for us," Tooley said.
Lakeview (10-10) hosts St. Paul and Columbus (10-12) plays at Lincoln North Star, with both matches on Tuesday.