LINCOLN — Logan Wemhoff had been to the state tournament twice before — as a freshman and sophomore — and left with losses in the first round both times.
She was determined to not let that happen her senior year.
Wemhoff had 20 kills and 27 digs Thursday to lead Humphrey St. Francis to a 25-21, 25-20, 18-25, 20-25, 15-12 win over Red Cloud in the Class D-2 state tournament. It was the Flyers' first state tournament victory since 2007.
"It means everything," Wemhoff said. "A lot of people didn't think we could do it today. I'm just really glad we showed them we can. We're more than just a team that can make it."
The fourth-seeded Flyers (26-5) jumped out to a two-set lead only to watch No. 5 Red Cloud (28-6) come back to force a deciding fifth set at Lincoln Northeast High School.
"I was a little nervous, but once we stepped on the court, I was completely confident me and my team could do it," Wemhoff said.
St. Francis came out with a simple mindset in that final set — any time the Warriors scored, the Flyers would match them or extend the lead.
Only twice in the fifth set did Red Cloud win more than one point in a row, and St. Francis stopped both runs at two points.
After the Warriors took their only lead of the set at 6-5, St. Francis went on a 5-1 run to give itself enough breathing to finally clinch the match.
As the Flyers watched Morgan Nibbe's final attack sail wide for match point, the team erupted in celebration.
Wemhoff said the team's ability to fight back came down to one thing.
"Heart. We showed more heart tonight than we have this season. Playing together as a team brought us back the momentum," she said.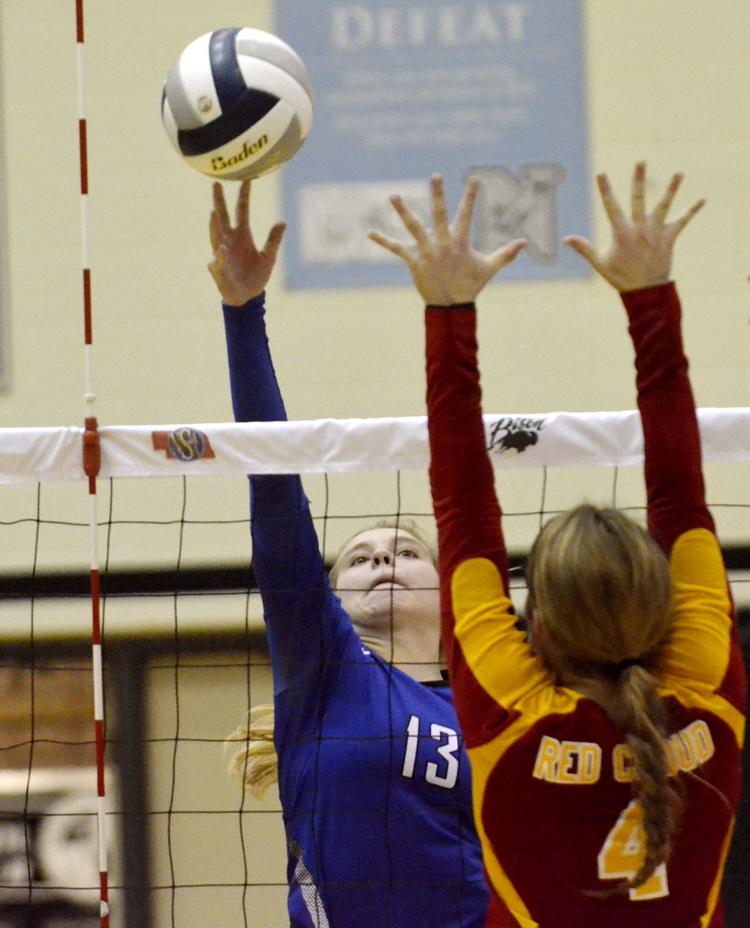 The Flyers got off to a slow start in the match, falling behind 15-10 and later 19-15. Then everything started to click.
St. Francis ripped off eight straight points and ended the opening set on an 11-2 run. The Flyers followed that up by dominating a second set that wasn't as close as the score indicated. St. Francis led 24-16 before Red Cloud fought off four set points.
"The second set, we could do no wrong," St. Francis head coach Dean Korus said.
Then Red Cloud's middles started to take control. Korus prepared his team the best he could for the 6-foot-1 Nibbe and 6-foot-2 Mary Nibbe. He and one of his assistants, who is 6-foot-1, spent the week imitating the duo.
"We didn't do justice to those two," Korus said, adding that his team hadn't faced that kind of size this season. "They gave us problems."
Morgan Nibbe finished with 24 kills and Mary Nibbe added 21 as the Warriors came back to tie the match, but Wemhoff and her teammates weren't ready for their season to end.
"We've been practicing for this all year," Korus said.
Tara Foltz had 12 kills and 22 digs for the Flyers and Caitlin Jarosz added nine kills and four blocks. Bridget McPhillips recorded 44 set assists, 13 digs, six kills and two blocks.
The win, St. Francis' school-record 26th of the season, advances the Flyers to Friday's 11 a.m. semifinal against the winner of Ewing and Mullen at Pinnacle Bank Arena.
Wemhoff is looking forward to the experience in an atmosphere she hasn't seen before.
"It's a big step up," she said.
Korus just wants the team to enjoy the ride.
"You never know how many times you're going to be down here, so you have to take advantage of it and enjoy the atmosphere," he said.