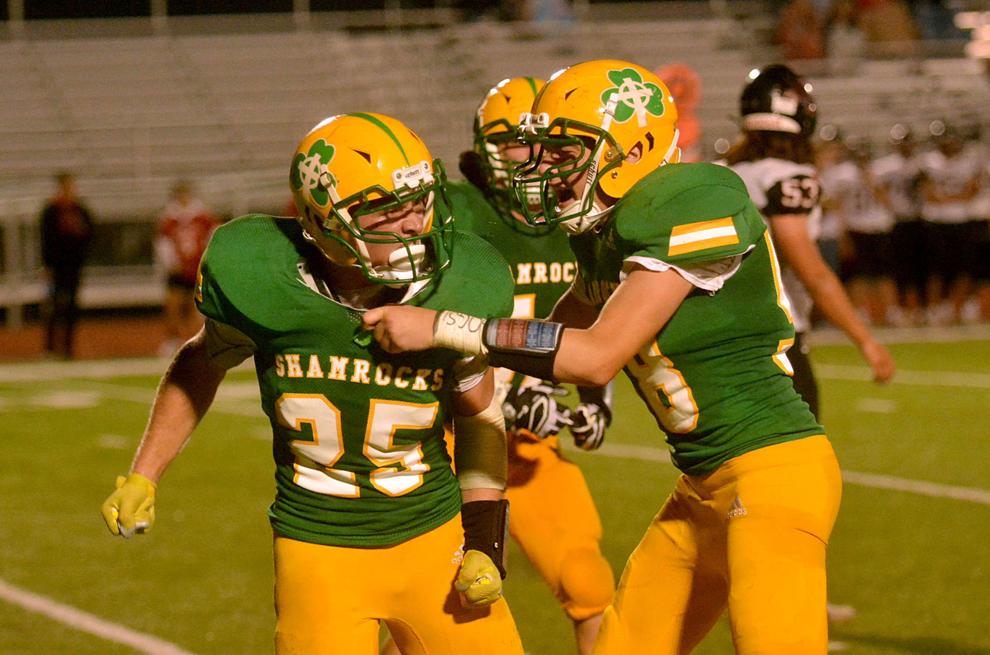 Two fourth-quarter defensive stands gave a reeling Scotus Central Catholic football team just what it needed to hold off an upset bid from West Point-Beemer on Friday at Pawnee Park Memorial Stadium.
Playing without quarterback Trenton Cielocha after a first-quarter injury, and perhaps light on the energy following back-to-back emotional wins, Scotus trailed West Point-Beemer 6-0 through three quarters. A partially blocked punt then a fourth-down stop gave the No. 4 Shamrocks the short field and they converted both into touchdowns for a 13-6 win.
For a time it looked like it might not be Scotus' night. The 'Rocks drove down inside the Cadet 10 at the end of the first half and start of the second but were turned away both times.
The second one ended a six-minute, 13-play drive and allowed West Point-Beemer to take the lead into the final 12 minutes. Devon Borchers got a piece of a punt just moments later and started a fourth-quarter surge that saw the Shamrocks remain perfect on the season and improve to 5-0.
"We leaned on each other. That's what great teams do; that's what families do," coach Tyler Linder said. "When your offense is struggling, that's what you do - you come out and you lean on the people closest to you and you trust them, and when you do that, when you put faith in each other, good things can happen, and it happened late for us."
Senior Devon Borchers came through the West Point-Beemer line and got a hand on a Cadet put that swirled out of bounds at the 20 with 11:07 left in the fourth quarter. Scotus was in the end zone four plays later when senior Zane Beiermann took a carry around the left side, broke a tackle at the line of scrimmage and went 9 yards to make it 6-6. The backup kicker came in for the PAT but came up short of clearing the crossbar.
West Point-Beemer couldn't handle the ensuing kickoff and had to jump on it at the 4. The Cadets picked up 8 on third-and-10 then sent the offense back out there for fourth. Earlier in the game, the offense and quarterback Riley Penrose came out in a similar situation but used the quick kick rather than risk a stop. This time, he took the snap and tried for the first. Henry Ramaekers, Jack Faust and Chance Bailey corralled him before the line to gain and set the offense up at the 14. This time it took three plays and Scotus suddenly had the lead with 6:55 to play.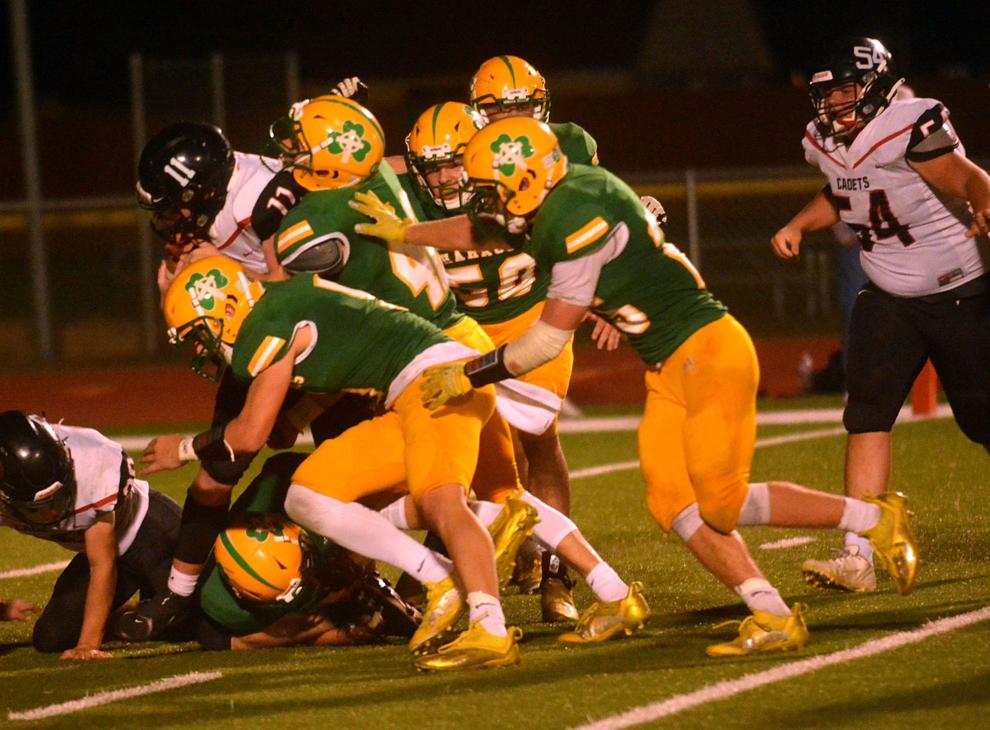 Devon Borchers busted through the right side and scored from 6 yards out. Back up kicker Carson Czarnick was true on his attempt the second time around and it was 13-6 Shamrocks.
West Point-Beemer then picked up two first downs and converted a fourth down but saw their last-minute hopes die on a long incomplete pass from the Scotus 32. Borchers touched it three more times and picked up a first down that allowed backup quarterback Faust and the offense to kneel out the win.
"It was kind of ugly and it was kind of sloppy, but we got away with the win," Faust said. "I guess that's what matters at the end of the day."
Faust is prepared each week should emergencies arise, but Friday was the first time he had faced a defense other than his own scout team. Cielocha was under center for the first two Scotus drives but both went three-and-out.
Faust came out for the third drive after it was learned Cielocha had been stepped on and perhaps suffered an internal muscle injury. It wasn't until the second quarter before the Shamrocks picked up a first down.
By that time they trailed 6-0 following a West Point-Beemer punt return to the Scotus 38, a 29-yard run by Penrose then a 9-yard touchdown by Treven Weddle. Scotus blocked the extra point.
Scotus made its first threat on the end zone after West Point-Beemer failed on a fourth-and-2 from midfield. The 'Rocks were down to the 11 in just six plays and had a few seconds left before halftime, but without Cielocha, who's also the place kicker, elected to try for the touchdown.
A Faust pass looking for Garrett Oakley fell incomplete in the northwest corner of the end zone.
A deflected pass on third-and-11 to start the second half turned into an interception and gave the Cadets the ball at the Shamrocks 33. The Scotus defense rose up again and stopped West Point-Beemer on downs. Following that was the 13-play drive that ended in nothing when a third-and-9 screen pass fell incomplete. It looked like Scotus had scored two plays earlier but a holding call negated the touchdown.
"It wasn't how we wanted it to go," Beiermann said. "But going into the second half we knew we were going to have to fight. This team has been fighting injury, illness (and) we've had people step up. We've been fighting all season. It's nothing different for us."