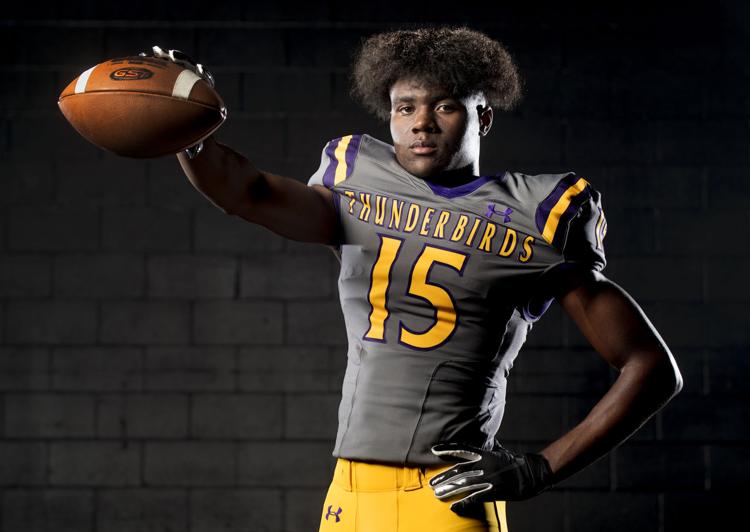 No receiver in the state can combine size and speed like Zavier Betts, one of the reasons Nebraska offered him a scholarship way back when he was a sophomore.
The fact he's a threat to score on any play with the ball in his hands made him valuable in another role that Bellevue West likes to utilize him in: being a decoy.
His ability to draw an outside linebacker, cornerback or safety out of a play helped open up Super-State running back Jay Ducker for 1,813 yards and 30 touchdowns. It also was a factor in current South Dakota State freshman Shane Dailey Jr., going over 1,000 yards receiving a year ago and Betts' senior teammate Nate Sullivan Jr., (another South Dakota State prospect) hauling in 41 passes for 485 yards.
"With the offense we have, you can't focus too much attention on one person because of all the weapons we have," Betts said. "It gets a little frustrating sometimes getting double and triple teamed, but all that does is create opportunities for my teammates."
With Sullivan sidelined until mid-season with a broken ankle, Betts may get more opportunities early this fall to show off the physical talents he exhibited in early July at the Nike Opening where he finished in the 99th percentile in the physical testing there and top 10 overall.
You have free articles remaining.
Register for more free articles
Stay logged in to skip the surveys
Before he sprained his ankle at the camp, Betts ran the 40 in 4.59 seconds, had a 38.6-inch vertical jump and finished the agility run in :4.09. All of that mobility and flexibility in a body "that looks like a Greek statue," says Bellevue West coach Michael Huffman.
"You can throw underneath to him or go deep, and Zavier's capable of breaking either play," Huffman added. "He has the ability to take over a game at any time."
Betts started already as a freshman, making 20 catches for 254 yards and three TDs on Bellevue West's Class A state championship team. He wants one more game at Memorial Stadium in a Thunderbird uniform before making it his home in college.
"I want that feeling of winning a state championship again, especially as a senior," Betts said. "I also want the young guys to experience it, too, so they can make that (reaching the Class A finals and playing in Memorial Stadium) an expectation they should be working for every year."