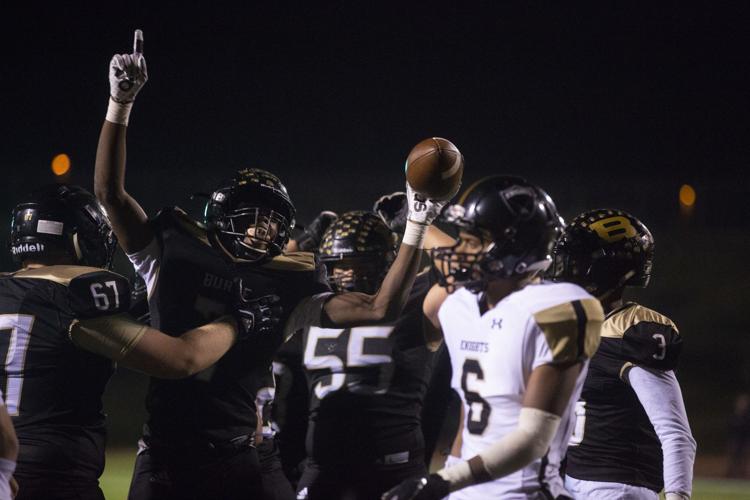 The defending champions
Omaha Burke has plenty of pieces back from last season's 13-0 title team, beginning with Notre Dame pledge and Super-State senior wide receiver Xavier Watts, as well as running back Jaylon Roussell, who rushed for 831 yards and nine TDs in a backup role last season to Super-Stater James Burks. With six starters back on offense, five more on defense and a number of transfers who figure to contribute heavily, the Bulldogs should once again be in the mix when playoff time rolls around.
Other teams to watch
Preseason rankings run Aug. 25
Bellevue West (10-2, 2018 A state semifinals, No. 7 final ranking): A pair of first-team Super-Staters — Nebraska wide receiver recruit Zavier Betts and Northern Illinois running back recruit Jay Ducker — headline seven returning starters on both offense and defense.
Creighton Prep (5-5, A state first round, unranked): For a program that's won nine state titles, been in the state finals 16 times and qualified for the playoffs 24 straight seasons, going .500 isn't acceptable. Among the 11 starters back is senior WR/DB standout Mason Armstead (6-2, 170) and junior tight end/defensive end AJ Rollins (6-5, 205).
Elkhorn South (7-4, A state quarterfinals, No. 8 final ranking): Five starters return on both offense and defense, including seven of last year's top 10 offensive linemen. Teddy Prochazka, a 6-8, 265-pound junior who has scholarship offers from Nebraska and Michigan, leads that group.
Grand Island (10-3, A state runner-up, No. 3 final ranking): The Islanders bring back four starters on offense and five on defense from a team that came within an eyelash of winning the state championship. Senior wide receiver Broc Douglass is a returning all-stater and senior linebacker/running back Caleb Francl will be a cornerstone on both sides of the ball.
Kearney (5-5, A state first round, unranked): When Miko Maessner was healthy two years ago as a sophomore, he earned second-team Super-State honors and helped the Bearcats reach the state finals. He was injured most of last season, but figures to be the main cog this season.
Lincoln Southeast (7-4, A state quarterfinals, No. 10 final ranking): Among the eight starters back on defense are senior free safety Isaac Gifford and last year's leading tackler, senior linebacker Jackson Kraus. Four transfers figure to make an immediate impact, led by senior DT/OT Teivis Tuioti.
Millard South (9-2, A state quarterfinals, No. 4 final ranking): Seventeen starters (nine on offense, eight on defense) return from a Patriot team that held double-figure leads in the fourth quarter of both games they lost (Millard West and Grand Island). First-team Super-State senior Kohl Herbolsheimer is one of the top returning linemen in the state and junior quarterback T.J. Urban accounted for more than 2,000 yards in total offense last season.
Millard West (9-3, A state semifinals, No. 2 final ranking): The Wildcats have a pair of Division I wide receivers in Dalys Beanum (South Dakota State) and Kaedyn Odermann (Harvard) and a returning starter at quarterback to get them the ball in Tristan Gomes.
Omaha North (6-4, A state first round, No. 6 final ranking): With four starters back on offense and five on defense, the Vikings have a solid foundation to build into a contender again this season. Replacing Super-State running back Zander Gray will be difficult, but senior Treon Fairgood-Jones rushed for 622 yards and six TDs while also intercepting five passes on defense.
Omaha Westside (9-2, A state quarterfinals, No. 5 final ranking): Like Bellevue West and Millard South, the Warriors excelled last season with a young team. Junior Avante Dickerson was a first-team Super-Stater last season as a running back and defensive back and senior Grant Tagge earned second-team Super-State after leading Westside in tackles from his linebacker spot.
Players to watch
WR/S Xavier Watts, Omaha Burke, 6-2, 185, sr.: The Journal Star athlete of the year and Notre Dame recruit had 67 catches for 1,093 yards and 15 TDs last season, including a pair of long TD receptions in the state final against Grand Island. The first-team Super-Stater was also a factor defensively.
WR Zavier Betts, Bellevue West, 6-3, 195, sr.: The Nebraska recruit and first-team Super-Stater used his length and speed to catch 48 passes for 856 yards and 12 touchdowns last season. Betts and the 6-4 Nate Sullivan will provide matchup problems for undersized cornerbacks on both sides.
RB Jay Ducker, Bellevue West, 5-10, 190, sr.: Going out for track last spring has added breakaway speed for the first-team Super-Stater and Northern Illinois commit. His elusiveness and power produced 1,813 yards and 30 TDs.
You have free articles remaining.
TE/DE AJ Rollins, Creighton Prep, 6-5, 205, jr.: His athleticism popped out on the basketball floor last winter for Junior Jays, then it earned him a scholarship offer in June from Nebraska. Figures to be a factor on both sides of the ball this fall.
OT/DE Teddy Prochazka, Elkhorn South, 6-9, 285, jr.: The second-team Super-Stater has emerged as one of the top linemen in the country from the class of 2021 with scholarship offers from Nebraska, Michigan, Northwestern, Arizona State, Minnesota, Iowa State, Kansas State and Kansas.
WR/DB Broc Douglass, Grand Island, 6-1, 165, sr.: As a junior, Douglass caught 53 passes for 907 yards and seven TDs while also registering 35 tackles and breaking up nine passes as a defensive back.
RB/S Miko Maessner, Kearney, 6-1, 190, sr.: Maessner won both the Class A 100- and 200-meter dashes at state track last spring, and the Princeton football commit is ready to put that speed to work on the football field this fall.
S/RB Isaac Gifford, Lincoln Southeast, 6-1, 195, sr.: Gifford missed the final four games last season because of a knee injury, but he comes back as one of the top overall players in the state. He runs the 40 in :04.55, bench presses 270 pounds and squats 390, a reason why Gifford has scholarship offers from Oregon State and Wyoming and interest from Nebraska.
DT Teivis Tuioti, Lincoln Southeast, 6-3, 288, sr.: He became a Knight when his father, Tony Tuioti, took the Nebraska defensive line coaching job, and comes in as one of the top linemen in the state with offers from Army, Idaho State and Nevada.
OL/DE Kohl Herbolsheimer, Millard South, 6-3, 275, sr.: Enters the season with scholarship offers from Wyoming, Western Illinois, Texas State, South Dakota, South Dakota State, North Dakota and Illinois State.
RB/CB Avante Dickerson, Omaha Westside, 6-1, 170, jr.: With 4.4 speed in the 40-yard dash, a 36-inch vertical jump and ability to squat 320 pounds, it's no wonder Dickerson is getting recruiting interest from Power Five schools from coast to coast. Has scholarship offers from Ohio State, LSU, Nebraska, Iowa State, Iowa and Minnesota.
Games to watch
A29: Omaha Burke at Lincoln Southeast.
A30: Omaha North at Creighton Prep, Elkhorn South at Elkhorn, Grand Island at Kearney.
S6: Omaha Burke at Millard West.
S13: Omaha Westside at Lincoln Southeast, Millard West at Omaha North.
S20: Elkhorn South at Bellevue West, Millard West at Millard South.
S26: Omaha North at Lincoln Southeast.
S27: Creighton Prep at Omaha Westside.
O4: Millard South at Elkhorn South, Kearney at Millard West.
O11: Omaha Westside at Elkhorn South, Millard West at Grand Island.
O18: Omaha North at Bellevue West, Creighton Prep at Millard South.
O24: Millard South at Omaha Westside.
O25: Elkhorn South at Creighton Prep.