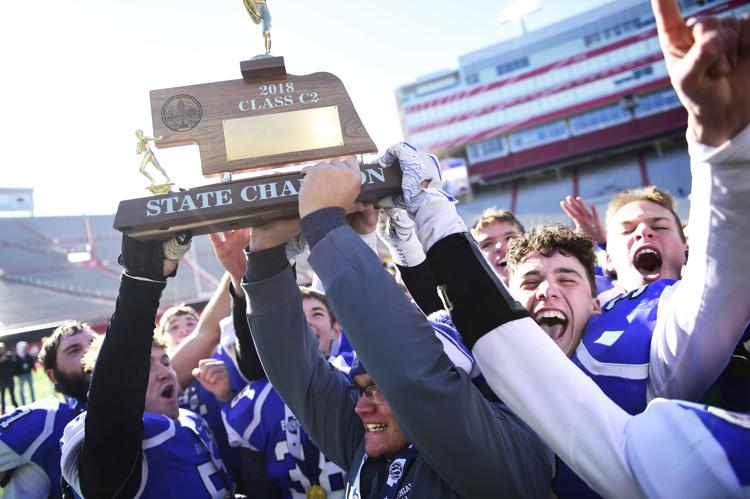 The defending champions
The major core of Centennial's 13-0 state championship team graduated, a list that includes four all-staters (QB Wyatt Ehlers, WR Jackson Hirschfeld, OL Quinn Butzke and DL Caleb Cast). The cupboard, however, is far from bare with five starters back. Junior QB Cooper Gierhan (6-2, 190) missed all of last season with a foot injury and will be a big factor for the Broncos this fall. At 6-foot-4 and 210 pounds, Joel Bargen will be a force at both tight end and outside linebacker. The 1-2 punch of seniors Caleb Horne (6-1, 190) and Seward transfer Davon Brees (5-10, 200; 861 yards rushing and 12 TDs last season) gives Centennial a potent ground game.
Other teams to watch
Preseason rankings run Aug. 24
Aquinas (7-4, C-2 state quarterfinals, No. 6 final ranking): A young Monarchs team caught fire late and reached the second round of the playoffs in 2018. That laid the foundation for a possible state title run this season with nine starters back on offense and eight more on defense. Kyle Napier and senior lineman Konner Adamy (6-1, 200), all-conference selections last season, are the headliners.
Battle Creek (6-4, C-2 state first round, unranked): Seven offensive starters and six on defense make the Braves a team to be reckoned with. A trio of seniors — four-year starter at RB Dylan Mettler, OT/DE Luke Stueve (6-3, 245) and TE/LB Slate Kraft (6-3, 180) — are candidates for postseason honors.
BRLD (8-3, C-2 state quarterfinals, No. 4 final ranking): Many of the same players who led the Wolverines to the C-2 boys state basketball title in March will be leading the way for a possible book-end trophy this fall. Junior WR Lucas Vogt is an all-stater in both sports, while senior TE Jaxon Johnson and senior QB Will Gatzemeyer are the other weapons in a potent passing attack and all-staters as well.
Hartington Cedar Catholic (4-5, unranked): The Trojans bring back eight starters on both sides of the ball, making them one of the most experienced teams in the state. They also return a pair of senior all-staters in lineman Rex Becker and running back Jacob Keiser.
Norfolk Catholic (11-2, C-2 state finals, No. 2 final ranking): The Knights graduated four all-staters, including two-time, first-team Super-State lineman Ethan Piper (now at Nebraska) and the fastest high school athlete in the state last year in RB Dylan Kautz (the all-time 11-man career rushing leader in state history). But never count out a program with 11 state titles. Senior Nate Brungardt and junior Cayden Cunningham both return with starting quarterback experience.
Oakland-Craig (11-1, C-2 state semifinals, No. 3 final ranking): With six starters on offense and seven defensively returning from a team that won its first 11 games, the Knights will be a force again. Wyatt Seagren is a dominant TE/DE, while LBs Ian Lundquist and Mike Brands are back after leading the team in tackles last season.
St. Paul (8-3, C-2 state quarterfinals, No. 8 final ranking): The Wildcats could be the most experienced team in C-2 with 17 starters back (nine offense, eight defense). This is still a young team with headliners Eli Larson and Tommy Wroblewski being juniors.
Sutton (10-2, C-2 state semifinals, No. 5 final ranking): With junior QB Cade Wiseman and senior RB Jackson Perrian among the eight starters back, the Mustangs will have plenty of speed offensively.
Wilber-Clatonia (9-2, C-2 state quarterfinals, No. 7 final ranking): Six of the Wolverines' top seven linemen return from 2018, part of 15 starters back overall. Expect another state playoff run for Wilber-Clatonia.
Players to watch
RB/OLB Kyle Napier, Aquinas, 5-9, 180, jr.: The all-conference player from a year ago can play any position in the backfield — he threw five TD passes, caught three and was the Monarchs' leading rusher.
WR/S Lucas Vogt, BRLD, 5-10, 165, jr.: Huge contributor on both sides of the ball. Caught 58 passes for 1,177 yards and 19 TDs, while also making 81 tackles and intercepting seven passes on defense.
QB Will Gatzemeyer, BRLD, 5-11, 185, sr.: A dual threat who threw for 2,519 yards and 30 TDs, and also rushed for 1,090 yards in 2018.
You have free articles remaining.
QB/LB/K Tyler Ruhl, Centura, 6-3, 205, sr.: The Kansas State baseball recruit and former Norris Titan had a huge junior year in football with 1,498 yards passing and 15 TDs, 1,038 yards rushing and seven TDs, 92 tackles defensively and two interceptions.
OL/DL Rex Becker, Hartington Cedar Catholic, 6-1, 260, sr.: The four-year starter is one of the most experienced linemen in the state, but also one of the most physically developed.
RB Jacob Keiser, Hartington Cedar Catholic, 5-10, 185, sr.: Went off for 1,437 yards as a sophomore in 2017 and picked up 1,450 last season. Also a factor defensively as a linebacker.
K Dietrick Stolz, Grand Island Central Catholic, 5-9, 140, sr.: Returns as the premier kicker in the state regardless of class. Hit 12 of 15 field goals last season, two of which were from 47 yards.
QB Austin Endorf, North Bend Central, 6-3, 190, sr.: Completed just under 65 percent of his passes for 2,617 yards and 29 TDs. One of the top returning QBs in C-2.
TE/DE Wyatt Seagren, Oakland-Craig, 6-7, 235, sr.: The South Dakota State recruit is one of the top tight end prospects in the state with a frame that translates well to the college level. Has the height and mobility to dominate the edges on both sides of the ball.
RB/LB Eli Larson, St. Paul, 6-1, 210, jr.: Larson has 4.5 speed in the 40 to go with his size, a combination that produced 1,367 yards rushing as a sophomore.
WR/DB Tommy Wroblewski, St. Paul, 6-2, 165, jr.: First-team all-stater last season as a sophomore intercepted six passes from his cornerback spot.
RB Jackson Perrian, Sutton, 6-0, 205, sr.: Earned all-state honors after rushing for 1,172 yards and 18 touchdowns.
Key games
A30: BRLD at Hartington Cedar Catholic.
S6: Norfolk Catholic at Aquinas, Wilber-Clatonia at Sutton.
S13: Aquinas at Hartington CC, Battle Creek at Centennial, Norfolk Catholic at St. Paul.
S20: BRLD at Norfolk Catholic, Centennial at Sutton.
S27:Centennial at Aquinas.
O4: North Bend Central at Centennial, Hartington CC at Norfolk Catholic.
O11: Aquinas at North Bend Central, Norfolk Catholic at Battle Creek,
O18: Battle Creek at Hartington CC, BRLD at Archbishop Bergan, Oakland-Craig at Yutan, Centura at St. Paul.
O25: Oakland-Craig at BRLD.