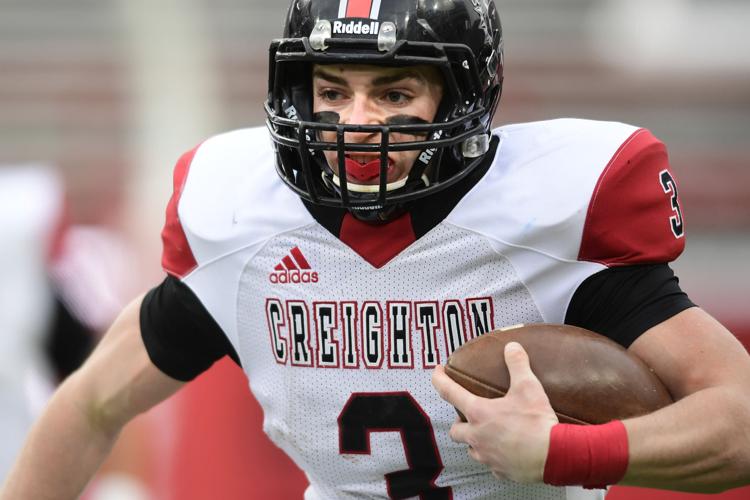 The defending champions
Creighton graduated two all-staters — RB Bryce Zimmerer and DL Travis Tyler — but the Bulldogs bring back almost everyone else from their 13-0 state title team. Senior QB Brayden Zimmerer was also an all-stater in 2018, and he's among six returning starters and 12 seniors on this year's squad.
Other teams to watch
Preseason rankings run Aug. 23
Arcadia-Loup City (6-5, D-1 state quarterfinals, unranked): Seven starters are back on offense and six more on defense, led by Caden Kusek who rushed for 1,743 yards last season, and junior LB Clayton Dethlefs.
Burwell (12-1, D-1 state finals, No. 2 final ranking): Only two starters return on offense and defense, but one of those is all-state running back Jase Williams.
Dundy County-Stratton (8-3, D-1 state quarterfinals, unranked): Eight starters are back, including TE/LB Dominic Sis, who had 156 tackles last season and caught five TD passes; a 1,000-yard rusher in Quade Myers; and a pair of standout linemen in juniors Delton Haines and Keegan Krutsinger.
Howells-Dodge (7-3, D-1 state second round, No. 9 final ranking): With a solid nucleus of seniors, the Jaguars are a team to watch again. Lineman Carter Throener, WR/DB Luke Rocheford, QB/LB Darrin Pokorny and sophomore LB Levi Belina are all potential standouts. Howells-Dodge faces one of the toughest schedules in D-1.
Lutheran High Northeast (9-2, D-1 state quarterfinals, No. 7 final ranking): A pair of all-staters return in Jaxson Kent and Ben Gebhardt, two of eight players back with starting experience.
North Central (8-4, D-1 state semifinals, No. 4 final ranking): The Knights have one of the best linebackers in the state in 6-0, 170-pound senior Sage Miller, one of five players returning who are two-way starters.
Osceola-High Plains (5-5, D-1 state second round, unranked): Last year's leading rusher (Keaton VanHousen), passer (Dylan Soule) and tackler (Tanner Kropatsch) lead eight starters back on offense and seven more on defense.
Players to watch
QB/DB Brayden Zimmerer, Creighton, 6-1, 180, sr.: Averaged more than 11 yards per carry in picking up 1,516 yards and scoring 27 TDs a year ago.
RB Jase Williams, Burwell, 6-0, 220, sr.: Went off for 1,890 yards as a junior to move to 3,950 for this career.
You have free articles remaining.
Register for more free articles
Stay logged in to skip the surveys
OL/DL Tyler Marlatt, Elmwood-Murdock, 6-4, 250, sr.: Has both the size and agility college coaches want in a lineman. One of seven starters back on both offense and defense for the Knights.
OL/DL Casey Doernemann, GACC, 6-4, 250, sr.: A big reason why the Bluejays will once again be state contenders.
WR/DB Noah Schutte, Laurel-Concord-Coleridge, 6-4, 190, sr.: The all-state basketball and football player had 66 catches for 1,039 yards and 19 TDs as a junior.
QB/LB Jaxson Kant, Lutheran High Northeast, 5-11, 180, sr.: Passed for 1,761 yards and rushed for 1,509 more. Defensively made 49 tackles.
WR/CB Ben Gebhardt, Lutheran High Northeast, 6-1, 180, sr.: Caught 54 passes for 1,072 yards and 15 TDs. Also had nine interceptions.
WR Andrew Waltke, Palmyra, 6-3, 165, so.: Burst onto the high school football scene to earn all-state honors as a freshman with 76 catches for 1,066 yards and 14 TDs. May move to quarterback this season.
Games to watch
A30: Fullerton at Arcadia-Loup City, North Central at Burwell, Clarkson/Leigh at Howells-Dodge.
S6: Howells-Dodge at GACC, Fullerton at Osceola-High Plains.
S13: Wakefield at Howells-Dodge, Arcadia-Loup City at North Central.
S20: Lutheran High Northeast at Wakefield.
S27: Howells-Dodge at Lutheran High Northeast.
O4: EMF at Osecola-High Plains.
O10: Laurel-Concord-Coleridge at Lutheran High Northeast.
O11: Arcadia-Loup City at Burwell, Creighton at North Central.
O18: Burwell at South Loup.