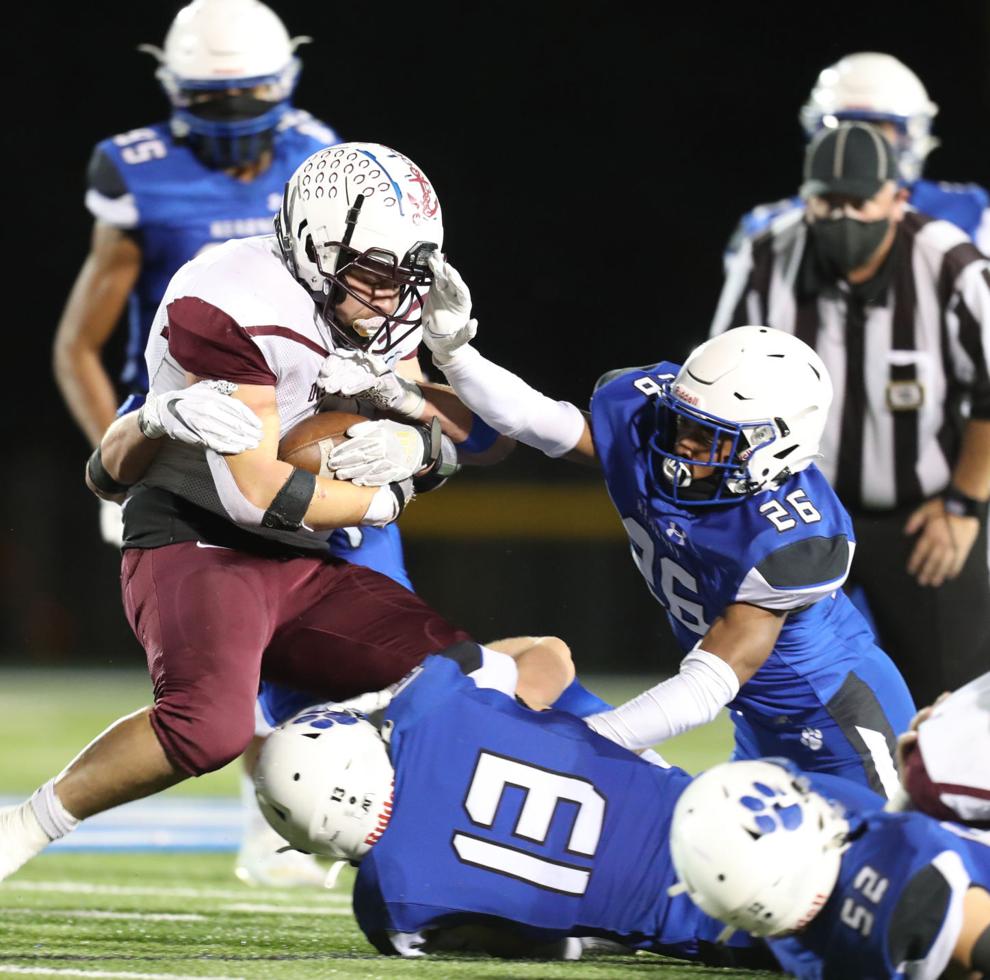 Columbus High and Kearney are in almost identical scenarios as a year ago when the Bearcats romped over the Discoverers 41-19.
Back then, Columbus was gaining attention as a potential top-10 team while Kearney was 0-3. The Bearcats had lost two games to COVID and were licking their wounds from an opening slate that included three ranked opponents.
This time, Kearney comes to Columbus for the first time in 14 years at 2-3 while CHS is again 4-1. Four of the Bearcats' first five opponents are, like last year, listed in the Journal Star Top 10.
Thus, here we are again with one team seemingly on the rise and the other nearing the brink of playoff elimination. But Columbus and Kearney are so much more than what's on the surface.
Breaking the Bearcats' stranglehold on the series between two teams will require the Discoverers' best performance of the season, says coach Craig Williams. Simply put, it's a game to be won. Whichever team seizes the crucial moments will be the one that enjoys victory.
Oh, and by the way, Columbus hasn't done that against this team in 18 years.
"It's a team that's not going to beat itself. You have to win a game when you play Kearney, and you have to play well," Williams said. "They're not going to hand things to you. You have to earn everything you get when you play Kearney."
The road game out west a year ago was possibly the Discoverers worst of the season. Although CHS took an early 7-0 lead, the Discoverers trailed 27-7 midway through the fourth quarter. Two fumbles, an interception and a Kearney special teams touchdown were too much to overcome.
Columbus is coming off four straight wins but has been somewhat susceptible to mistakes the last two weeks. CHS was driving early in the third quarter last week and set to go up three scores on Lincoln High when the Links intercepted. That turnover went 82 yards the other way and made the final 20 minutes a nail-biter. The week before included a second half from the backups full of penalties, missed assignments and mental errors.
Granted, it's one play plus the performance of the backups - neither exposed lingering issues. But even minor mistakes will be punished in a major way against Kearney.
"We feel like we've left some points on the field in a couple of areas. We need to finish drives and make plays, finish plays when we have those opportunities; we can't miss on opportunities," Williams said. "I think that's what it's really going to come down to. You don't get a ton of them against Kearney, so you better take advantage of them when you get them."
Defensively, Kearney has made plays this season with another typical unit that balances aggressiveness and discipline. Offensively it's a near 50-50 attack that uses the run game to set up the pass. And, as usual, the Bearcats have a big, tough quarterback under center that accounts for half of the run game who can also hit receivers with an accurate, strong arm. This year it's 6-foot-1, 190-pound Riley Miller.
Kearney's loss last week to Bellevue West was undoubtedly an emotional affair. The Bearcats were blown out in the regular season by the Thunderbirds then surprised them in the playoffs and won on a two-point conversion in overtime.
Intent on handing out some payback, Bellevue West turned a 22-13 game on its head in the third quarter with the next 27 points. The T-Birds threw for over 300 yards, rushed for 239 yards, sacked Miller twice, picked him off twice more and recovered a fumble.
But to expect Kearney to come in feeling sorry for itself would be a mistake, Williams said. Bell West beat Kearney in the regular season last year 49-13 before the Bearcats turned around the next week and downed the Discoverers by 22.
"Our coaches have confidence in each other, and the kids have confidence in themselves and each other, and that's the way they have to play," Williams said. "They have to go play free and loose and have confidence on Friday."
The 18-year drought wasn't discussed. CHS doesn't see any benefit in using that for motivation. Belief, not history, Williams said, is the way forward.
"We talked about confidence and having the confidence when you step on the field that you're going to win a football game," he said. "We have to believe that. I think there's teams in the past that might have done the lip service but didn't really believe it. This team just feels a little different."