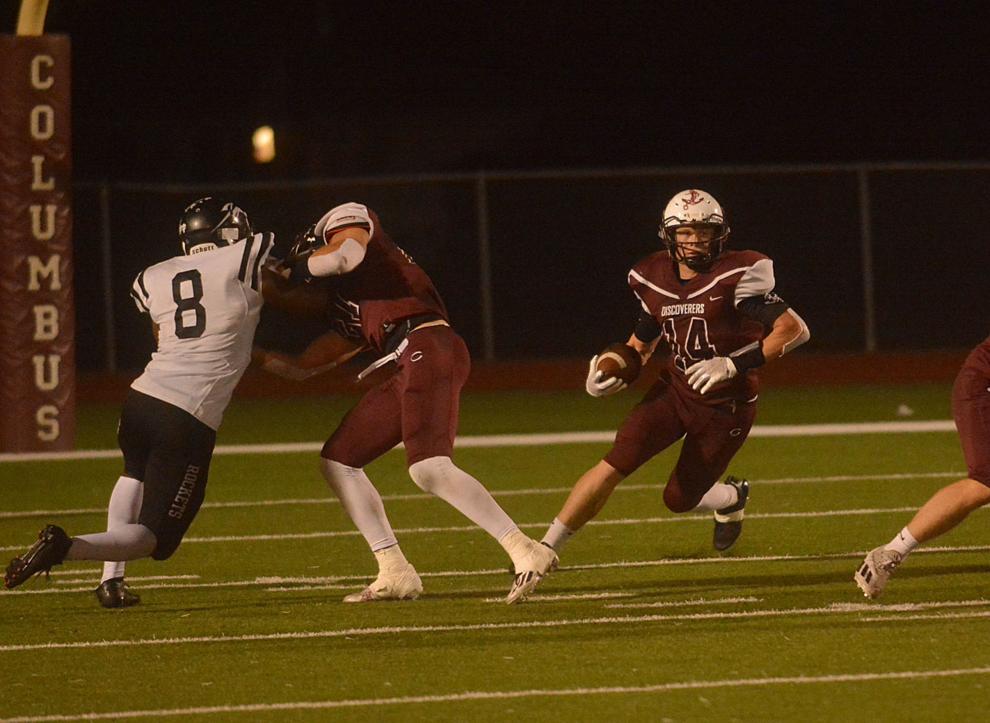 Columbus High scored the first two touchdowns, forced three turnovers and had four backs that each touched the ball at least eight times in what Craig Williams considered the team's best win of the year in Friday's 28-23 win at Lincoln High.
Following a loss at Omaha Central in Week 1, Columbus has now won four straight for the first time in four years.
Liam Blaser, Rylee Iburg and Ernest Hausmann each had touchdowns, Iburg had two, quarterback Brody Mickey threw for 161 yards on 75% passing and Columbus outgained Lincoln High 387-301.
CHS found the end zone twice in the first quarter, led 21-10 at half then gave up an 82-yard pick-six on a drive in the third quarter that could have put the game away. A turnover in the fourth then a scoring drive right after finally did. Lincoln High generated the final points with 2:44 left and got the ball back but came up empty on a Hail Mary as time expired.
"It's great for out kids to have to battle to the final whistle and find a way to overcome some adversity, try to stop some momentum from a good football team that's physical and has some playmakers," Williams said. "Some of their kids made some plays to get back in the game, but our kids kept battling. I think we can learn a lot about the character of these young men and this football team by how we stepped up in the fourth quarter and made the plays we needed to win the game."
Lincoln High was held out of the end zone by the Columbus defense until the final 12 seconds of the half when Links quarterback Ja Reese Lott-Buzby went in from 4 yards out.
It was a 21-3 Columbus lead at that point when Lincoln High found some late momentum. But CHS nearly answered back on a big kickoff return. The Discoverers lineup for a field goal with two seconds to go but never got it off after a bad snap.
CHS was driving at the start of the third and appeared to be in position to go up three scores when Javon Leuty picked off a pass and went 82 yards the other way to bring Lincoln High within 21-16.
The Links had the ball back in the fourth quarter and were driving to take the lead when a fumble near the Discoverer red zone ended those hopes. A play-action pass from Mickey to Hausmann for 57 yards set up a 3-yard run by Levi Bloomquist for the final Columbus touchdown and a 28-16 lead with 7:48 to go.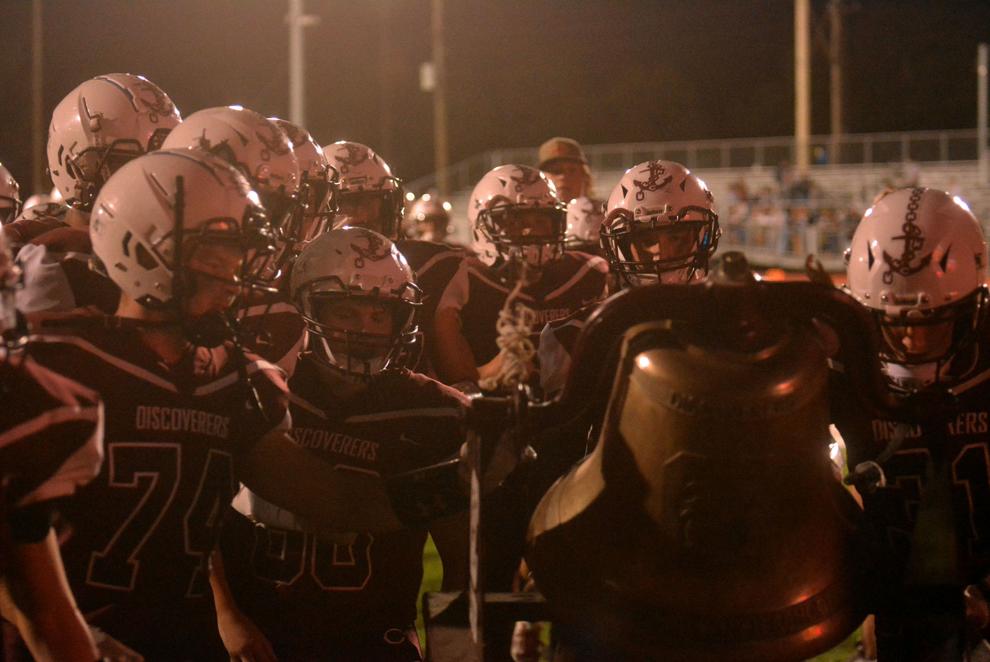 Lincoln High made it 28-23 on a pass from Lott-Buzby to Leuty with 2:44 remaining, got it back once more but threw two incompletions and failed to get out of bounds on a handful of catches that took time off the board. The Links were left to hope for a desperate heave to the end zone that came up empty.
"I don't think there's any question (this is our best win of the year)," Williams said. "This is a good football team. This is a team that took Central to the wire last week. This is a physical team and the best quarterback we've seen this year so far. It's a team that has some confidence playing during homecoming on their field. They were coming after us. Our kids stepped up and made the plays they needed to."
Mickey finished 9 of 12 throwing for 161 yards, Iburg carried it 11 times for 60 yards with two scores, Blaser touched it nine times for 56 with a touchdown, Ean Luebbe had eight carries for 38 and Bloomquist picked up 37 yards on nine carries with a touchdown.
Hausmann caught 4 passes for 112 yards while Luebbe had four catches and 36 yards. The CHS defense held Lincoln High to 122 rush yards on 33 carries and limited the Links passing attack to 50% completions and 179 yards.
"It's kind of funny to talk about that many guys running the ball when you only have one running back out there," Williams said. "Our kids have bought into our system and they understand what we're trying to do. They work hard at being good at our identity and what we're trying to do on offense."
The win sets up a monster home game with Kearney on Friday. The Bearcats are coming off a 37-14 loss to No. 2 Bellevue West and has losses to No. 10 Millard West and No. 7 Omaha Burke with wins against No. 9 North Platte and Grand Island.
Columbus hasn't defeated Kearney since 2003 and lost last year 41-19.
"In the huddle after the game we said, we're going to make some improvements and we're going to watch the film but next week's game is the biggest game any of these kids have played in," Williams said. "It's on our field against a team that, it would sure be nice to get that first win in 18 years. It's going to be an opportunity that, if these guys can pull it off, something that hasn't happened here in two decades; they're going to be ready for the challenge."