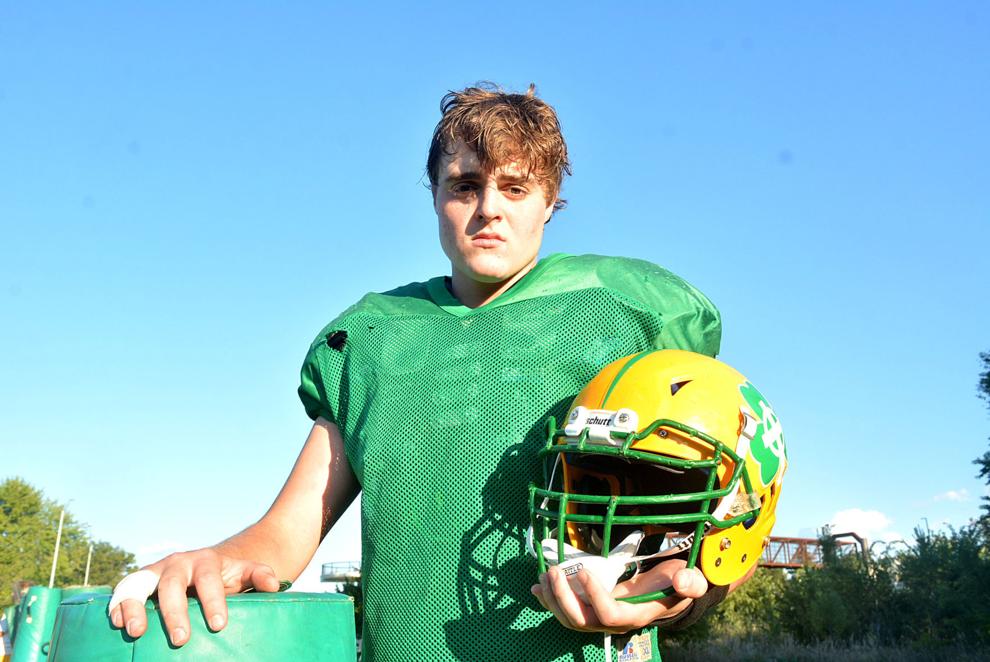 He's not the first one who arrives on the scene, but he's typically the first member of the offensive line to join in Shamrock touchdown celebrations. If he were as fleet of foot as the backs and receivers on the field, he might beat them to the party. But that kind of a skill set might have kept him at his old tight end position rather than in the middle handling snaps for a newly-formed Scotus Central Catholic offensive line.
Make no mistake, senior Seth VunCannon is right where he belongs. He was blocking and catching passes a year ago before the graduation of every other member of the offensive front required a move.
That's fine with him, he says; it's all about winning - thus the spirited sprints down the field to join his teammates in the end zone. Regardless of where he's at after the play, VunCannon is never far behind should Scotus go for six.
There's maybe no clearer emotional leader on the Shamrocks roster than VunCannon. And it's been that way no matter what team he's been a part of. From recess at Saint Isidore's to Friday nights at Pawnee Park, VunCannon's drive to win has always been infectious to those around him.
"I'm very vibrant, very emotional. I believe if I show emotion, that gets a lot of other guys into the game; that gets them to play harder and harder for one another," VunCannon said. "I've always been really competitive, really emotional, really wanted to win."
VunCannon started his Shamrock career at center but was a backup behind bigger, more experienced players. Still, his ability to block forced his inclusion in the starting lineup. Coach Tyler Linder and offensive line coach Roger Krienke found room for him on the end where he was, for all intents and purposes, a glorified tackle. But his athleticism has also led to a few receptions over the years and more touchdown catches than older brother Tate - a fact he likes to keep at the front of Tate's memory.
When everyone but him donned caps and robes last May, that left Linder and Krienke searching for answers. VunCannon provided one of the easiest. His move back to center has since facilitated a rebirth of the Scotus offense behind the conversion of a handful of larger running backs into guards and the quick development of younger players.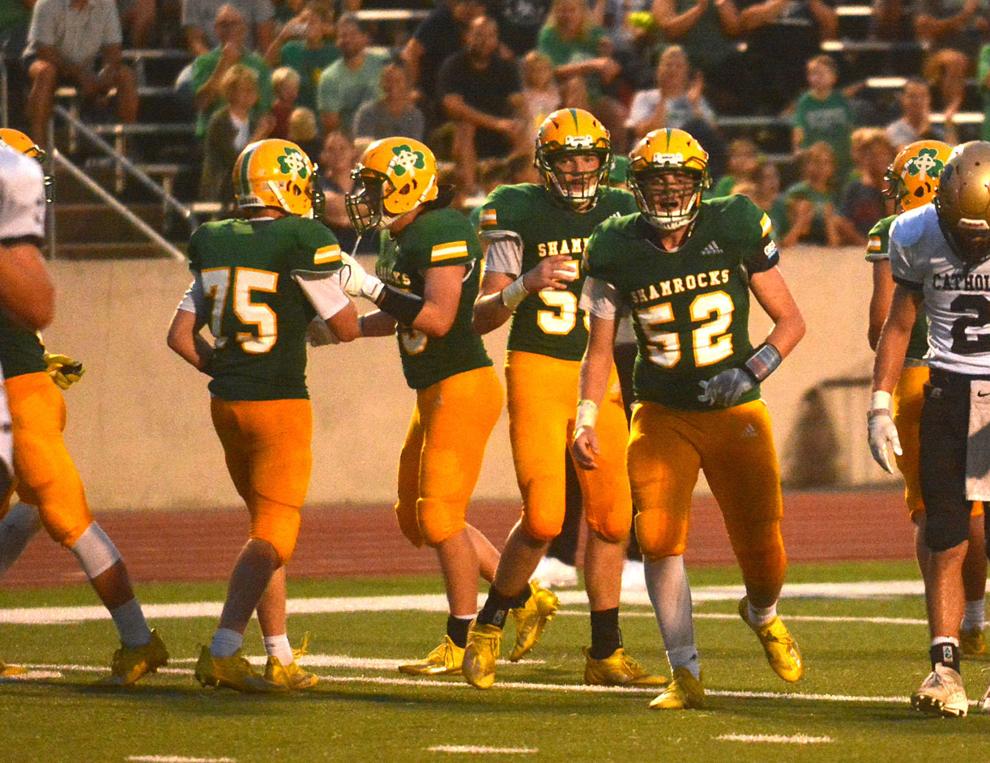 "At first it was tough because no one knew what they were doing," VunCannon said. "We had backs converted to guards and all kinds of young guys out there. I took it as my job to get them settled down, get them in the system and make sure they knew what they were doing."
Linder points to VunCannon's work as a leader up front as one of several factors that has made Scotus such a potent offense.
"Typically, we build our offensive line from the center out. Coach Roger Krienke wants to have a really smart and talented guy at center who can get things started with offensive line calls and make sure we're protecting A gap out to D gap," he said. "After that, guys just had to step up and make their presence known. Coach K and Seth have really shaped up pretty quality offensive line for as inexperienced as we were."
It's a line that blocks for an offense that has twice protected junior quarterback Trenton Cielocha for a 300-yard passing night, once produced a Devon Borchers 242-yard rushing night and last week put together a balanced attack in a road win at No. 9 Battle Creek.
VunCannon has seen it all in front of him, but there's no doubt opening a hole for Borchers and springing his senior teammate for a big gain is the most satisfying of all.
"It's been a blast. I believe defenses have to pick their poison with us," VunCannon said. "Do you want Trenton to dot you up or do you want Devon to run it down your throat? It's a fun time."
Fun and somewhat unexpected. VunCannon, of course, plays to win every game. But 4-0, admittedly, is even a little more than he thought was capable. Making it happen has been an attitude up front of "Nasty." After two weeks and a 2-0 start, guard Luke Przymus, one of the converted backs, and his parents made T-shirts with that word on the front. They were handed out to the offensive line, Krienke, Linder and other coaches. 
"With our schedule, you've got to be nasty," VunCannon said. "You've got to be willing to get down in the dirt and get gritty to win some games."
Later that week, he knew Scotus had something when it fell behind to Aquinas in the fourth quarter but found a way.
"Just to be poised the way we were, score, fumble, score, I don't think a lot of teams could have been poised like we were down to a stout team like Aquinas," he said. "We just got it done. I knew then, we were special."
Scotus starts a three-game stretch Friday of facing teams with a losing record before what appears will be back-to-back ranked matchups in weeks eight and nine.
Leading the offensive front into all those battles will be a guy who almost hates losing more than he loves winning.
"Taking football too seriously at recess, I was that guy. I just always wanted to win," VunCannon said. "We played on the concrete and I was famous for diving and catching balls on the concrete, ripping up my pants. You can ask anybody from elementary. I always had ripped pants."