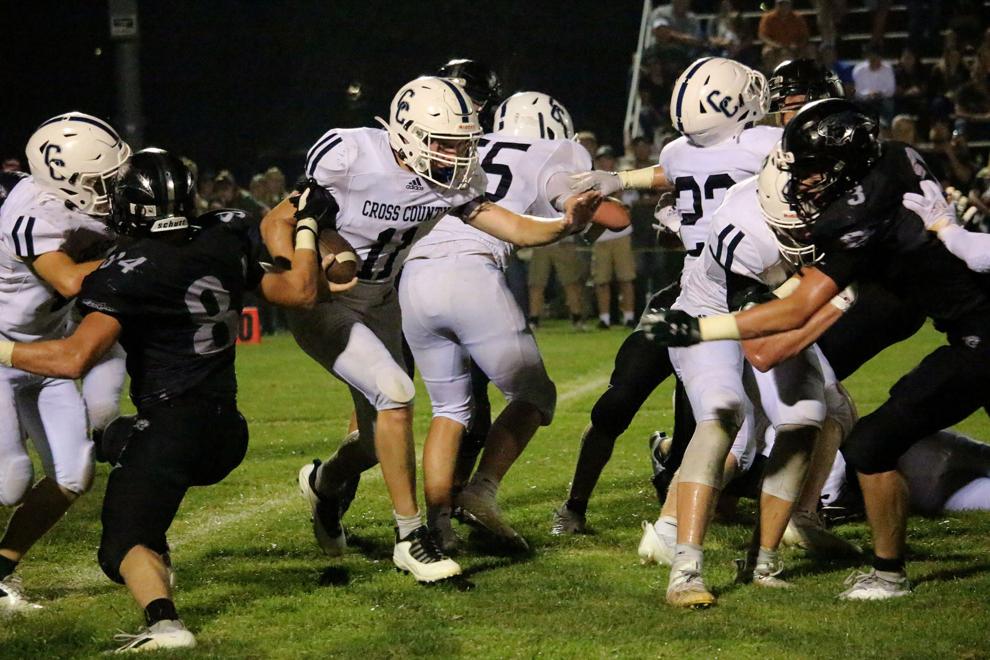 Levi Belina rumbled to over 200 yards and Howells-Dodge answered back from last year's shutout in a top-ranked Class D-1 showdown between No. 4 Howells-Dodge and No. 5 Cross County on Friday in Howells.
A year go in Stromsburg, Howells-Dodge managed just 2.1 yards per rush, less than 200 yards of offense and suffered its first shutout as a program since the two schools combined in 2013.
This time, the Jaguars (3-0) jumped out to a 40-14 lead at the start of the fourth quarter then hung on for a 40-38 win during a desperate Cougar (3-1) comeback attempt.
Belina had 206 yards on 26 carries for an average of almost 8 yards per carry and scored twice. Howells-Dodge scored the first 16 points on touchdown runs by Belina and quarterback Gavin Nelson before Cross County answered on a Haiden Hild 4-yard run 36 seconds before halftime.
Down by 26, the Cougars scored the final three touchdowns of the game and had the ball in the final minute but tossed an interception.
"My overall take away from this game is I am very proud of how hard our kids competed. They really stepped up our game against a very good team. Our overall team effort was as good as it has been all season," Howells-Dodge coach Mike Speirs said. "Our offensive line did an excellent job of run blocking all game. Cross County gave us a couple of different looks and the kids were able to adjust and give Levi a chance to find some holes. Overall, our blocking was what gave us a chance to continue to move the ball."
The Jaguars made a goal line stand near the end of the first quarter then drove the field and led 8-0 following Belina's 3-yard touchdown run and 2-point conversion. The hosts doubled their lead after another stop when Nelson capped a drive on a 1-yard plunge and Belina again added the conversion.
A long kickoff return set up Cross County for a late second quarter response. Hild went in from 4 yards out then quarterback Shayden Lundstrom scored the conversion.
Nelson hit Lance Brester for a 27-yard score to start the third then went in on another 1-yard dive at the end of the quarter. In between, Lundstrom broke free for a 21-yard score.
Belina found the end zone one last time on a 27-yard rush at the start of the fourth. Cross County nearly came all the way back over the next seven-plus minutes when touchdowns by Hild and Lundstrom, who scored twice, added 24 points when all three of the conversions were also made.
The Cougar defense made a stop and forced a punt with 30 seconds remaining but an interception on the next snap denied the comeback.
"We made a lot of mistakes, unfortunately. Credit to Howells Dodge for forcing a few of those," Cross County coach Hayden DeLano said. "They just played more sound than we did; especially the first 2 and 1/2 quarters. They're a mature, physical, disciplined football team. They're going to be right in the thick of things come November."
Lundstrom's night included 96 passing yards, 176 on the ground, two two-point conversions, 43 pun return yards, 134 kick return yards and 449 all-purpose yards.
Raymond Central 54, Schuyler 8: The Warriors (0-3) produced their first points of the season but are still looking for their first win after allowing 272 yards passing to Mustang quarterback Ryan Stover. Schuyler put up 134 yards of total offense and was led by running back Cezar Liniger with 12 carries for 77 yards. Warrior quarterback Luis Genchi connected with Julian Morales on a 6-yard touchdown pass for the first points of the season.
(For more on the Warriors see the Sept. 16 issue of the Schuyler Sun.)
Boone Central 46, Douglas County West 0: Cody Maricle and Braden Benes both rushed for over 100 yards, the defense held DC West to fewer than 100 yards and for the second straight year the Cardinals (3-0) shut out the Falcons for a win. Maricle picked up 126 yards on just eight carries for an average of over 15 yards per carry and scored twice. Benes rushed 12 times for 115, an average of nearly 10 yards, and scored a touchdown as well.
Boone Central shut out DC West 40-0 last year and is off to its first 3-0 start since the state championship season of 2014.
"DC West likes to run the ball, and we have been OK at stopping the run. It was a favorable matchup that we won. We had a size advantage up front we were able to capitalize on," coach Mark Hudson said. "We will find out (more) one week at a time as our schedule is loaded from here on out."
Boone Central faces 1-2 Central City away this Friday then starts a stretch that includes No. 1 Pierce, No. 9 Battle Creek, No. 6 Wayne and No. 4 Scotus.
Scotus 28, No. 2 Aquinas Catholic 21: A fumble with less than five minutes remaining allowed the Shamrocks to put together a drive that ended with the game-winning touchdown.
Michael Andel scored twice for Aquinas and rushed for 61 yards on 12 carries, Christopher Nickolite led with 109 yards on 15 touches and quarterback Caleb Thege added 85 on 11 carries.
Aquinas (2-1) follows up its rivalry game against Scotus with No. 9 Crofton, No. 2 Oakland-Craig and No. 1 Fremont Bergan.
(For more on the Monarchs see the Sept. 16 issue of The Banner-Press.)
Sandy Creek 36, David City 0: The Scout (1-2) offense struggled to find any success against a Cougar defense that allowed fewer yards, 23, than plays, 27. Sandy Creek scored on the opening kickoff and added two touchdown passes before the half. Cougar quarterback Ethan Shaw finished with four touchdown passes on the night, three to senior wide out Micha Biltoft. The David City offense rushed for negative-19 yards on 14 attempts and went 0 for 6 on third down.
(For more on the Scouts see the Sept. 16 issue of The Banner-Press.)
Hastings St. Cecilia 58, Twin River 0: The Bluehawks had five first-quarter possessions and scored on each while building a 37-0 lead through just the first 12 minutes. The Titans suffered through a bad snap on fourth down and gave up a short field, fumbled twice and allowed a safety on another bad snap. Twin River (0-3) quarterback Korbe Urkoski led the Titans with 49 rushing yards on 12 carries and was 2 of 6 passing for 23 yards.
"We are getting better, but basically playing a JV team at the varsity level is tough," coach Bob Frederickson said. "I'm super proud of our kids and their effort and practice efforts."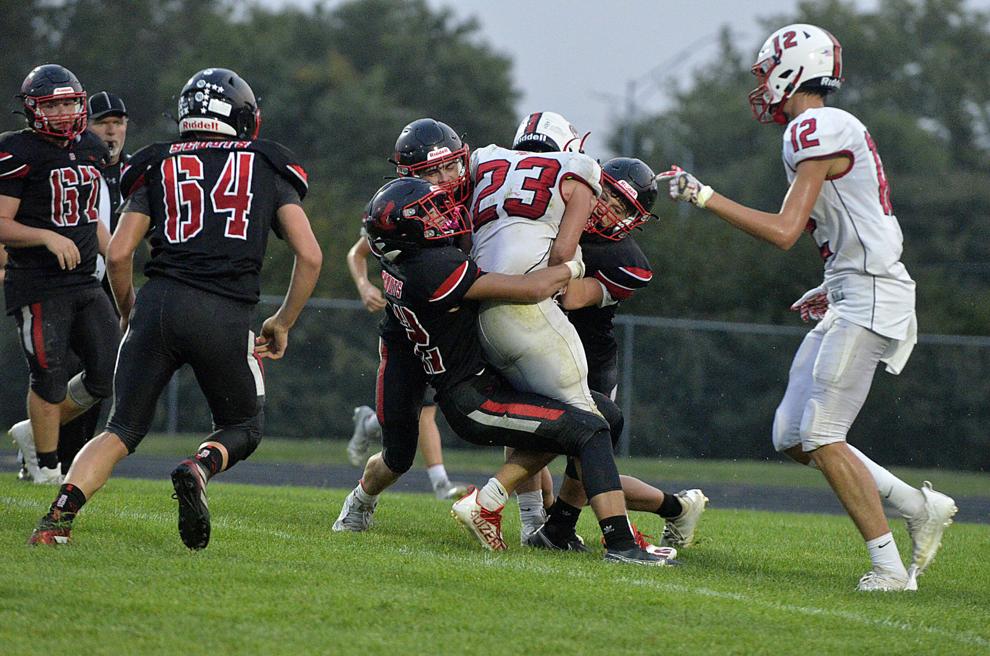 Clarkson/Leigh 70, East Butler 22: The Patriots scored the first three touchdowns of the game and built an insurmountable 40-8 halftime advantage while improving to 2-1 and dropping the Tigers to 0-3. Seven different Clarkson/Leigh players scored in a offensive effort that included 227 rushing yards and 315 total. Quarterback Ryan Brichacek was 5 for 8 passing with a touchdown and had one score running while Dylan Higby, Joey Steffensmeier, Carter Hanel and Garrett Stodola all had rushing touchdowns.
Hanel had three on just five attempts. Higby rushed 12 times for 100 yards to lead the Patriots. Hanel also caught three passes for 30 yards. Trevin Brecka's nine carries and 47 yards were the most for an East Butler team that went 3 for 13 on third down and was held to 117 yards of total offense.
Humphrey/Lindsay Holy Family 30, North Central 14: The Bulldogs (2-1) scored twice in the first quarter then held off North Central in the fourth after the Knights found the end zone for their lone two scores after three quarters of a shut out.
HLHF picked up 223 yards on the ground and was led by Ashton Sims with 16 carries and 102 yards. Ayden Veik carried it 15 times for 51 and scored twice while Jacob Sjuts was 7 of 19 passing for 100 yards, a touchdown and an interception.
Sage Frauendorfer led the way defensively with 12 tackles, seven solo, and Sjuts had 11.
Exeter-Milligan/Friend 54, Shelby Rising City 28: The EMF defense held SRC to just 3.9 yards per rush and forced three turnovers. Hunter White topped the Huskies (0-3) with 86 yards rushing on eight carries and scored a touchdown, but the rest of the SRC backs were only able to muster 58 yards on 29 attempts.
Husky quarterback Ashton Schultz was 8 of 22 passing for 138 yards and two scores. White and Grant Brigham both caught touchdown passes.
Humphrey St. Francis 58, Palmer 0: The Flyers scored the first six touchdowns of the game and jumped all over another opponent early while improving to 3-0.
Quarterback Tanner Pfeifer had four touchdowns, Spencer Engel two and Jaden Kosch one of his own all before halftime. Pfeifer started the game with a 63-yard kickoff return, hit Kosch for a 28-yard score and went in from 29. Engel scored on a 1-yard dive and a 14-yard run. Palmer answered with a 7-yard touchdown pass just before half but was in a 44-6 hole at that point. Making matters worse, Pfeifer scored again when he ran back the ensuing kickoff 62-yards. Engel capped the St. Francis scoring on a 71-yard kickoff return following Palmers' 3-yard touchdown run in the third quarter.
"We got off to another good start which was nice to see. We were able to score with our special teams, which was good as we are showing some improvement in that area," coach Eric Kessler said. "Palmer did some nice things offensively, and we struggled some on the defensive side of the ball. We will have to play better on defense this week as we face a very good Wausa team." 
Osceola 60, Mead 42: The Bulldogs (2-1) led 22-6 but then found themselves in a 30-26 game at the half and had fallen behind 42-36 by the start of the fourth quarter. The defense held the Raiders out of the end zone the rest of the way while the offense scored four times in the final eight minutes.
Junior Isaiah Zelasney was back after sitting out with an injury in Week 2 and rushed for 207 yards on 19 carries and scored five touchdowns. He also ran back a kickoff for a touchdown.
"We scored on the first play of the game, but were answered when Mead took the kickoff back for a touchdown. Our offense did a good job moving the ball all night, resulting in 60 total points and zero punts," coach Luke Ericson said. "Our defense came up with enough stops down the stretch to seal the game for us and come out with a win."
Elgin Public/Pope John 66, High Plains 36: EPPJ had a simple strategy on Friday at home against High Plains - give it to Jack Wemhoff, then give it to Wemhoff, then give it to him again. The Wolfpack's junior running back picked up 357 yards on nine carries and scored twice while averaging over nine yards per carry.
That was too much for a High Plains (1-2) team that scored in every quarter but couldn't find an answer for Wemhoff. Storm quarterback Javier Marino was an efficient 7 of 9 passing for 110 yards and a touchdown and also picked up 100 yards with his feet on 15 carries and found the end zone three times.
"They were just the more physical team. We didn't have an answer. They just played smash-mouth football and we weren't able to match their intensity," High Plains coach Greg Wood said. "Their line does a great job of getting off the ball. Their coaches have done a great job of coaching them up. (Wemhoff) is a strong runner. He didn't go down unless there were three or four players there to take him down."
St. Edward 56, Harvard 6: The St. Ed (1-2) offense was clicking early, allowing the Beavers to score 36 first-half points and take that margin into the break after the defense pitched a first-half shutout.
A pair of 100-yard rushers and a defense that recovered four fumbles was the recipe for success that added up to the first win over the year. Senior Cole Mowrey rushed eight times for 192 yards and three touchdowns while junior Trey Divis needed just five carries to pick up 120 yards and score twice.
Mikey Blankenship led defensively with 12 tackles while Dalton Wilson recovered two of the four fumbles.
"Our kids seemed a lot more focused than past weeks, and I think they understood that we needed to start fast and really stay on the gas," coach Darren Luebbe said. "It was a big win for us. I think we all felt like we could've been better the first two weeks, so to go out and play the way we did and to get the win was nice. We also understand though that one game doesn't make or break our season, so it'll be important that we stay hungry going into this week and a good Meridian team."