Ernest Hausmann will never forget that moment he came downstairs.
The Columbus High junior linebacker and wide receiver was laying in bed on Monday night relaxing before switching off the light for the day. His phone rang with his future calling on the other end.
On the other end was Nebraska assistant coach Barrett Ruud. Ruud offered Hausmann a full scholarship to play for Nebraska football. Needless to say, it was overwhelming.
"I'll never forget it. I hopped up out of bed and ran down the stairs. My parents turned around and I told them the news. I'll never forget the look on their faces," Hausmann said. "It was just so much excitement. There was so much emotion going through my body; it was just crazy."
Hausmann is the second Discoverer offered by Nebraska in the past two years. Joey Braasch had an offer as well, but to walk on as a running back. He instead chose to take a scholarship offer from Wyoming.
North Dakota State had also been in contact but Hausmann said Nebraska has been in the most regular contact and pursued him the hardest of any other program. The Huskers first contacted him a few weeks ago. He and his parents went on a virtual tool on Sunday.
"There were a lot of emotions," Hausmann said about when Nebraska first made contact. "I can remember the day it happened, and the moment. It was a great feeling; then just going through the process of talking to them and them getting to know me better. We've been building a good relationship."
Director of Player Personnel Sean Dillon was the first to make contact through Twitter. Columbus High coach Craig Williams had a 45-minute conversation with Ruud last week. Both Hausmann and his coach had an inclination more was coming, but it was still rather stirring when it happened.
"It was very exciting," Hausmann said. "It was a very surreal moment for me."
Hausmann, 6-3 and 210 pounds, is a native of Uganda who was adopted when he was 5-years-old. He was a corner last year who switched to linebacker when the coaching staff made the suggestion.
In order to keep fellow defensive backs Garrett Esch and Trey Kobza on the field, Hausmann had to switch positions. No one knew at the time that a change made for the betterment of the team would end up being the start of something big.
Hausmann finished the year second on the team with 69 tackles, has six for loss, intercepted a pass, batted away three other passes and had one sack.
Though the staff was asking Hausmann to learn a new position, Williams said there was no hesitation on his part. Compared to other players his age, Hausmann has taken a more professional, mature approach to football.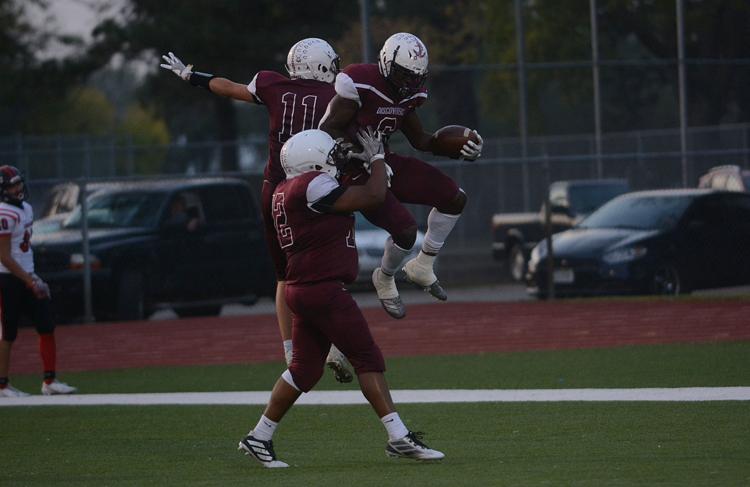 "His biggest thing is his commitment to reaching his goals, and his goal is to play college football," Williams said. "He's shown a commitment to the weight room … and he's made a commitment to his diet and taking care of himself. High school kids just don't do that. They don't watch what they eat to make sure they're being fueled the right way and staying hydrated. Ernest does all those things."
Though he now has one Division-I offer to his name, Hausmann was a relative unknown to the college football world before Monday. He isn't rated by any recruiting services. Hausmann becomes the fifth in-state offer made known by Nebraska.
"I think he's just made the decision that if he's going to have this opportunity, he's going to do it the right way," Williams said. "He's committed to it. I think that's the biggest thing.
"On the field, he's obviously tall enough and big enough. He plays hard all the time. You don't ever have to worry him on the backside not going hard. He never gives up on a play, and you can always count on him."
Hausmann said he's going to let the process play out and open up his recruiting before making a decision. Should he choose to go with NU, he'd be the first Columbus High player on the Husker roster since Cameron Jakub in 2014. The most recent Discoverer on a Nebraska scholarship was Tim Carpenter who played for the Big Red from 1993-1997.
In terms of a timeframe, Hausmann said he hasn't thought much about when he'd like to make a decision.
Hausmann said Nebraska sees him as an inside linebacker, the position Ruud coaches. Ruud told Hausmann he expects Hausmann to keep growing and see his body fill out even more.  
"There's a lot of work to be done to progress as a player. There's a lot I've got to work on to improve," Hausmann said. "I'll be hitting that hard in the offseason and this summer, see how recruiting goes, attend some camps and see how it goes."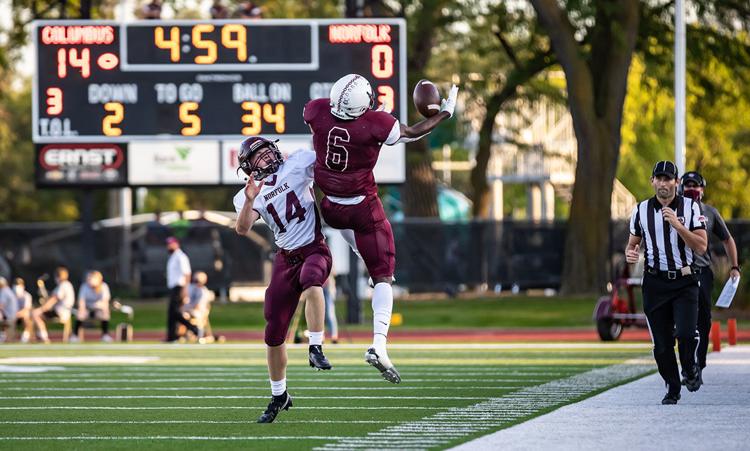 Get in the game with our Prep Sports Newsletter
Sent weekly directly to your inbox!